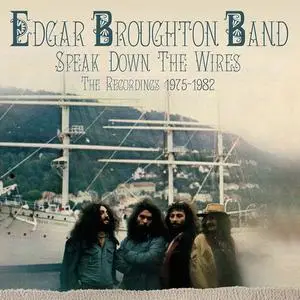 The Edgar Broughton Band - Speak Down The Wires: The Recordings 1975-1982 (2021)
FLAC tracks | 03:04:42 | 1,07 Gb
Genre: Prog Rock, Psychedelic Rock / Label: Esoteric
Esoteric Recordings is pleased to announce the release of Speak Down the Wires, a re-mastered four-disc clamshell box set of the four albums issued by the Edgar Broughton Band / The Broughtons between 1975 and 1982: "Bandages", "Live Hits Harder!", "Parlez Vous English" and "Superchip: The Final Silicon Solution". From the release of their debut album for EMI's Harvest label in 1969, "Wasa Wasa", the Edgar Broughton Band were trail blazers for the counterculture and rock music with a social conscience and could even be seen as godfathers and influencers of the later Punk movement. Hailing from Warwick and featuring EDGAR BROUGHTON (guitars, vocals), STEVE BROUGHTON (drums, vocals) and ARTHUR GRANT (bass, vocals), their hard hitting approach over a series of albums for the Harvest label earned them many loyal fans and several hit singles (including their anthem 'Out Demons Out!').