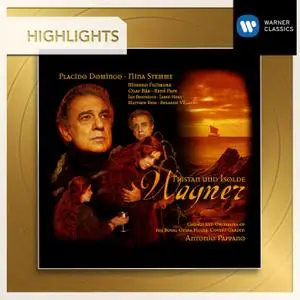 Antonio Pappano - Wagner: Tristan Und Isolde (Highlights) (2011)
WEB | FLAC (tracks) - 301 MB | 01:10:29
Genre: Classical | Label: EMI Classics
Although this is a re-issue, and not a re-mastering, everyone with any interest in Wagner, and Tristan and Isolde, simply must have this wonderful set. To be fair, it's really all about Linda Esther Gray, and the outstanding WNO under Goodall. The WNO are brilliant here, and sympathetically recorded by the Decca engineers. You'll hear subtleties in the playing that are lost in other versions, and you can forget about Goodall's supposed ultra-slow tempi, for here he's surely perfect. (The Prelude is actually over a minute faster than Karajan.) But it's Goodall's handling of key moments that is so seductive - and thrilling. For instance, the moment when the love potion takes effect is shattering, helped by the sustained final note. It's the best I've heard.
But what to say about Linda Esther Gray? I remember seeing this performance on stage many years ago in Birmingham (twice), but she manages to scale new heights on this recording. I've got other versions of Tristan of course: my other favourites being the classic Bayreuth Nilsson/Windgassen; the interesting Margaret Price/Kollo, and the exceptional Karajan with Helga Dernesch and Jon Vickers. But here's the thing. In my view, Linda Esther Gray outshines the lot of them. The clarity of her tone, her control of the text, is as good as anyone, notwithstanding their stellar reputations. I could cite many moments when she sends shivers down the spine, but I'll limit myself to a few. At that moment in Act 1 where she cries out for vengeance on Tristan, I doubt that's ever been so spine-chilling. And then, have you ever found yourself reaching that moment in Act 3 when Isolde arrives only to see Tristan die, and from that moment you find yourself almost emotionally changing down a gear while you await the Transfiguration (or Liebestod, if you must)? Well, not here you won't, because this Isolde sings those immediately following lines better than anyone I've either heard or seen, and draws you in completely to her own anguish. And then, in the Transfiguration, which is quite brilliantly sung, I doubt if you've ever heard that very last note she sings - on "Lust" - given out with such clarity. It's given without the sheer power of a Nilsson, but Linda Esther Gray just soars. Usually, that final note gets somewhat diffused into the orchestral sound around it. Not here - not here. Brilliant. Act 1 is compelling, thanks also to the consistently excellent Brangane of Anne Wilkens, who is first class in the Warning scene, and everywhere else, and actually utters the "piercing shriek" called for in the score as Kurwenal breaks in on the lovers in Act 3. On the same theme - on singers actually bothering to follow Wagner's instructions - find me another Isolde who sings that first word after the love potion has taken effect - "Tristan" - "with trembling voice." Gray does - and it matters.
Not to damn the rest of the cast with faint praise, John Mitchinson is a pretty good Tristan - better, I think, in Act 3 than in Act 2; Phillip Joll is an acceptable Kurwenal; and Nicholas Folwell does a fine job as Melot. And Gwynne Howell has pretty much the perfect voice for Marke: if I have a criticism of him is that the Lament is perhaps not as nuanced as it might have been.
But this is all about Linda Esther Gray. Is it mad to think of her as giving here the best Isolde on record - better than Nilsson, better that Dernesch? I don't think it's mad at all. They're different, of course, and I wouldn't want to be without any of them. But for me, on my Desert Island, it's Goodall and Gray.
Wonderful.
Track List:
1. Tristan und Isolde, WWV 90, Act 1: Vorspiel (Langsam und schmachtend - Belebend) 11:46
2. Tristan und Isolde, WWV 90, Act 1 Scene 3: "Weh, ach wehe! Dies zu dulden!" (Brangäne, Isolde)10:58
3. Tristan und Isolde, WWV 90, Act 1 Scene 5: "Tristan! … Isolde! … Treuloser Holder" (Isolde, Tristan, Männer, Brangäne) 06:33
4. Tristan und Isolde, WWV 90, Act 2 Scene 2: "O sink hernieder, Nacht der Liebe" (Tristan, Isolde) 07:08
5. Tristan und Isolde, WWV 90, Act 2 Scene 2: "Lausch, Geliebter!" (Isolde, Tristan)05:58
6. Tristan und Isolde, WWV 90, Act 2 Scene 2: "So stürben wir, um ungetrennt" (Tristan, Isolde, Brangäne) 06:58
7. Tristan und Isolde, WWV 90, Act 2 Scene 3: "O König, das kann ich dir nicht sagen" (Tristan) - "Als für ein fremdes Land" (Isolde) 06:46
8. Tristan und Isolde, WWV 90, Act 3 Scene 2: "O diese Sonne! Ha, dieser Tag!" (Tristan, Isolde) 03:18
9. Tristan und Isolde, WWV 90, Act 3 Scene 3: "Kurwenal! Hör! Ein zweites Schiff" (Hirt, Kurwenal, Der Steuermann, Brangäne, Melot, Marke) 07:53
10. Tristan und Isolde, WWV 90, Act 3: "Mild und leise wir er lächelt" (Isolde) 06:42
Performers:
Nina Stemme (soprano)
Rolando Villazón (tenor)
Ian Bostridge (tenor)
Matthew Rose (bass)
Mihoko Fujimura (mezzo-soprano)
Jared Holt (baritone)
René Pape (bass)
Olaf Bär (baritone)
Plácido Domingo (tenor)
Renato Balsadonna (director)
Royal Opera House Covent Garden
Chorus of the Royal Opera House, Covent Garden
Antonio Pappano
–––––––––––-
DON'T MODIFY THIS FILE
–––––––––––-
PERFORMER: auCDtect Task Manager, ver. 1.6.0 RC1 build 1.6.0.1
Copyright © 2008-2010 y-soft. All rights reserved
http://y-soft.org
ANALYZER: auCDtect: CD records authenticity detector, version 0.8.2
Copyright © 2004 Oleg Berngardt. All rights reserved.
Copyright © 2004 Alexander Djourik. All rights reserved.
FILE: 01 - Tristan und Isolde, WWV 90, Act.flac
Size: 40208490 Hash: 63263637CB823523D9A9CD7EA801421D Accuracy: -m0
Conclusion: CDDA 100%
Signature: 35B369D0690DED9F3808F8CD07123AC16B6C0460
FILE: 02 - Tristan und Isolde, WWV 90, Act.flac
Size: 45997806 Hash: 0C3E5BC8D4369EF39D8F8E7ACAAF0DAC Accuracy: -m0
Conclusion: CDDA 100%
Signature: 045462186CCD064B7279071AEF13C4563EB7B460
FILE: 03 - Tristan und Isolde, WWV 90, Act.flac
Size: 29797852 Hash: 4CAD0225536BDFF86DA853350AF24C2B Accuracy: -m0
Conclusion: CDDA 100%
Signature: 329FC850655BC83CFE1FEA231945A63C288B850E
FILE: 04 - Tristan und Isolde, WWV 90, Act.flac
Size: 25347757 Hash: 81F86B06A71DE9B4000A58571E796FA7 Accuracy: -m0
Conclusion: CDDA 100%
Signature: 599415C372D25FC5FD8AE64B767E96C4FA4538D3
FILE: 05 - Tristan und Isolde, WWV 90, Act.flac
Size: 21299420 Hash: 7C83A066D9C47108BBE2C96AE94B8DF4 Accuracy: -m0
Conclusion: CDDA 100%
Signature: 53D7271E63E5A9315183EDABAD16C77B91A43E9C
FILE: 06 - Tristan und Isolde, WWV 90, Act.flac
Size: 31743719 Hash: 39352BAF0C311B61718604F5E09FC1F2 Accuracy: -m0
Conclusion: CDDA 100%
Signature: BBCDDE1D8F6C3E2409E26D36DFBFCE75F5DF0DDC
FILE: 07 - Tristan und Isolde, WWV 90, Act.flac
Size: 19648504 Hash: 715E604BF01A1DB6BB810752EDB19AAF Accuracy: -m0
Conclusion: CDDA 100%
Signature: E3F0B9A3208B3F1DB6F0AAB6E2D1AC922C2A3D20
FILE: 08 - Tristan und Isolde, WWV 90, Act.flac
Size: 13729876 Hash: 9D0DD95373E17BBE6EC214ABD122D794 Accuracy: -m0
Conclusion: CDDA 100%
Signature: B96C3AB9B669A4E0EEBF7DE998C8B25C942473F4
FILE: 09 - Tristan und Isolde, WWV 90, Act.flac
Size: 32178492 Hash: F9409FDE3A32EC2F8C31AFA3112A5DF2 Accuracy: -m0
Conclusion: CDDA 99%
Signature: 630173456238CA306A2DA17038AA8F972A1A92AF
FILE: 10 - Tristan und Isolde, WWV 90, Act.flac
Size: 26087377 Hash: C2E243CF1E83284C896E030AD10C1449 Accuracy: -m0
Conclusion: CDDA 100%
Signature: CAEC7D330D858F73D93023353EF8904A6FB4E427