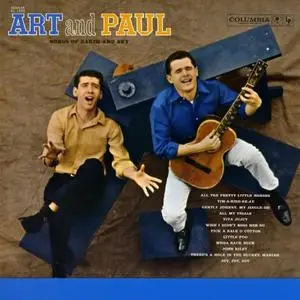 Art & Paul - Songs of Earth and Sky (1960)
FLAC tracks | 31:10 | 204 Mb
Genre: Folk / Label: Columbia
Four years before Paul Simon and Art Garfunkel (who would have been "Paul and Artie" in any case) brought their folk-based vocalizing to Columbia Records, the label was host to a rather different duo with the same given names: Art & Paul. Art Podell and Paul Potash were young denizens of the middle-late 1950's NY-folk scene when they decided to start performing together in Greenwich Village. Both Potash and Podell were skilled guitarists and talented songwriters, and Podell was a particularly talented arranger. One of the more distinctive duos working out of NY, they were signed to Columbia Records in 1960, at a time when record companies were starting to look for the next Kingston Trio, and Columbia was hoping for lightning to strike again, as it had for Terry Gilkyson and the Easy Riders with "Marianne."
Track List:
01. All the Pretty Little Horses
02. Ox Driving Song (Tim-a Ride-ee-ay)
03. Gently Johnny, My Jingle-oh
04. All My Trials
05. Viva Jujuy
06. Wish I Didn't Miss Her So
07. Pick a Bale o' Cotton
08. Little Poo
09. There's a Hole In the Bucket, Mariah
10. Whoa Back Buck
11. John Riley
12. Joy, Joy, Joy
ANALYZER: auCDtect: CD records authenticity detector, version 0.8.2
Copyright © 2004 Oleg Berngardt. All rights reserved.
Copyright © 2004 Alexander Djourik. All rights reserved.


FILE: 9 - There's a Hole In the Bucket, Mariah.flac
Size: 18032452 Hash: 22B6FB4F36FFE87218B26E43880707CD Accuracy: -m0
Conclusion: CDDA 100%
Signature: 630A5111CBA4488D8F82C47B3E0F4322CC8C247A
FILE: 8 - Little Poo.flac
Size: 17135509 Hash: 6C95C8F67F45AF29CF6BBBD24182FEFC Accuracy: -m0
Conclusion: CDDA 100%
Signature: FC7ACAA32FBAC7DFB828BBC2F67663649879DED8
FILE: 7 - Pick a Bale o' Cotton.flac
Size: 16030180 Hash: 1867C4C6F07BA2DB0CCDBB9587ED2124 Accuracy: -m0
Conclusion: CDDA 100%
Signature: D1F9EBF16C25834E594C9D10A8CE6D6A8120CC22
FILE: 6 - Wish I Didn't Miss Her So.flac
Size: 17974468 Hash: FE7B094D8A01F4A929EA248454D36D26 Accuracy: -m0
Conclusion: CDDA 100%
Signature: 9548C71C691FA53B4D8AA5C0705E0DEDF08529B0
FILE: 5 - Viva Jujuy.flac
Size: 15030104 Hash: 6586327BA45628BD1344D66FAA7C5D00 Accuracy: -m0
Conclusion: CDDA 100%
Signature: 40BAA1D42886EA94CAC2B2E0C88516EFB6B4F3F3
FILE: 4 - All My Trials.flac
Size: 19198914 Hash: DF8484A07833C4048D7F890ED8DFE4EC Accuracy: -m0
Conclusion: CDDA 100%
Signature: 13280441126872C894DFC28FDC69D616CCDBF749
FILE: 3 - Gently Johnny, My Jingle-oh.flac
Size: 13323704 Hash: 4FDC59B34C404C050FDC3C134D60AF78 Accuracy: -m0
Conclusion: CDDA 100%
Signature: FA158171011293F473DD87B16F7477D9DFF8CDA6
FILE: 2 - Ox Driving Song (Tim-a Ride-ee-ay).flac
Size: 19209794 Hash: 50B65EA24A331D4F0E7DEDB52074A524 Accuracy: -m0
Conclusion: CDDA 100%
Signature: 1664C2A8FD08E7E456492DF873EBEA06AD0C704C
FILE: 12 - Joy, Joy, Joy.flac
Size: 16592678 Hash: B7BBA380E52F9042D915ACC2C0E111B2 Accuracy: -m0
Conclusion: CDDA 100%
Signature: D073829E951ABF36008064D8837443AB4D8A82B0
FILE: 11 - John Riley.flac
Size: 20259692 Hash: 9A96E3EDD42571874DC0A711D01F365C Accuracy: -m0
Conclusion: CDDA 100%
Signature: 61BE2709FF6CD7C8984C229690A2A27163419C8F
FILE: 10 - Whoa Back Buck.flac
Size: 15185474 Hash: 7FE83DB2C50B7B3668AECC8B358CCD90 Accuracy: -m0
Conclusion: CDDA 100%
Signature: B335896F4DD006C875A1B0E9954CEDA976385C9E
FILE: 1 - All the Pretty Little Horses.flac
Size: 14860931 Hash: 9B9BA4D7FA19170053C88FDF1E078111 Accuracy: -m0
Conclusion: CDDA 99%
Signature: 1FA4CEA57AA12DBF9036AE037B42604674495139