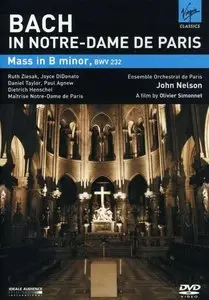 John Nelson, Ensemble Orchestra de Paris, Maîtrise Notre-Dame de Paris - Bach: Mass in B minor, BWV 232 (2007)
NTSC 16:9 (720x480) | Latin (LinearPCM, 2 ch) | (Dolby AC3, 5 ch) | 7.37 Gb (DVD9) | 153 min
Classical | Virgin Classics | Sub: Francais, English, Espanol, Deutsch
Like music lovers the world over, John Nelson believes Johann Sebastian Bach's Mass in B Minor is a pinnacle of Western music. For years, he has cherished the dream of performing this masterwork in the Cathedral of Notre-Dame in Paris with the Ensemble Orchestral de Paris whose renown has grown constantly since he began conducting with them eight years ago. In addition to John Nelson and his Ensemble Orchestral de Paris, the Mass in B minor brings together the Maîtrise de Notre-Dame choir conducted by Nicole Corti as well as internationally recognized soloists Ruth Ziesak (soprano), Joyce DiDonato (mezzo), Daniel Taylor (alto), Paul Agnew (tenor) and Dietrich Henschel (baritone).
Cast:
Ruth Ziesak, soprano
Joyce DiDonato, mezzo-soprano
Daniel Taylor, alto
Paul Agnew, tenor
Dietrich Henschel, bariton
Maîtrise Notre-Dame de Paris
Ensemble Orchestra de Paris
Conductor - John Nelson
A film by Olivier Simonnet

I. Kyrie
01. Kyrie eleison
02. Christe eleison
03. Kyrie eleison
II. Gloria
04. Gloria in excelsis Deo. Et in terra pax
05. Laudamus te
06. Gratias agimus tibi
07. Domine Deus
08. Qui tollis peccata mundi
09. Qui sedes ad dextram patris
10. Quoniam tu solus sanctus
11. Cum sancto spiritu
III. Credo
12. Credo in unum DeumPatrem omnipotentem
13. Et in unum Dominum
14. Et incarnatus est
15. Crucifixus
16. Et resurrexit
17. Et spiritum sanctum dominum
18. Confiteor unum baptisma
IV. Sanctus
19. Sanctus
20. Osanna in excelsis
21. Benedictus. Osanna in excelsis (da capo)
V. Agnus Dei
22. Agnus Dei
23. Donna nobis pacem
24. End Credits