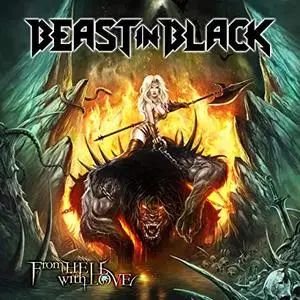 Beast In Black - From Hell with Love (2019)
WEB FLAC (Tracks) 369 MB | Cover | 51 minutes | MP3 320Kbps | 121 MB
Metal | Label: Nuclear Blast
"The BEAST is back, the BEAST IN BLACK!" Haunting words recalling »Berserker«, BEAST IN BLACK's debut album, which was finally released in November 2017. Although it never actually felt as if the BEAST had been away entirely. Right after the departure from his former band BATTLE BEAST, BEAST IN BLACK's founder Anton Kabanen recruited new companions in the way of high-pitched vocalist Yannis Papadopoulos (WARDRUM), bassist Mate Molnar (WISDOM), guitarist Kasperi Heikkinen (U.D.O.) and last but not least drummer Atte Palokangas (THUNDERSTONE), who officially replaced Sami Hänninen in early 2018.
Continuing with the same style of songwriting that he started with BATTLE BEAST, Kabanen crafted a new host of addictive songs that excite with their use of relentless energy and power. Especially the album's first single, 'Blind And Frozen', that blew the roof off and set the bar very high by achieving several million YouTube views in just a year. To cut it short: »Berserker« was very well received by both new and old fans of Anton's work, as well as fans of the anime series »Berserk«, which Anton drew inspiration from. A number of well-known musicians have also praised the record such as NIGHTWISH's Tuomas Holopainen (who said that "you have to be mentally insane to not love this album"), HELLOWEEN / GAMMA RAY's Kai Hansen and many more.
TRACKLIST
1. Cry out for a Hero
2. From Hell with Love
3. Sweet True Lies
4. Repentless
5. Die by the Blade
6. Oceandeep
7. Unlimited Sin
8. True Believer
9. This Is War
10. Heart of Steel
11. No Surrender
–––––––––––-
DON'T MODIFY THIS FILE
–––––––––––-
PERFORMER: auCDtect Task Manager, ver. 1.6.0 RC1 build 1.6.0.1
Copyright © 2008-2010 y-soft. All rights reserved
http://y-soft.org
ANALYZER: auCDtect: CD records authenticity detector, version 0.8.2
Copyright © 2004 Oleg Berngardt. All rights reserved.
Copyright © 2004 Alexander Djourik. All rights reserved.
FILE: 9 This Is War.flac
Size: 26478636 Hash: DF8A6ECFBD915FF85F3A191CD671614B Accuracy: -m0
Conclusion: CDDA 100%
Signature: E5FB55060CD9BA18E33F10665CF3B6632FA10420
FILE: 8 True Believer.flac
Size: 26127674 Hash: 023FAD3597CFF698D3CEE9878F8E85D8 Accuracy: -m0
Conclusion: CDDA 100%
Signature: C8D681220393BDFDC532273D20EF3E65E4B91C00
FILE: 7 Unlimited Sin.flac
Size: 27984899 Hash: 48C7F7E686F7DD22CDA08FDE3285D2DB Accuracy: -m0
Conclusion: CDDA 100%
Signature: 908195E1E7C4A80E9D9ACD9C982B8E9871ECFB7B
FILE: 6 Oceandeep.flac
Size: 39251695 Hash: C25B32E361260ED64ABF7F79FF9AEC30 Accuracy: -m0
Conclusion: CDDA 99%
Signature: 9DF60BA89A1FF011532E8C8E25369AC7D785C921
FILE: 5 Die by the Blade.flac
Size: 24450371 Hash: F77BC83E63AA45E50F1B215E5EA94034 Accuracy: -m0
Conclusion: CDDA 100%
Signature: 15A3E116C41D796D72694E83FBCAC5BD47E89B46
FILE: 4 Repentless.flac
Size: 30905955 Hash: 544710D5FDDC8F5608E4BE8BB45B4515 Accuracy: -m0
Conclusion: CDDA 100%
Signature: 8A3B211B9B35C92FD231BB123044EF5BEE2EBC89
FILE: 3 Sweet True Lies.flac
Size: 26727136 Hash: AB23535D770752C8BCDA0652E86BF93D Accuracy: -m0
Conclusion: CDDA 100%
Signature: 6E14B53CD56339EEB3D19AB57EF55CC8EF29396C
FILE: 2 From Hell with Love.flac
Size: 30838334 Hash: 98548F77921F56302C5CC148519AD8A4 Accuracy: -m0
Conclusion: CDDA 100%
Signature: 0B837AC9E0D4D191E45B3CB00438CC4EABB0A21D
FILE: 13 No Easy Way Out.flac
Size: 31964420 Hash: 43411119ADFA2C3294E99442DA599BED Accuracy: -m0
Conclusion: CDDA 100%
Signature: 77EF4F0C87912B4F8357B8CB8650CF1183CB840F
FILE: 12 Killed by Death.flac
Size: 29206684 Hash: 8C341359C1C7C80F426521FC4189C34A Accuracy: -m0
Conclusion: CDDA 100%
Signature: 5FC48822580D8D9D5908915BB463E3054ADBEC22
FILE: 11 No Surrender.flac
Size: 32954003 Hash: F93632EF2608D7DDF373EECB94AFDF21 Accuracy: -m0
Conclusion: CDDA 100%
Signature: 54A249DF743735DF9307F5BDFA8101391F48F23A
FILE: 10 Heart of Steel.flac
Size: 33210508 Hash: 28A187CF3C60AE7C51DC6E1CEA0DFC62 Accuracy: -m0
Conclusion: CDDA 100%
Signature: F7CCB0C33923739F8BA569B64F0913F715BEE394
FILE: 1 Cry out for a Hero.flac
Size: 27008788 Hash: 831B498359A9FFC7BEBF99E21EF8C95B Accuracy: -m0
Conclusion: CDDA 100%
Signature: 52D9F7D5CA950F0B3B28DE45222FD4DC274CC89C