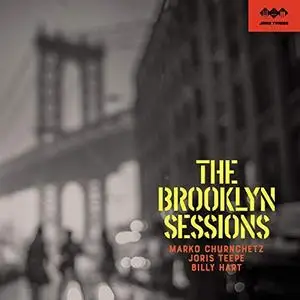 Billy Hart, Joris Teepe, Marko Churnchetz - The Brooklyn Sessions (2019)
WEB FLAC (Tracks) - 318 MB | Cover | MP3 CBR 320 kbps - 131 MB | 00:56:38
Jazz | Label: Jazztribes
Brooklyn was gentrifying but still affordable during the '90s, when another wave of Boomers and post-Boomers — Kurt Rosenwinkel, Mark Turner, Tim Berne, Craig Taborn, Robert Glasper, and Arturo O'Farrill among them — entered the mix. That wave also included bassist Joris Teepe, born in the Netherlands, now 56, who is the fulcrum of this kinetic, sophisticated, endlessly creative trio recital. During those years, Teepe lived in the Windsor Terrace neighborhood, around the corner from Prospect Park, not far from the residence of drummer Billy Hart, 78, originally from Washington, D.C., who both propels and unifies the proceedings from the first note to the last with fresh, shamanistically intuitive ideas.
Some 15 years later, Teepe met the brilliant Slovenian pianist Marko Churnchetz, now 32, who would move to Brooklyn — Bushwick — in 2015 after several lengthy visits. They stayed in touch, and last year, when JazzTribes founder John Weijers asked Teepe to recommend candidates for a follow-up to the ambitious 2018 release 'In The Spirit of Rashied Ali', he suggested this multi-generational encounter, which transpired after a rehearsal and a single gig.
TRACKLIST
01. Full House
02. Skippy
03. Brilliant Corners
04. Turn Out the Stars
05. Riot
06. Just One of Those Things
07. Nobody Else but Me (From "Showboat")
08. Brooklyn
09. Just Play
–––––––––––-
DON'T MODIFY THIS FILE
–––––––––––-
PERFORMER: auCDtect Task Manager, ver. 1.6.0 RC1 build 1.6.0.1
Copyright © 2008-2010 y-soft. All rights reserved
http://y-soft.org
ANALYZER: auCDtect: CD records authenticity detector, version 0.8.2
Copyright © 2004 Oleg Berngardt. All rights reserved.
Copyright © 2004 Alexander Djourik. All rights reserved.
FILE: 09. Marko Churnchetz - Just Play.flac
Size: 35091148 Hash: 64EEE15C7E36801752D17D74F81DFFC9 Accuracy: -m0
Conclusion: CDDA 100%
Signature: 06C69992E6E6E674F3CA841974333E6FEE629304
FILE: 08. Marko Churnchetz - Brooklyn.flac
Size: 36201997 Hash: 2A1D3AD33D8F4A5593C578A486439632 Accuracy: -m0
Conclusion: CDDA 100%
Signature: B0900179D3201FC5F3A8DAFDFD2D5D77E0F1E98B
FILE: 07. Marko Churnchetz - Nobody Else but Me (From -Showboat-).flac
Size: 37438126 Hash: 503962A5ED248937ECE9CC41D392F637 Accuracy: -m0
Conclusion: CDDA 100%
Signature: 0FB2B93E30E3276FDC6D35C2A2B77CD1C95FF695
FILE: 06. Marko Churnchetz - Just One of Those Things.flac
Size: 40508083 Hash: 2ADBCC2829BBA370E487FA60CC1BB46D Accuracy: -m0
Conclusion: CDDA 100%
Signature: 19FF96BEA0843AB7D085D70DA56B0ABAEBCEA046
FILE: 05. Marko Churnchetz - Riot.flac
Size: 26344888 Hash: 35BAA2BF7575131A094D5156FD78113E Accuracy: -m0
Conclusion: CDDA 100%
Signature: 64A6550243F1FD592590A4254860EB6501078915
FILE: 04. Marko Churnchetz - Turn Out the Stars.flac
Size: 35133320 Hash: 081DEE503974B03D77EAF6C163D73083 Accuracy: -m0
Conclusion: CDDA 100%
Signature: 42493E1A5582E77BEB00609D3FF3D6FD3A6A49F2
FILE: 03. Marko Churnchetz - Brilliant Corners.flac
Size: 40146170 Hash: A200DAB79AD66F8CBAEB24CF1FAD4391 Accuracy: -m0
Conclusion: CDDA 100%
Signature: 8391C2898719B4194ED6F25118B2D423C387CCFC
FILE: 02. Marko Churnchetz - Skippy.flac
Size: 41258753 Hash: 4EDF14B227B2BF5F3AD42699C3BA36D4 Accuracy: -m0
Conclusion: CDDA 100%
Signature: DE6FB355183DE1234148113FEBC3A4F116AC4C67
FILE: 01. Marko Churnchetz - Full House.flac
Size: 41759388 Hash: 36C9A4501A661D4CD4CB5A7755413B34 Accuracy: -m0
Conclusion: CDDA 100%
Signature: 153C7741506CFB3983682EEAA09ED547C321B72D
All thanks go to the original releaser