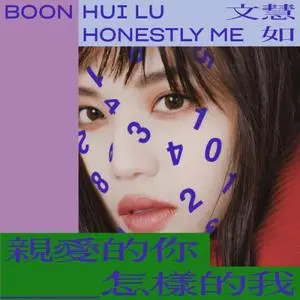 [文慧如] Boon Hui Lu - Honestly Me (2019)
MP3 320 kbps | 00:39:48 min | Covers included | 93 mb
Genre: Chinese pop, Mandopop
Boon Hui Lu (Chinese: 文慧如; born December 11, 1993) is a Singaporean actress and singer-songwriter. Besides acting, Boon is also pursuing her music dreams as a singer and songwriter. She plays the guitar and keyboard.

Since she started writing songs in 2014, she has won awards at songwriting competitions such as National Environment Agency's Eco Music Challenge and the national talent competition Impresario. In June 2016, she took part in the Workplace Safety and Health Council's songwriting competition and was picked as one of the three finalist with her song titled "Safety. Your Word, Your Life."

In 2016, her compositions "Every day is a Miracle" and "Your Body Speaks" were featured on Taiwanese singer Hebe Tien's album, Day by Day. In April 2016, she signed on with Taiwanese record label HIM International Music.
Tracklist:
01 - Honestly Me 04:55
02 - I Wonder Why 03:49
03 - Better When It's Worse 03:56
04 - Tears 03:47
05 - About Your Guitar 03:54
06 - The Superwoman League (Feat. Janice Yan) 02:59
07 - The Scientists 03:55
08 - Between Dusk and Dreams 04:54
09 - Wrong But Right 03:32
10 - Dear, 04:07