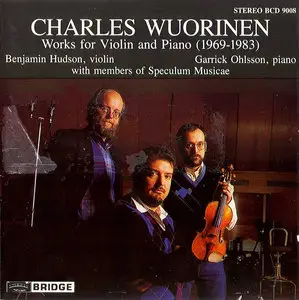 Charles Wuorinen: Works for Violin & Piano, 1969-1983 (1993)
Classical | EAC (APE & CUE) | 236 MB
Various mirrors: Rapidshare, Depositfiles, Megaupload & more!
In the pluralistic twilight years of the twentieth centry postmodern serialist muzak, amidst the overarching influences of serialists turned neoromantics and minimalists, we have Charles Wuorinen as the enfant terrible in all its wunderkind reincarnations known to man. Or is he? For others, he's just another inconvenient gadfly and proselytizer in all its hideous form. What is undoubtedly true is that Wuorinen is a force to be reckoned with. As one of the most brilliant exponents of "The New Virtuosity," he has now been in the public eye (and ear, to a lesser extent) for nearly thirty years, functioning in the multiple capacities of composer, pianist, conductor, and polemicist. In 1962, he and his buddy Harvey Solberger cofounded the Group for Contemporary Music at Columbia University, which set a precedent for later New York groups such as Speculum Musicae and Parnassus. Similar ensembles drawing upon the dazzling technique of a new generation of singers, instrumentalists, and conductors were formed in many respect closely tied to this new wave of most remarkable Movimiento artístico.
Tracklist
1.
Blue Bamboula
, The for piano (11:20)
2.
Six Pieces for Violin and Piano
, Nos 1-6 (complete) (19:44)
I
II
III
IV
V
VI
3.
Spinoff for violin
, double bass & conga drums (6:35)
4.
The Long and the Short
, for violin solo (9:33)
5.
Fantasia
, for violin and piano (17:16)
Garrick Ohlsson (Piano)
Benjamin Hudson (Violin)
Joseph Passaro (Conga Drum)
Donald Palma (Double Bass)
Bridge BCD 9008