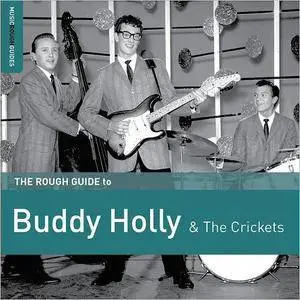 Buddy Holly & The Crickets - The Rough Guide To Buddy Holly & The Crickets (2017)
WEB FLAC (Tracks) - 324 MB | Cover | MP3 CBR 320 kbps - 142 MB | 00:59:22
Rock, Rock & Roll | Label: World Music Network
Buddy Holly's influence was as profound and eternal as his career was brief and tragic. Over little more than two years between 1956 and 1958, he wrote and recorded some of the most perfect rock'n'roll records of all time. Half a dozen years later when the Beatles appeared on The Ed Sullivan Show, the first question John Lennon asked was, 'Is this the stage Buddy Holly played on?' Born Charles Hardin Holley in Lubbock, Texas on September 7, 1936, he began singing country and bluegrass as a duet with his childhood friend Bob Montgomery. But all that changed when he heard Elvis Presley for the first time. He borrowed the money for a Fender Stratocaster and his recording career began in early 1956 when he travelled to Nashville to cut several sides for Decca. Released under the name Buddy Holly after the label had misspelt his name, from those sessions 'Blue Days, Black Nights', 'Love Me', 'Modern Don Juan' and 'You Are My One Desire' are included here. When these early releases failed to chart and his contract was not renewed, he teamed up with producer Norman Petty at his studio in Clovis, New Mexico, where they cut a demo of 'That'll be The Day'. After the tape had been sent to Brunswick, the label was so impressed they didn't bother re-cutting the song but released the demo as a single in May 1957. It took Holly to number one on both sides of the Atlantic and over the next 18 months an unstoppable flood of great songs followed. Those released on Brunswick ? including 'Peggy Sue', 'Everyday', 'Oh Boy', 'Not Fade Away' and 'It's So Easy' ? were credited to The Crickets, the group Holly fronted and which featured Jerry Allison on drums and Joe B Mauldin on double bass. Others, released on the Coral label, were credited to Holly alone, including 'Words Of Love', 'Rave On' and 'Heartbeat'. In reality, the distinction meant little, although the recordings credited to the Crickets were perhaps a little tougher and the solo releases displayed a softer and more vulnerable style. Holly's final session in October 1958 in New York, without the Crickets, produced 'It Doesn't Matter Anymore', 'Raining in My Heart', 'Moondreams', and 'True Love Ways', all of which are included here. Four months later on February 3, 1959, after a concert in Clear Lake, Iowa, he took a small charter flight en route to the next show. When the plane crashed minutes after take-off, Holly, Richie Valens, The Big Bopper and the pilot, were all killed instantly in a tragedy commemorated by Don McLean as 'the day the music died'. Thankfully, it didn't, for although Holly was only 22 when he lost his life, his songs remain destined never to fade away.
TRACKLIST
01. Rave On
02. Not Fade Away
03. Everyday
04. Peggy Sue
05. That'll Be The Day
06. It Doesn't Matter Anymore
07. It's So Easy
08. Oh Boy!
09. Heartbeat
10. Learning The Game
11. Crying Waiting Hoping
12. Maybe Baby
13. Blue Days Black Nights
14. Ting A Ling
15. Rock Me My Baby
16. Well All Right
17. Words Of Love
18. Think It Over
19. Peggy Sue Got Married
20. True Love Ways
21. Listen To Me
22. Moondreams
23. Modern Don Juan
24. Raining In My Heart
25. Love Me
26. You Are My One Desire
27. You're So Square (Baby I Don't Care)
–––––––––––-

DON'T MODIFY THIS FILE

–––––––––––-

PERFORMER: auCDtect Task Manager, ver. 1.5.1RC6 build 1.5.1.7
Copyright © 2008-2010 y-soft. All rights reserved

ANALYZER: auCDtect: CD records authenticity detector, version 0.8.2
Copyright © 2004 Oleg Berngardt. All rights reserved.
Copyright © 2004 Alexander Djourik. All rights reserved.


FILE: 01 - Rave On.flac
Size: 12560474 Hash: AC0F5186CD44876D7E3AFBEB40664000 Accuracy: -m8
Conclusion: CDDA 100%
Signature: 5EC22372711D93755CBEB03821B6B2AB147F1AB6
FILE: 02 - Not Fade Away.flac
Size: 15121642 Hash: AC42FFD95929EBDA524130BE31D8884C Accuracy: -m8
Conclusion: CDDA 43%
Signature: 122893826397641AC0B23DA06600682F07DF7B37
FILE: 03 - Everyday.flac
Size: 12812622 Hash: 8B1276B5B3C0FB9181F03949975A33F0 Accuracy: -m8
Conclusion: ???
Signature: 2CAE42E1E4C63AD73269B1F3F53AB0E2B67FC858
FILE: 04 - Peggy Sue.flac
Size: 14518713 Hash: 35A6AA61B475AC6945EE31396C86FD68 Accuracy: -m8
Conclusion: CDDA 99%
Signature: 5385912BFC31623195CCDBF32924A367589B2250
FILE: 05 - That'll Be The Day.flac
Size: 11740310 Hash: D0BA01179E4FC5F5470616CAD18400AF Accuracy: -m8
Conclusion: CDDA 100%
Signature: 6DB6932C19658792854514FDB2B803D21EF28ABB
FILE: 06 - It Doesn't Matter Anymore.flac
Size: 13274838 Hash: AF3BBD0F940F187DF0F9DF319A34D2BA Accuracy: -m8
Conclusion: CDDA 100%
Signature: D3B0A1D1B6107D7069F6A4F48F709EA246565C42
FILE: 07 - It's So Easy.flac
Size: 14784051 Hash: 55686F87F833043F77DBB3FC4564D3E8 Accuracy: -m8
Conclusion: CDDA 100%
Signature: 4382D512093235DD8914789E5DE1D841A2717DC9
FILE: 08 - Oh Boy!.flac
Size: 14097448 Hash: B09C8C844148AA66EC911303A8B1111C Accuracy: -m8
Conclusion: CDDA 100%
Signature: 52E0734E20CB47191C41C4531104842167338776
FILE: 09 - Heartbeat.flac
Size: 11621970 Hash: 6303E5A59E294FD79EADC71D0BE85454 Accuracy: -m8
Conclusion: CDDA 100%
Signature: E44335CEE916E283DD45C3E4C0FD94FA9CF5CB73
FILE: 10 - Learning The Game.flac
Size: 12407906 Hash: 62433434ECFDB6AEF57F93F3C06F07FD Accuracy: -m8
Conclusion: CDDA 99%
Signature: B11255E708464DB5F3642E1BE254BE3188F5FCC2
FILE: 11 - Crying Waiting Hoping.flac
Size: 12198203 Hash: 9544FE9A764F04ADB15AEC5CD9569EEA Accuracy: -m8
Conclusion: CDDA 100%
Signature: 69B477392BD9BF9E724003BF219CB2B1E1020035
FILE: 12 - Maybe Baby.flac
Size: 13662139 Hash: 1161F2CD9D5BC6D551AAE36B5EC1776A Accuracy: -m8
Conclusion: CDDA 99%
Signature: 7685BE9F5C6D998925ECD234BDE5243DC10A5251
FILE: 13 - Blue Days Black Nights.flac
Size: 9230509 Hash: 789069DA0B92F4A2B9A1CC54D130E361 Accuracy: -m8
Conclusion: CDDA 86%
Signature: D6E62AC83E49FE564BE39A0258B5A4E40AC22D96
FILE: 14 - Ting A Ling.flac
Size: 14587892 Hash: 74595BDADE5573DDE29C95F47B8DF1DB Accuracy: -m8
Conclusion: CDDA 100%
Signature: E26E5CB0092AA952292BDD6D9A389D48AB58E4AF
FILE: 15 - Rock Me My Baby.flac
Size: 8271406 Hash: AD9EDCF9870682EFFEF921C3C22F733F Accuracy: -m8
Conclusion: CDDA 100%
Signature: 4F3EF1CA0928DFCA6614986D3586A352E33522E6
FILE: 16 - Well All Right.flac
Size: 14650390 Hash: 977023691E928FF24693596C79A3F762 Accuracy: -m8
Conclusion: CDDA 100%
Signature: 6F90F2118F1BA343ADF211523EAC8136239B2481
FILE: 17 - Words Of Love.flac
Size: 9829447 Hash: 2BD1D33E2239D98CE7D3F9DF2D2A3F23 Accuracy: -m8
Conclusion: CDDA 100%
Signature: 76983AF2454BB41238A8C23E06A38153A6703C8E
FILE: 18 - Think It Over.flac
Size: 9771751 Hash: F380628988D4921C947056949D455BBE Accuracy: -m8
Conclusion: CDDA 100%
Signature: B0536400647D4E7A27A9BA1F2488C1882C59DAC1
FILE: 19 - Peggy Sue Got Married.flac
Size: 10113534 Hash: E98655993BBCC81A0D0B9DCF63E4EF1D Accuracy: -m8
Conclusion: CDDA 100%
Signature: 4270EE5514E851A54A9888CF9EE1BA682E93148B
FILE: 20 - True Love Ways.flac
Size: 18328920 Hash: 3E99DD6F3A32A9E51437D009EC92F91F Accuracy: -m8
Conclusion: CDDA 100%
Signature: 371284A7CD19D575A8FE481CF05378D46875B922
FILE: 21 - Listen To Me.flac
Size: 14852480 Hash: 9F8F038A8F5D92E56CD7729778AB3E44 Accuracy: -m8
Conclusion: CDDA 100%
Signature: BA18648FE663F9B78C523E7C62BCE2F713C59B1C
FILE: 22 - Moondreams.flac
Size: 16407371 Hash: C9269B4FD31BD506A2EED1BBDAD424DD Accuracy: -m8
Conclusion: CDDA 100%
Signature: E341C5D22B8C5F06DB22BDC2F23092FD7D42ABE6
FILE: 23 - Modern Don Juan.flac
Size: 11599951 Hash: DD8BCB46C65DA3485CDB865A1A1EAB26 Accuracy: -m8
Conclusion: CDDA 100%
Signature: B9A6C4518EC99A3CA5C63DB0559B468668C3933F
FILE: 24 - Raining In My Heart.flac
Size: 14429335 Hash: A02E43A1BCBF70AF212DAD9313BB5FF7 Accuracy: -m8
Conclusion: CDDA 100%
Signature: 2C0717096BDAC6189F01D1AD25C855059FD8770D
FILE: 25 - Love Me.flac
Size: 9265250 Hash: 682975210EA41DBF99C51BFFBB7F921A Accuracy: -m8
Conclusion: CDDA 100%
Signature: 82EF228ADA328BB11317A400E04804E58666F57D
FILE: 26 - You Are My One Desire.flac
Size: 11534998 Hash: 93F5414C741A395F628E72BC8A5E2056 Accuracy: -m8
Conclusion: CDDA 100%
Signature: 4ED99B9C7F2770E33AA583AE5A00C3C15D9CC8FC
FILE: 27 - You're So Square (Baby I Don't Care).flac
Size: 7966740 Hash: AA0B1061C0D3BF6BE8FDA3C9E97958DF Accuracy: -m8
Conclusion: CDDA 100%
Signature: 5446A8B94448E9D52954492ABDDECD3EE1D53D97
All thanks go to the original releaser