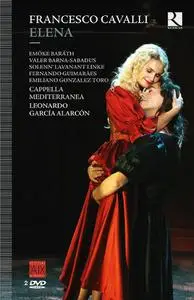 Leonardo García Alarcón, Cappella Mediterranea - Francesco Cavalli: Elena (2014)
NTSC 16:9 (720x480) | Italiano (Dolby AC3, 2 ch) | 4.71+4.47 Gb (2xDVD9) | 177 min
Classical | Ricercar | Sub.: Francais, English
The slaying of Abel by his brother Cain was one of the favourite subjects of the 18th century Italians, at the time when the oratorio was having a phenomenal success in Rome and Venice. It was most probably in one of the palaces of the "Serenissima", and not a church, that Scarlatti first performed this astonishing "sacred entertainment", worthy of a "verismo" opera, in 1707… God and Lucifer confront each other in the very soul of Cain, his brother's voice is heard from heaven, and the "spatial" treatment of the tonal levels all contribute to the effectiveness of what is almost expressionistic music – there is nothing left out of this incredible Baroque Biblical "thriller"!
Cast:
Elena, Venere - Emöke Baráth
Menelao - Valer Barna-Sabadus
Teseo - Fernando Guimarães
Ippolita, Pallade - Solenn' Lavanant Linke
Peritoo - Rodrigo Ferreira
Iro - Emiliano Gonzales Toro
Menesteo, La Pace - Anna Reinhold
Tindaro, Nettuno - Scott Conner
Erginda, Giunone, Castore - Mariana Flores
Eurite, La Verita - Majdouline Zerari
Diomede, Creonte - Brendan Tuohy
Euripilo, La Discordia, Polluce - Christopher Lowrey
Antiloco - Job Tomé
Cappella Mediterranea
Conductor - Leonardo García Alarcón