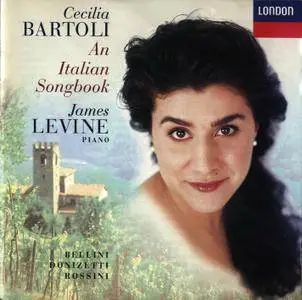 Cecilia Bartoli, James Levine - An Italian Songbook: Rossini, Bellini, Donizetti (1997)
EAC | FLAC | Image (Cue&Log) ~ 273 Mb | Mp3 (CBR320) ~ 179 Mb | Scans included
Genre: Classical, Vocal | Label: London/Decca | # 455 513-2 | Time: 01:07:23
The Italian mezzo-soprano Cecilia Bartoli is one of the most charming and talented singers to appear on the scene in recent years, and this collection of Italian songs by three great opera composers–Bellini, Donizetti, and Rossini–is a most deserving bestseller. There are many small pleasures in the selections, which reflect the bel canto predilections of their authors, and Bartoli renders them artfully. Some will be familiar even to casual listeners (Rossini's La Danza, the famous tarantella); others will be new to most, but equally deserving of a hearing. The sensitive and skillful accompaniment is by conductor-pianist James Levine.
For an operatic superstar, Cecilia Bartoli has invested an unusual amount of energy into the musicological pursuit of researching (and then performing) obscure repertoire, particularly of the Italian Baroque and Romantic eras. In this release, she brings to light songs by Vincenzo Bellini, Gaetano Donizetti, and Gioachino Rossini, composers known almost exclusively for their operas. Each was a prolific song composer, but few of their works in this genre are known, and only a handful are published in modern editions. The songs represented here are mostly fairly simple strophic songs, but they reflect the same gift for melody and penchant for florid vocal display that characterized their operas. In fact, many of these songs could be slipped into their operas without causing any sense of stylistic or aesthetic disruption. Among the most striking are Bellini's haunting L'abbandono, Donizetti's boisterous "Me voglio fà 'na casa," Rossini's manic La danza, and his profound and moving A ma belle mère. Bartoli delivers the music with her characteristic gusto and full commitment, which, while it may not always result in technically immaculate performances, always packs a visceral punch. James Levine provides a chaste, subdued, and immaculate piano accompaniment. The sound is clear and clean, but seems just a little close.



Review by Stephen Eddins, Allmusic.com
The transforming power of imagination is rarely shown so clearly. On record and in recital these songs and their like have so often appeared as tepid little exercises, cautious investigations of the voice, the acoustic, the audience. And oh, you think, pity the pianist, with those doodling arpeggios and beginner's chords! Pity us, too, who have to pin all hopes on melody, for other kinds of interest – harmonic, rhythmic, contrapuntal – are stunted indeed. But now, behold, they burgeon. Life abundant lies within the vocal line, and even the silly old accompaniments sound well.

Such is the effect of the Bartoli-Levine combination. Of course this can not be more than a hunch (for direct comparisons with early performances by the singer are not at hand) but from the very first bars it feels that something special among Bartoli's many fine recordings have come into being here with these two distinguished artists in association. Comparisons of another kind do present themselves. Three of the items in the programme occur also in a recent recording, similar in its contents, by Eva Mei and Fabio Bidini. Introducing Vaga luna, Levine establishes a sense of movement, flexible and responsive to mood; the voice then, thoughtful and private, warms with "fervido desir" and has within it a passion (however subdued) to colour "i palpiti e i sospir". And so forth. The Mei-Bidini performance is by comparison a non-event. Then in Il barcaiolo how boldly and rightly Bartoli and Levine ride the tempo, when the others simply, so to speak, sit on it. In Ah, rammenta, o bella Irene the tone deepens with "
O Dio, m'avanza", and the delicately introduced song ends with an uninhibited brilliance where the other performers make a merely dutiful progression.

Among the less familiar items, Bellini's Torna, vezzosa Fillide may come as the most engaging discovery. Rossini's miniature Requiem for his mother-in-law seems not to be a joke, whereas the Aragonese (a setting in the style of Aragon of Mi lagnero tacendo) surely must be. The booklet has nothing to say about it. I suppose there might have been something to say here and now about intrusive 'h's and that other intrusion, a breathy quality sometimes cultivated in (presumably) the interests of expression or intimacy, but they are not gross or prohibitive features of the singing here, and the lovely voice and lively art make ample amends.'



Review by Gramophone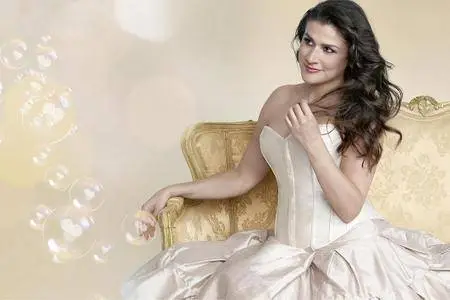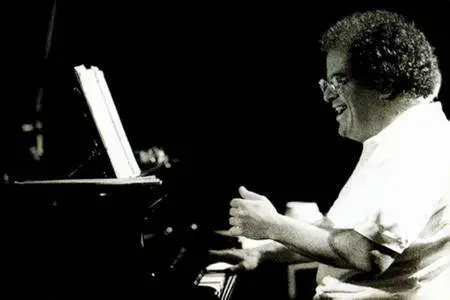 Recording: Markgräfliches Opernhaus, Bayreuth, 11-15 August 1996.
Tracklist:
01. Gioachino Rossini: Aragonese (03:30)
02. Vincenzo Bellini: Vaga luna che inargenti (04:02)
03. Gaetano Donizetti: Il barcaiolo (02:47)
04. Gaetano Donizetti: Ah! rammenta, o bella Irene (05:38)
05. Vincenzo Bellini: L'abbandono (04:16)
06. Gioachino Rossini: Or che di fiori adorno (04:02)
07. Vincenzo Bellini: Malinconia, ninfa gentile (01:16)
08. Gaetano Donizetti: Amore e morte (03:28)
09. Gioachino Rossini: Bolero (03:31)
10. Gaetano Donizetti: La conocchia (02:19)
11. Vincenzo Bellini: Il fervido desiderio (02:35)
12. Vincenzo Bellini: Torna, vezzosa Fillide (07:53)
13. Vincenzo Bellini: Vanne, o rosa fortunata (02:06)
14. Vincenzo Bellini: Dolente immagine di Fille mia (03:15)
15. Vincenzo Bellini: La farfalletta (02:01)
16. Gioachino Rossini: А ma belle mere (02:58)
17. Vincenzo Bellini: Per pietа, bell'idol mio (02:03)
18. Gaetano Donizetti: Me voglio fа 'na casa (02:12)
19. Gioachino Rossini: L'esule (04:13)
20. Gioachino Rossini: La danza (tarantella napoletana) (03:08)
Exact Audio Copy V0.99 prebeta 4 from 23. January 2008

Отчёт EAC об извлечении, выполненном 30. марта 2009, 22:39

Cecilia Bartoli / An Italian Songbook

Дисковод: PIONEER DVD-RW DVR-215 Adapter: 3 ID: 0

Режим чтения : Достоверность
Использование точного потока : Да
Отключение кэша аудио : Да
Использование указателей C2 : Нет

Коррекция смещения при чтении : 48
Способность читать области Lead-in и Lead-out : Нет
Заполнение пропущенных сэмплов тишиной : Да
Удаление блоков с тишиной в начале и конце : Нет
При вычислениях CRC использовались нулевые сэмплы : Да
Интерфейс : Встроенный Win32-интерфейс для Win NT/2000

Выходной формат : Внутренние WAV-операции
Формат сэмплов : 44.100 Гц; 16 бит; стерео


TOC извлечённого CD

Трек | Старт | Длительность | Начальный сектор | Конечный сектор
––––––––––––––––––––––––––––––––––-
1 | 0:00.00 | 3:30.50 | 0 | 15799
2 | 3:30.50 | 4:02.62 | 15800 | 34011
3 | 7:33.37 | 2:47.25 | 34012 | 46561
4 | 10:20.62 | 5:38.38 | 46562 | 71949
5 | 15:59.25 | 4:16.62 | 71950 | 91211
6 | 20:16.12 | 4:02.25 | 91212 | 109386
7 | 24:18.37 | 1:16.38 | 109387 | 115124
8 | 25:35.00 | 3:28.00 | 115125 | 130724
9 | 29:03.00 | 3:31.62 | 130725 | 146611
10 | 32:34.62 | 2:19.50 | 146612 | 157086
11 | 34:54.37 | 2:35.00 | 157087 | 168711
12 | 37:29.37 | 7:53.50 | 168712 | 204236
13 | 45:23.12 | 2:06.63 | 204237 | 213749
14 | 47:30.00 | 3:15.37 | 213750 | 228411
15 | 50:45.37 | 2:01.13 | 228412 | 237499
16 | 52:46.50 | 2:58.50 | 237500 | 250899
17 | 55:45.25 | 2:03.37 | 250900 | 260161
18 | 57:48.62 | 2:12.50 | 260162 | 270111
19 | 60:01.37 | 4:13.25 | 270112 | 289111
20 | 64:14.62 | 3:08.25 | 289112 | 303236


Характеристики диапазона извлечения и сообщения об ошибках

Выбранный диапазон

Имя файла D:\Z_reserve\Cecilia Bartoli -Italian songbook\Cecilia Bartoli - An Italian Songbook.wav

Пиковый уровень 95.2 %
Качество диапазона 100.0 %
CRC копии 9085C106
Копирование… OK

Ошибок не произошло


AccurateRip: сводка

Трек 1 точное извлечение (доверие 7) [57DDD4D5]
Трек 2 точное извлечение (доверие 7) [196E730E]
Трек 3 точное извлечение (доверие 7) [9A0C76FD]
Трек 4 точное извлечение (доверие 7) [B3C01B1C]
Трек 5 точное извлечение (доверие 7) [7B301683]
Трек 6 точное извлечение (доверие 7) [02777D9A]
Трек 7 точное извлечение (доверие 7) [60E0D1DB]
Трек 8 точное извлечение (доверие 7) [A9D89694]
Трек 9 точное извлечение (доверие 7) [0D6BDB67]
Трек 10 точное извлечение (доверие 7) [7D030F38]
Трек 11 точное извлечение (доверие 7) [DA9D528A]
Трек 12 точное извлечение (доверие 7) [B3601410]
Трек 13 точное извлечение (доверие 7) [55FA4BF7]
Трек 14 точное извлечение (доверие 6) [3B7CFABA]
Трек 15 точное извлечение (доверие 7) [62EF493F]
Трек 16 точное извлечение (доверие 7) [61DBA6E3]
Трек 17 точное извлечение (доверие 6) [249618FD]
Трек 18 точное извлечение (доверие 6) [C830F1BC]
Трек 19 точное извлечение (доверие 6) [CA48032C]
Трек 20 точное извлечение (доверие 6) [B0C35BAA]

Все треки извлечены точно

Конец отчёта
[CUETools log; Date: 17.09.2016 19:24:55; Version: 2.1.4]
[CTDB TOCID: JD3nHjTQaMtq_V_lzUFGO1Tmm2Q-] found.
Track | CTDB Status
1 | (19/20) Accurately ripped
2 | (20/20) Accurately ripped
3 | (20/20) Accurately ripped
4 | (20/20) Accurately ripped
5 | (20/20) Accurately ripped
6 | (20/20) Accurately ripped
7 | (20/20) Accurately ripped
8 | (20/20) Accurately ripped
9 | (20/20) Accurately ripped
10 | (20/20) Accurately ripped
11 | (20/20) Accurately ripped
12 | (20/20) Accurately ripped
13 | (20/20) Accurately ripped
14 | (20/20) Accurately ripped
15 | (20/20) Accurately ripped
16 | (20/20) Accurately ripped
17 | (20/20) Accurately ripped
18 | (20/20) Accurately ripped
19 | (19/20) Accurately ripped
20 | (20/20) Accurately ripped
[AccurateRip ID: 003308de-02e2b99c-1a0fcb14] found.
Track [ CRC | V2 ] Status
01 [57ddd4d5|7826b772] (16+13/31) Accurately ripped
02 [196e730e|fc2c04d3] (16+14/32) Accurately ripped
03 [9a0c76fd|08c32637] (16+14/32) Accurately ripped
04 [b3c01b1c|a6cb6b60] (16+14/32) Accurately ripped
05 [7b301683|cfbd6bd9] (17+14/33) Accurately ripped
06 [02777d9a|47d9d19b] (17+14/33) Accurately ripped
07 [60e0d1db|c8abae6a] (17+14/33) Accurately ripped
08 [a9d89694|ba909362] (17+14/33) Accurately ripped
09 [0d6bdb67|ea8929ab] (17+14/33) Accurately ripped
10 [7d030f38|42acf663] (17+14/33) Accurately ripped
11 [da9d528a|55acb0c9] (17+14/33) Accurately ripped
12 [b3601410|38447eaa] (17+14/33) Accurately ripped
13 [55fa4bf7|f52e0e08] (17+14/33) Accurately ripped
14 [3b7cfaba|971838e0] (16+14/32) Accurately ripped
15 [62ef493f|492ea7e0] (17+14/33) Accurately ripped
16 [61dba6e3|9a466e01] (17+14/33) Accurately ripped
17 [249618fd|eda1442e] (16+14/32) Accurately ripped
18 [c830f1bc|75985b24] (16+14/32) Accurately ripped
19 [ca48032c|9ee8b1ed] (16+14/32) Accurately ripped
20 [b0c35baa|71b4e42c] (15+14/31) Accurately ripped
Offsetted by -766:
01 [05194231] (00/31) No match (V2 was not tested)
02 [535d890e] (00/32) No match (V2 was not tested)
03 [17403035] (00/32) No match (V2 was not tested)
04 [6463a529] (00/32) No match (V2 was not tested)
05 [60b110c4] (00/33) No match (V2 was not tested)
06 [b8ac0094] (00/33) No match (V2 was not tested)
07 [297c09ef] (00/33) No match (V2 was not tested)
08 [327fe472] (00/33) No match (V2 was not tested)
09 [02b4f7ec] (00/33) No match (V2 was not tested)
10 [eacc6b04] (00/33) No match (V2 was not tested)
11 [3e2c5928] (00/33) No match (V2 was not tested)
12 [299538b5] (00/33) No match (V2 was not tested)
13 [30e112e9] (00/33) No match (V2 was not tested)
14 [16f7bc21] (00/32) No match (V2 was not tested)
15 [41c40511] (00/33) No match (V2 was not tested)
16 [c69f01b2] (00/33) No match (V2 was not tested)
17 [774cbf73] (00/32) No match (V2 was not tested)
18 [6dbe0c1b] (00/32) No match (V2 was not tested)
19 [d6c6f338] (00/32) No match (V2 was not tested)
20 [144dacac] (00/31) No match (V2 was not tested)

Track Peak [ CRC32 ] [W/O NULL] [ LOG ]
– 95,2 [9085C106] [F3D5CB02] CRC32
01 92,2 [93BBF8CA] [D2C965F6]
02 51,8 [DE72A414] [B715CD4C]
03 75,1 [5D5FC5FD] [DEEB64BC]
04 95,2 [DF7064CD] [E78A317F]
05 80,8 [0AE2D001] [92E8A163]
06 93,9 [62AC1061] [4BB69CF3]
07 76,7 [339C6D6A] [4FF9740C]
08 44,1 [F88F6532] [1511C360]
09 80,5 [69A3D81C] [FAE9C232]
10 65,4 [9BAD2798] [E6C9541B]
11 40,2 [192E8913] [16DB0F8F]
12 87,4 [7136ADEB] [2A66DF83]
13 58,5 [8D288EA2] [E86F1574]
14 38,2 [DC007479] [960678D4]
15 45,9 [4D90135C] [81EEBAE2]
16 50,4 [907A2C4E] [B1A110F8]
17 86,8 [8525E23B] [553B5FC2]
18 87,4 [2789A2F5] [54AD3804]
19 86,9 [08C1E9AE] [5739BB99]
20 75,1 [9D47A1DC] [373B5832]
––––––––––––––––––––––––––––––––––––––––
Analyzed: Cecilia Bartoli / An Italian Songbook
––––––––––––––––––––––––––––––––––––––––

DR Peak RMS Duration Track
––––––––––––––––––––––––––––––––––––––––
DR14 -0.70 dB -19.39 dB 3:31 01-Rossini, Gioachino: Aragonese
DR13 -5.70 dB -26.84 dB 4:03 02-Bellini, Vincenzo: Vaga luna che inargenti
DR13 -2.48 dB -21.55 dB 2:47 03-Donizetti, Gaetano: Il barcaiolo
DR13 -0.42 dB -20.47 dB 5:39 04-Donizetti, Gaetano: Ah! rammenta, o bella Irene
DR12 -1.85 dB -20.51 dB 4:17 05-Bellini, Vincenzo: L'abbandono
DR15 -0.54 dB -24.11 dB 4:02 06-Rossini, Gioachino: Or che di fiori adorno
DR12 -2.30 dB -19.41 dB 1:17 07-Bellini, Vincenzo: Malinconia, ninfa gentile
DR13 -7.10 dB -27.15 dB 3:28 08-Donizetti, Gaetano: Amore e morte
DR14 -1.88 dB -20.68 dB 3:32 09-Rossini, Gioachino: Bolero
DR12 -3.68 dB -24.23 dB 2:20 10-Donizetti, Gaetano: La conocchia
DR13 -7.90 dB -27.33 dB 2:35 11-Bellini, Vincenzo: Il fervido desiderio
DR13 -1.17 dB -20.62 dB 7:54 12-Bellini, Vincenzo: Torna, vezzosa Fillide
DR12 -4.65 dB -23.15 dB 2:07 13-Bellini, Vincenzo: Vanne, o rosa fortunata
DR14 -8.35 dB -28.09 dB 3:15 14-Bellini, Vincenzo: Dolente immagine di Fille mia
DR14 -6.75 dB -26.96 dB 2:01 15-Bellini, Vincenzo: La farfalletta
DR15 -5.95 dB -29.17 dB 2:59 16-Rossini, Gioachino: А ma belle mиre
DR11 -1.23 dB -18.40 dB 2:03 17-Bellini, Vincenzo: Per pietа, bell'idol mio
DR14 -1.17 dB -23.77 dB 2:13 18-Donizetti, Gaetano: Me voglio fа 'na casa
DR13 -1.22 dB -21.20 dB 4:13 19-Rossini, Gioachino: L'esule
DR13 -2.48 dB -20.06 dB 3:08 20-Rossini, Gioachino: La danza (tarantella napoletana)
––––––––––––––––––––––––––––––––––––––––

Number of tracks: 20
Official DR value: DR13

Samplerate: 44100 Hz
Channels: 2
Bits per sample: 16
Bitrate: 516 kbps
Codec: FLAC
================================================================================