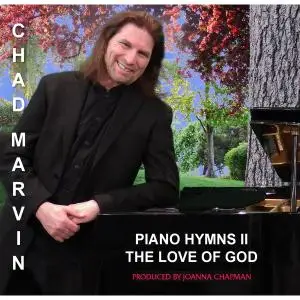 Chad Marvin - Piano Hymns II: The Love of God (2019)
WEB FLAC (tracks) - 204 MB | Tracks: 10 | 45:19 min
Style: Classical | Label:Olive Vine Recording Company
Chad Marvin is an American worship ministry mentor, speaker and recording artist. Throughout his 25 years of experience as a worship pastor he has helped fuel the vision and ignite the mission of worship teams and their churches throughout the U.S. and abroad. His long artistic directing career to churches has helped many students and interns pave their way to successful careers in worship and arts.
During his concerts and speaking engagements his powerful voice, songwriting style and teaching style ministers to the heart. He combines his music with stories and messages of incredible faith and victory over some of life's most difficult challenges. His presentations continue to inspire businesses, churches, ministry boards, worship teams, and worship leaders to keep stretching, lifting and running toward the goal in front of them.
Chad is from Grand Rapids, MI. He holds performance degrees in voice, percussion and piano from Grand Valley State University. He has written for Universal Music Publishing in Nashville, TN, and produced six solo recording projects of his own.
Tracklist:
01. Holy Holy Holy
02. Morning Has Broken
03. Jesus Paid It All / Since Jesus Came into My Heart
04. Praise to the Lord the Almighty
05. Immortal Invisible / O for a Thousand Tongues to Sing
06. When I Survey the Wondrous Cross / How Deep the Father's Love
07. What a Friend We Have in Jesus / It Is Well / Turn Your Eyes Upon Jesus
08. When the Saints Go Marching In / I Saw the Light
09. Softly and Tenderly Jesus Is Calling / Just as I Am
10. The Love of God / No One Ever Cared for Me Like Jesus

FILE: 01. Holy Holy Holy.flac
Size: 15549183 Hash: 1A2644944375BCAFE6204740195927A3 Accuracy: -m0
Conclusion: CDDA 100%
Signature: 76497B732839A0B12F199DBC832A1CF089FD5F97
FILE: 02. Morning Has Broken.flac
Size: 18968659 Hash: 2812D1D626480F356107644BA318959C Accuracy: -m0
Conclusion: CDDA 100%
Signature: 2BA24CDD3B7587E55F05D65EB800645787A0207E
FILE: 03. Jesus Paid It All _ Since Jesus Came into My Heart.flac
Size: 21701999 Hash: 302EA2AEF777390E5F111BEC03AA9863 Accuracy: -m0
Conclusion: CDDA 100%
Signature: 2DB20FEF3B9062527AE0FAC5513B11FFA36B2F0A
FILE: 04. Praise to the Lord the Almighty.flac
Size: 16022628 Hash: 5A9C6A10C66696820A1B8F2C5642F49C Accuracy: -m0
Conclusion: CDDA 100%
Signature: 9B5D7EBFAB3E2A464D0261C1B894CC18E9381D57
FILE: 05. Immortal Invisible _ O for a Thousand Tongues to Sing.flac
Size: 14719414 Hash: 12CF997EE6B2B21B5E86A4A49F5C4867 Accuracy: -m0
Conclusion: CDDA 42%
Signature: 19BF1FBA92BC9E0202CFFAFCD6E7C0F5D10C6586
FILE: 06. When I Survey the Wondrous Cross _ How Deep the Father's Love.flac
Size: 17521934 Hash: BDE523AE9C3CA2B6C916A253228817B7 Accuracy: -m0
Conclusion: CDDA 43%
Signature: 1B46CB016E481B49162D3F87977985B5F0A79392
FILE: 07. What a Friend We Have in Jesus _ It Is Well _ Turn Your Eyes Upon Jesus.flac
Size: 24514838 Hash: 739403602D2B3DB89D897E203EA96C50 Accuracy: -m0
Conclusion: CDDA 100%
Signature: 0292C011C0F8904D817CA643779E9DD025D2807A
FILE: 08. When the Saints Go Marching In _ I Saw the Light.flac
Size: 31685593 Hash: 701E762A4E7E0BC893F8A5BA54C738CD Accuracy: -m0
Conclusion: CDDA 99%
Signature: 6FF81380D4650FE9B11595C73EA06395BD962941
FILE: 09. Softly and Tenderly Jesus Is Calling _ Just as I Am.flac
Size: 22768603 Hash: 1E4E58C9889B715EEB70907D7B539E40 Accuracy: -m0
Conclusion: CDDA 99%
Signature: 5DD8C8140321F7D14B5E9B0020E48E7976245919
FILE: 10. The Love of God _ No One Ever Cared for Me Like Jesus.flac
Size: 30552361 Hash: 18D188F670E5A34002FFF2FF254CED2B Accuracy: -m0
Conclusion: CDDA 100%
Signature: 4F81012E9B0DBC963685A4865C6007B552A22F07