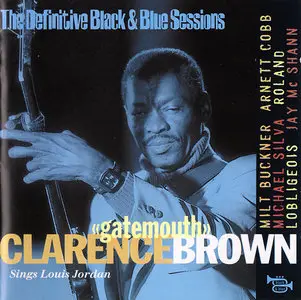 Clarence 'Gatemouth' Brown - Sings Louis Jordan (1973)
EAC | FLAC | Image (Cue&Log) ~ 379 Mb | Mp3 (CBR320) ~ 132 Mb | Scans ~ 64 Mb
Label: Black & Blue (The Definitive Black & Blue Sessions) | # BB 936.2 | Time: 00:57:33
Modern Electric Texas Blues, Rock & Roll, Rhythm & Blues, Jazz-Blues, Swing
A fresh sort of setting for Clarence Gatemouth Brown – as the session focuses his bluesy talents on the music of Louis Jordan – a combination that comes across surprisingly well on this early 70s set! The tunes are mostly numbers from the 40s vintage of Jordan's big years of recording – but they're nicely recast here in a smaller combo mode, with more distinct touches of electric blues and jazz – thanks to Brown's work on guitar, the Hammond of Milt Buckner, and tenor of Arnett Cobb! Clarence takes the tunes in an easygoing vocal style that's maybe more his own than Jordan's – which is a great way to change up the tunes – and titles include "Ain't Just Alike A Woman", "Somebody Done Changed The Lock Of My Door", "Salt Pork West Virginia", "It's A Low Down Dirty Shame", and"Is You Is Or Is You Ain't My Baby".
Whatever you do, don't refer to multi-instrumentalist Clarence "Gatemouth" Brown as a bluesman, although his imprimatur on the development of Texas blues is enormous. You're liable to get him riled. If you must pigeonhole the legend, just call him an eclectic Texas musical master whose interests encompass virtually every roots genre imaginable.

Brown learned the value of versatility while growing up in Orange, TX. His dad was a locally popular musician who specialized in country, Cajun, and bluegrass – but not blues. Later, Gate was entranced by the big bands of Count Basie, Lionel Hampton, and Duke Ellington (a torrid arrangement of "Take the 'A' Train" remains a centerpiece of Brown's repertoire). Tagged with the "Gatemouth" handle by a high school instructor who accused Brown of having a "voice like a gate," Brown has used it to his advantage throughout his illustrious career. (His guitar-wielding brother, James "Widemouth" Brown, recorded "Boogie Woogie Nighthawk" for Jax in 1951.)

In 1947, Gate's impromptu fill-in for an ailing T-Bone Walker at Houston entrepreneur Don Robey's Bronze Peacock nightclub convinced Robey to assume control of Brown's career. After two singles for Aladdin stiffed, Robey inaugurated his own Peacock label in 1949 to showcase Brown's blistering riffs, which proved influential to a legion of Houston string-benders (Albert Collins, Johnny Copeland, Johnny "Guitar" Watson, Cal Green, and many more have pledged allegiance to Brown's riffs). Peacock and its sister label Duke prospered through the '50s and '60s.

Gate stayed with Peacock through 1960. The R&B charts didn't reflect Brown's importance (he hit only once nationwide with 1949's two-sided smash "Mary Is Fine"/"My Time Is Expensive"). But his blazing instrumentals ("Boogie Uproar," "Gate Walks to Board," 1954's seminal "Okie Dokie Stomp"), horn-enriched rockers ("She Walked Right In," "Rock My Blues Away"), and lowdown Lone Star blues ("Dirty Work at the Crossroads") are a major component of the rich Texas postwar blues legacy. Brown broke new ground often – even in the '50s, he insisted on sawing his fiddle at live performances, although Robey wasn't interested in capturing Gate's violin talent until "Just Before Dawn" (his final Peacock platter in 1959).

The '60s weren't all that kind to Brown. His cover of Little Jimmy Dickens' country novelty "May the Bird of Paradise Fly Up Your Nose" for tiny Hermitage Records made a little noise in 1965 (and presaged things to come stylistically). But the decade was chiefly memorable for Brown's 1966 stint as house bandleader for The!!!!Beat, a groundbreaking syndicated R&B television program out of Dallas hosted by WLAC DJ Bill "Hoss" Allen.

When Gate began to rebuild his career in the '70s, he was determined to do things his way. Country, jazz, even calypso now played a prominent role in his concerts; he became as likely to launch into an old-time fiddle hoedown as a swinging guitar blues. He turned up on Hee Haw with pickin' and grinnin' pal Roy Clark after they cut a sizzling 1979 duet album for MCA, Makin' Music. Acclaimed discs for Rounder, Alligator, Verve, and Blue Thumb in the '80s, '90s, and 2000s have proven that Gatemouth Brown is a steadfastly unclassifiable American original. Gatemouth Brown passed away on September 10, 2005 in Orange, TX.



Bill Dahl, Allmusic.com
Clarence 'Gatemouth' Brown at Allmusic
Clarence 'Gatemouth' Brown at Wiki
Tracklist:
01. Choo Choo Ch'Boogie (04:10)
02. Somebody Done Changed the Lock of my Door (07:54)
03. Let the Good Times Roll (Take 2) (04:25)
04. Salt Pork, West Virginia (04:12)
05. Is You Is or Is You Ain't my Baby (Master Take 3) (03:57)
06. Caldonia (03:53)
07. Ain't Nobody Here but us Chickens (05:09)
08. Ain't Just Like a Woman (05:28)
09. Its Low Down Dirty Shame (06:15)
10. Is You Is or Is You Ain't my Baby (Take 1) (03:33)
11. Is You Is or Is You Ain't my Baby (Take 2) (04:21)
12. Let the Good Times Roll (Take 1) (04:11)
Exact Audio Copy V1.0 beta 4 from 7. December 2014

Отчёт EAC об извлечении, выполненном 19. декабря 2014, 20:50

Clarence 'Gatemouth' Brown / Sings Louis Jordan

Дисковод: SONY CD-RW CRX230ED Adapter: 1 ID: 0

Режим чтения : Достоверность
Использование точного потока : Да
Отключение кэша аудио : Да
Использование указателей C2 : Нет

Коррекция смещения при чтении : 6
Способность читать области Lead-in и Lead-out : Нет
Заполнение пропущенных сэмплов тишиной : Да
Удаление блоков с тишиной в начале и конце : Нет
При вычислениях CRC использовались нулевые сэмплы : Да
Интерфейс : Встроенный Win32-интерфейс для Win NT/2000

Выходной формат : Внутренние WAV-операции
Формат сэмплов : 44.100 Гц; 16 бит; стерео


TOC извлечённого CD

Трек | Старт | Длительность | Начальный сектор | Конечный сектор
––––––––––––––––––––––––––––––––––-
1 | 0:00.00 | 4:10.68 | 0 | 18817
2 | 4:10.68 | 7:54.32 | 18818 | 54399
3 | 12:05.25 | 4:25.30 | 54400 | 74304
4 | 16:30.55 | 4:12.32 | 74305 | 93236
5 | 20:43.12 | 3:57.50 | 93237 | 111061
6 | 24:40.62 | 3:53.00 | 111062 | 128536
7 | 28:33.62 | 5:09.47 | 128537 | 151758
8 | 33:43.34 | 5:28.01 | 151759 | 176359
9 | 39:11.35 | 6:15.74 | 176360 | 204558
10 | 45:27.34 | 3:33.10 | 204559 | 220543
11 | 49:00.44 | 4:21.25 | 220544 | 240143
12 | 53:21.69 | 4:11.03 | 240144 | 258971


Характеристики диапазона извлечения и сообщения об ошибках

Выбранный диапазон

Имя файла F:\MusicCD\Torrent\Clarence 'Gatemouth' Brown - Sings Louis Jordan\Clarence 'Gatemouth' Brown - Sings Louis Jordan.wav

Пиковый уровень 99.9 %
Скорость извлечения 7.4 X
Качество диапазона 100.0 %
CRC теста 4AADBD24
CRC копии 4AADBD24
Копирование… OK

Ошибок не произошло


AccurateRip: сводка

Трек 1 : извлечено точно (доверие 2) [107ADF1E] (AR v1)
Трек 2 : извлечено точно (доверие 2) [458BEBC4] (AR v1)
Трек 3 : извлечено точно (доверие 2) [BDBF6D17] (AR v1)
Трек 4 : извлечено точно (доверие 2) [72780373] (AR v1)
Трек 5 : извлечено точно (доверие 2) [07EEB16F] (AR v1)
Трек 6 : извлечено точно (доверие 2) [CF851E47] (AR v1)
Трек 7 : извлечено точно (доверие 2) [BC30BF52] (AR v1)
Трек 8 : извлечено точно (доверие 2) [2827F35E] (AR v1)
Трек 9 : извлечено точно (доверие 2) [7B26F96B] (AR v1)
Трек 10 : извлечено точно (доверие 2) [2C64908E] (AR v1)
Трек 11 : извлечено точно (доверие 2) [FEF96ED6] (AR v1)
Трек 12 : извлечено точно (доверие 2) [4ED30AD6] (AR v1)

Все треки извлечены точно

Конец отчёта

–– CUETools DB Plugin V2.1.4

[CTDB TOCID: RbhPJetClN6GS6gJ_jiuC9M3pD0-] found
Submit result: RbhPJetClN6GS6gJ_jiuC9M3pD0- has been confirmed
Track | CTDB Status
1 | (5/5) Accurately ripped
2 | (5/5) Accurately ripped
3 | (4/5) Accurately ripped
4 | (4/5) Accurately ripped
5 | (4/5) Accurately ripped
6 | (5/5) Accurately ripped
7 | (5/5) Accurately ripped
8 | (4/5) Accurately ripped
9 | (4/5) Accurately ripped
10 | (4/5) Accurately ripped
11 | (4/5) Accurately ripped
12 | (5/5) Accurately ripped


==== Контрольная сумма отчёта 596E034ECBCBA06B3BFAD7D36EFB81E51E1152F18B228D79AF7A7B25B3087781 ====
foobar2000 1.2 / Dynamic Range Meter 1.1.1
log date: 2015-01-07 17:17:44

––––––––––––––––––––––––––––––––––––––––
Analyzed: Clarence 'Gatemouth' Brown / Sings Louis Jordan
––––––––––––––––––––––––––––––––––––––––

DR Peak RMS Duration Track
––––––––––––––––––––––––––––––––––––––––
DR10 0.00 dB -11.94 dB 4:11 01-Choo Choo Ch'Boogie
DR10 0.00 dB -12.91 dB 7:54 02-Somebody Done Changed the Lock of my Door
DR10 0.00 dB -12.70 dB 4:25 03-Let the Good Times Roll (Take 2)
DR10 0.00 dB -12.08 dB 4:12 04-Salt Pork, West Virginia
DR10 -0.50 dB -12.20 dB 3:58 05-Is You Is or Is You Ain't my Baby (Master Take 3)
DR10 0.00 dB -11.77 dB 3:53 06-Caldonia
DR8 0.00 dB -10.44 dB 5:10 07-Ain't Nobody Here but us Chickens
DR9 0.00 dB -10.51 dB 5:28 08-Ain't Just Like a Woman
DR10 0.00 dB -12.62 dB 6:16 09-Its Low Down Dirty Shame
DR10 0.00 dB -12.43 dB 3:33 10-Is You Is or Is You Ain't my Baby (Take 1)
DR10 0.00 dB -12.71 dB 4:21 11-Is You Is or Is You Ain't my Baby (Take 2)
DR10 0.00 dB -12.27 dB 4:11 12-Let the Good Times Roll (Take 1)
––––––––––––––––––––––––––––––––––––––––

Number of tracks: 12
Official DR value: DR10

Samplerate: 44100 Hz
Channels: 2
Bits per sample: 16
Bitrate: 919 kbps
Codec: FLAC
================================================================================