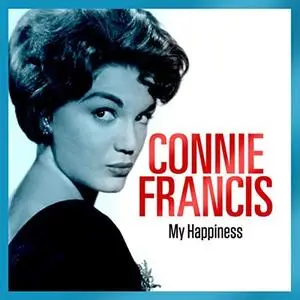 Connie Francis - My Happiness (2019)
WEB FLAC (Tracks) - 190 MB | Cover | MP3 CBR 320 kbps - 116 MB | 00:49:17
Pop, Easy Listening | Label:
Connie Francis is the prototype for the female pop singer of today. At the height of her chart popularity in the late '50s and early '60s, Francis was unique as a female recording artist, amassing record sales equal to or surpassing those of many of her male contemporaries. Ultimately, she branched into other styles of music big band, country, ethnic, and more. She still challenges Madonna as the biggest-selling female recording artist of all time. Like Madonna, Concetta Rosemarie Franconero came from an Italian-American background. Francis started her music career at three, playing an accordion bought for her by her contractor father, George. Her father's dream was not for his daughter to become a star, but for Francis to become independent of men as an adult with her own accordion school of music. At age ten, she was accepted on Startime, a New York City television show that featured talented child singers and performers. The show had no one else who played an accordion. Its host, legendary TV talent scout Arthur Godfrey, had difficulty pronouncing her name and suggested something "easy and Irish," which turned into Francis. After three weeks on Startime, the show's producer and Francis' would-be manager advised her to dump the accordion and concentrate on singing. Francis performed weekly on Startime for four years.
TRACKLIST
01. Who's Sorry Now
02. When The Boy In Your Arms
03. You Always Hurt the One You Love
04. Carolina Moon
05. My Heart Has a Mind of Its Own
06. Among My Souvenirs
07. It's the Talk of the Town
08. You're Nobody 'Til Somebody Love
09. Robot Man
10. Vacation
11. Lipstick On Your Collar
12. My Happiness
13. I'm Sorry I Made You Cry
14. Tennessee Waltz
15. Together
16. Fallin'
17. Everybody's Somebody's Fool
18. Where the Boys Are
19. Mama
–––––––––––-
DON'T MODIFY THIS FILE
–––––––––––-
PERFORMER: auCDtect Task Manager, ver. 1.6.0 RC1 build 1.6.0.1
Copyright © 2008-2010 y-soft. All rights reserved
http://y-soft.org
ANALYZER: auCDtect: CD records authenticity detector, version 0.8.2
Copyright © 2004 Oleg Berngardt. All rights reserved.
Copyright © 2004 Alexander Djourik. All rights reserved.
FILE: 9. Connie Francis - Robot Man.flac
Size: 6394210 Hash: EBBE80CDEC1EE053FEF5C9F0C4676E8A Accuracy: -m0
Conclusion: MPEG 95%
Signature: 4FE7BE3628CDFFCFB589B38DE2F6300F0083965B
FILE: 8. Connie Francis - You're Nobody 'Til Somebody Love.flac
Size: 14385741 Hash: 3C6F9A001E5BD10BFEC0C0FA8FA7DF2A Accuracy: -m0
Conclusion: MPEG 97%
Signature: B2C6157A91FE28219F9B2AFFC9D7BB14976577C4
FILE: 7. Connie Francis - It's the Talk of the Town.flac
Size: 11675175 Hash: 0502D606514CFBA4768C5FFD950B8512 Accuracy: -m0
Conclusion: MPEG 98%
Signature: E319031F67B1C26E38D53BF3CA9EDB82CEF8BC39
FILE: 6. Connie Francis - Among My Souvenirs.flac
Size: 7526930 Hash: 96257BCE94F71023003D0DE45264E673 Accuracy: -m0
Conclusion: CDDA 100%
Signature: B59B7067EBE373CE72627C71483251AD1578165F
FILE: 5. Connie Francis - My Heart Has a Mind of Its Own.flac
Size: 12983762 Hash: F0FFDA89A7C2469B8CEB45238179F81E Accuracy: -m0
Conclusion: MPEG 95%
Signature: 698D0FCDE68F5D8F0150B844EC1B9C276B7A30FD
FILE: 4. Connie Francis - Carolina Moon.flac
Size: 8718352 Hash: FAB7EE133324906F3D1114F7CD9D6331 Accuracy: -m0
Conclusion: CDDA 100%
Signature: 7CC0B6D39F72EAA3D4DCAB1CAD43351404EC4F0D
FILE: 3. Connie Francis - You Always Hurt the One You Love.flac
Size: 7322802 Hash: A62635357D61E913B30E0F5CE026A6DC Accuracy: -m0
Conclusion: CDDA 100%
Signature: 6A47C0B498CAB226156FBD46090F129766AF4343
FILE: 2. Connie Francis - When The Boy In Your Arms.flac
Size: 13616035 Hash: 2C48358493B242C3E23CACE6DC712136 Accuracy: -m0
Conclusion: MPEG 95%
Signature: 3B9516ADF954ABECAB2375341E7AE1745583DDBA
FILE: 19. Connie Francis - Mama.flac
Size: 18692917 Hash: 1ACA8B5CB9C0F7A5E17B92F3BCAF02B6 Accuracy: -m0
Conclusion: MPEG 95%
Signature: 390B57954CC10647FEB5EB5C8D3B21EB4B44CE1C
FILE: 18. Connie Francis - Where the Boys Are.flac
Size: 12324292 Hash: AD9A8179A7018CA3989CF06A8969CBCF Accuracy: -m0
Conclusion: CDDA 87%
Signature: A5999A0B2B6AC11C4F0544CFC54C98F9742894C8
FILE: 17. Connie Francis - Everybody's Somebody's Fool.flac
Size: 14416480 Hash: 82442AB5D104C1F85C2E80DD8C119F3E Accuracy: -m0
Conclusion: MPEG 95%
Signature: A6260EE47356786855343F795A6F5ABAF7278B48
FILE: 16. Connie Francis - Fallin'.flac
Size: 6862263 Hash: 1A68FDA4D744D024C929C7DB35D30A82 Accuracy: -m0
Conclusion: CDDA 99%
Signature: FCD0698277263071B3441A46D3E4D44FB7DF0014
FILE: 15. Connie Francis - Together.flac
Size: 11596966 Hash: EEFA8BF1016EA6F1546003AE75AAD0C0 Accuracy: -m0
Conclusion: MPEG 100%
Signature: 696C4FFE5EC3DA3F3B3AE2238F51D09463AACB50
FILE: 14. Connie Francis - Tennessee Waltz.flac
Size: 15592041 Hash: 713940C5327ACC326B18F091D45A1A27 Accuracy: -m0
Conclusion: MPEG 91%
Signature: D6617D4594C7261BDC7C9EF980D67534955D4B87
FILE: 13. Connie Francis - I'm Sorry I Made You Cry.flac
Size: 7662319 Hash: 490D604CA5331477BFBB3560B0DAF2B7 Accuracy: -m0
Conclusion: CDDA 100%
Signature: 984B0A2DC4B3524C18C109D6A997214A22CE2202
FILE: 12. Connie Francis - My Happiness.flac
Size: 7536184 Hash: 250AD1397605B1533F49BED135BC3EA8 Accuracy: -m0
Conclusion: CDDA 99%
Signature: 7D70A6FB95F0DDDD5C24AA870E37C7B49C03FBB4
FILE: 11. Connie Francis - Lipstick On Your Collar.flac
Size: 7744526 Hash: 48858BD00B04F1C42ADBC4E4FE2EFD91 Accuracy: -m0
Conclusion: CDDA 100%
Signature: BC32CEF76FA221576F6664D28CB48D5FEDC29597
FILE: 10. Connie Francis - Vacation.flac
Size: 7184803 Hash: EF32258ADE3350E2613FD97A5777F974 Accuracy: -m0
Conclusion: CDDA 100%
Signature: 8251CA9C45862F5CF2D3D171550B57AF21B66EF1
FILE: 1. Connie Francis - Who's Sorry Now.flac
Size: 6851792 Hash: BDEE9944122802B75A34E63DADB5E30C Accuracy: -m0
Conclusion: CDDA 100%
Signature: 88E8AC2AAEF4AC99366098898DE5D4E82190C81B
All thanks go to the original releaser