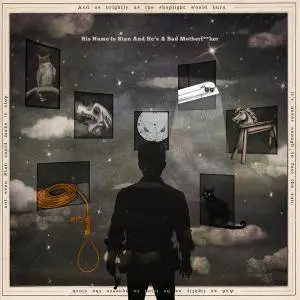 Crocodile - His Name Is Stan And He's A Bad Motherf**ker (2018)
WEB FLAC (tracks) - 282 MB | MP3 CBR 320 kbps (LAME 3.93) - 100 MB | Front cover
Genre: Progressive Rock | RAR 3% Rec. | Label: Self-released
Crocodile is an Austin TX based progressive rock band formed (in the classic style of Gentle Giant, Genesis, Jethro Tull and ELP). Prog with teeth. They make progressive yet accessible music that is vibrant and creative, in an effort to recapture the inventive charm inspired by the original pioneers of the genre. This is their debut album released in February 2018.
Tracklist:
01. (pre) Dawn Of Stan
02. I Was A Worker
03. Sawhorse
04. Stan
05. Interlude (lunchtime)
06. Stir The Stain (fuck the door)
07. I Am Stan
Total time:
40:29

PERFORMER: auCDtect Task Manager, ver. 1.6.0 RC1 build 1.6.0.1
Copyright © 2008-2010 y-soft. All rights reserved

ANALYZER: auCDtect: CD records authenticity detector, version 0.8.2
Copyright © 2004 Oleg Berngardt. All rights reserved.
Copyright © 2004 Alexander Djourik. All rights reserved.


FILE: Crocodile - His Name Is Stan And He's A Bad Motherf-ker - 07 I Am Stan.flac
Size: 51270901 Hash: 68F41862C51DCB6885D6E922EEFB5520 Accuracy: -m0
Conclusion: CDDA 99%
Signature: 137FF4C639A1610A4129A4CCE0044B3E204EA209
FILE: Crocodile - His Name Is Stan And He's A Bad Motherf-ker - 06 Stir The Stain (fuck the door).flac
Size: 36387257 Hash: 1355181D336865BD0F7EFDD389A68A0A Accuracy: -m0
Conclusion: CDDA 99%
Signature: 9C781282ED7993349AE84128A9D433A1F3497C3E
FILE: Crocodile - His Name Is Stan And He's A Bad Motherf-ker - 05 Interlude (lunchtime).flac
Size: 5573433 Hash: 3E21243B4626EB362F900BBEF64596ED Accuracy: -m0
Conclusion: CDDA 87%
Signature: D2D3CF07CB74F79D19D0C5A02D6122A71F584E58
FILE: Crocodile - His Name Is Stan And He's A Bad Motherf-ker - 04 Stan.flac
Size: 38930115 Hash: 4FFD09FE169619FB53E5AE4048FD1967 Accuracy: -m0
Conclusion: CDDA 100%
Signature: A2DC7B7196AA16B5DC959F6A5D3302017AF5867D
FILE: Crocodile - His Name Is Stan And He's A Bad Motherf-ker - 03 Sawhorse.flac
Size: 56844964 Hash: 3A271C98A6134B382992169989DD6F57 Accuracy: -m0
Conclusion: CDDA 100%
Signature: 669B1EC4EE7F2F6F3D43F4466E8FBDADF70D0977
FILE: Crocodile - His Name Is Stan And He's A Bad Motherf-ker - 02 I Was A Worker.flac
Size: 44921786 Hash: 19BAAAF9D92CBF4E8346CDD7B9EDDECB Accuracy: -m0
Conclusion: CDDA 100%
Signature: E28384DA727219AE3989E8B82B19DCFE3592F8FC
FILE: Crocodile - His Name Is Stan And He's A Bad Motherf-ker - 01 (pre) Dawn Of Stan.flac
Size: 49724198 Hash: 9CCACFE99748572FBE074CA1E0D4F945 Accuracy: -m0
Conclusion: CDDA 100%
Signature: 7F454B50000DABB671621ACD4C55158864E2EC1F