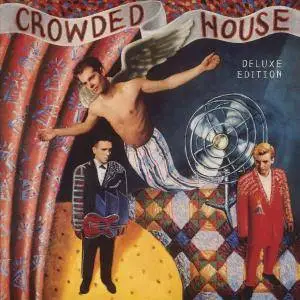 Crowded House - Crowded House (Deluxe Edition)
Pop Rock | MP3 CBR 320 kbps | 91:33 min | 223 MB
Label: Universal | Tracks: 28 | Rls.date: 1986/2016
Crowded House's 1986 debut spawned the anthemic single Don't Dream It's Over, which reached number two on the US charts the following year. This sucess was consolidated with a further Stateside top ten hit, Something So Strong. The album will be reissued in November – along with the rest of the catalogue – as a 2CD deluxe edition and a new 180g vinyl pressing.
The new two-CD deluxe features a bonus disc full of home demos, including most of the tracks on the album and, curiously, Walking On The Spot which eventually found a place on 1993's Together Alone
TRACKLIST
CD1
1. Mean To Me (3:13)
2. World Where You Live (3:07)
3. Now We're Getting Somewhere (4:04)
4. Don't Dream It's Over (3:56)
5. Love You 'til The Day I Die (3:32)
6. Something So Strong (2:51)
7. Hole In The River (3:57)
8. Can't Carry On (3:54)
9. I Walk Away (3:30)
10. Tombstone (3:30)
11. That's What I Call Love (3:37)
12. Something So Strong - Home Demo (1:22)
13. Love You 'til The Day I Die - Home Demo (0:54)
CD2
1. That's What I Call Love (Studio Demo) (3:35)
2. Hole In The River (Studio Demo) (4:04)
3. Can't Carry On (Studio Demo) (3:34)
4. Walking On The Pier (Studio Demo) (3:21)
5. Does Anyone Here Understand My Girlfriend (Studio Demo) (3:22)
6. Oblivion (Studio Demo) (3:35)
7. Something So Strong (Studio Demo) (2:12)
8. Stranger Underneath Your Skin (Home Demo) (2:49)
9. Walking On The Spot (Studio Demo) (3:44)
10. World Where You Live (Writing Demo) (1:16)
11. Don't Dream It's Over (Home Demo) (3:14)
12. Now We're Getting Somewhere (Studio Demo) (4:31)
13. Grabbing By The Handful (Live At Pier Hotel, Frankston 16Th June 1985) (3:32)
14. Left Hand (Live At Pier Hotel, Frankston 16Th June 1985) (4:23)
15. Recurring Dream (2:57)