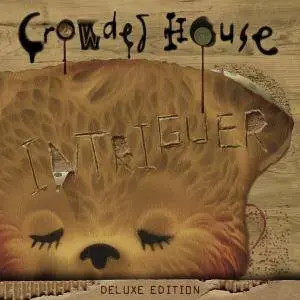 Crowded House - Intriguer (Deluxe Edition)
Pop Rock | MP3 CBR 320 kbps | 108:33 min | 266 MB
Label: Universal | Tracks: 26 | Rls.date: 2010/2016
Intriguer is Crowded House's last studio album. Issued in 2010, the 10-track long-player features as part of the 2016 reissue campaign and comes a two-CD deluxe edition.
Bonus content on the deluxe includes studio demos, alternative versions of album tracks and live material.
TRACKLIST
CD1
1. Saturday Sun (3:24)
2. Archer's Arrows (4:03)
3. Amsterdam (3:34)
4. Either Side Of The World (4:34)
5. Falling Dove (4:35)
6. Isolation (4:36)
7. Twice If You're Lucky (3:31)
8. Inside Out (3:16)
9. Even If (4:01)
10. Elephants (4:27)
CD2
1. Only Way To Go Is Forward (Live) (5:12)
2. Beautiful Life (Live) (5:14)
3. Either Side Of The World (Live) (4:52)
4. Twice If You're Lucky (Live) (4:52)
5. Bound To Rescue (Live) (2:46)
6. God Lives Over The Road (Studio Demo) (3:40)
7. Isolation (Studio Demo) (3:29)
8. Better Things (Studio Demo) (3:20)
9. Even If (Take 1) (4:23)
10. Archers Arrows (Alternative Version) (2:56)
11. Saturday Sun (Alternative Version) (3:29)
12. The Intriguer (Studio) (3:24)
13. Turn It Around (4:03)
14. Eyes Grow Heavy (3:39)
15. Two Minutes Of Silence (4:10)
16. Nonsense Of Course (Medley) (9:04)