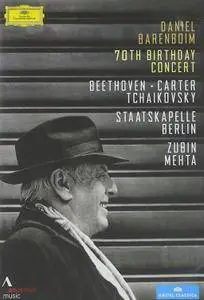 Daniel Barenboim - 70th Birthday Concert (2013)
DVD9 | | NTSC, 6400 kbps, 720 x 480 at 29.970 fps | Audio: 1510 kbps, 48 khz, 24 bits, 6 channels, DTS;
1536 kbps, 48 khz, 16 bits, 2 channels, PCM
Classical | Length: 01:37:00 | 6.44 GB
The incomparable, charismatic Daniel Barenboim celebrated his 70th birthday on November 15th 2012, by performing a gala concert at Berlins Philharmonie, where he was joined by the Staatskapelle Berlin, of which he is Conductor For Life.

Not only did the crowd give the great conductor-pianist a standing ovation on his first appearance but they also sang Happy Birthday to him before he had played a note.

For this very special musical occasion, Maestro Barenboim and the orchestra were joined by his great friend, the celebrated conductor, Zubin Mehta.

The popular programme opens with Beethovens Piano Concerto No.3 in C minor and finishes with Tchaikovskys Piano Concerto No.1 In B flat minor. These two much-loved concertos frame the German premiere of Dialogues II, a brief and witty work for piano and orchestra, written in celebration of Daniel Barenboims 70th year by American composer Elliott Carter, who died at the age of 103, just ten days before the concert.

This live album, capturing a joyous event, is a fitting tribute to an outstanding pianist, conductor and musical educator and a glorious celebration of his lifelong passion for the transformative power of music.

The proceeds from the evening were donated to the Berlin Music Kindergarten, which Daniel Barenboim founded in 2005.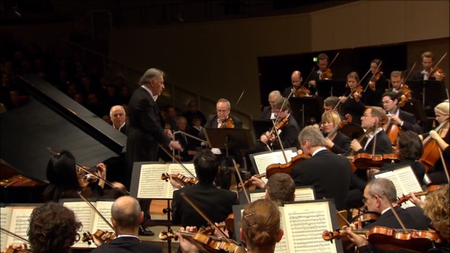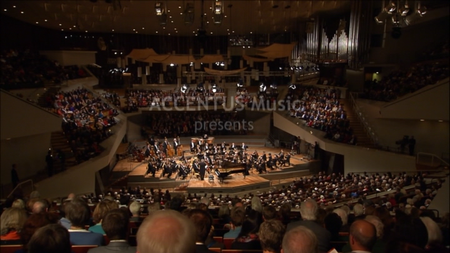 Track List
1. Opening Credits Barenboim Birthday Concert 1:35
Daniel Barenboim, Staatskapelle Berlin, Zubin Mehta
Mildred & Patty Hill
2. Happy Birthday To You 0:54
Audience Applause, Staatskapelle Berlin, Zubin MehtaLudwig van Beethoven (1770 - 1827)
Piano Concerto No.3 In C Minor, Op.37
1. Allegro con brio
3. 1. Cadenza: Ludwig van Beethoven 18:47
4. 2. Largo 9:27
5. 3. Rondo (Allegro) 13:07
Elliott Carter (1908 - 2012)
6. Dialogues II 6:17
Peter Ilyich Tchaikovsky
7. 1. Allegro non troppo e molto maestoso - Allegro con spirito 22:57
Piano Concerto No.1 In B Flat Minor, Op.23, TH.55
8. 2. Andantino semplice - Prestissimo - Tempo I 7:44
9. 3. Allegro con fuoco 12:25
Thanks to the original uploader