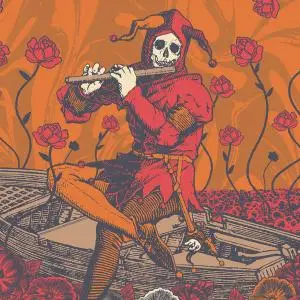 Dead & Company - Phillips Arena, Atlanta, GA 11-29-17 (Live) (2019)
FLAC (tracks) | 02:57:27 | 903 Mb
Genre: Rock, Pop / Label: Rhino
Since then, the band has completed five tours, playing to more than 1.5 million fans, and has become a record-breaking stadium act. Dead & Company has headlined iconic stadiums across the country including Folsom Field, Autzen Stadium, Citi Field, Fenway Park and Dodger Stadium. Additionally, the band broke Wrigley Field's all-time concert attendance record in 2017. Dead & Company's 2018 Summer Tour ranked in the top 25 of the Top 100 Worldwide Tours and for the past two years, their Summer Tours ranked in the top 15 of the Top Global Concert Tours.
Track List:
[12:34] 01. Dead & Company - Truckin' (Live at Phillips Arena, Atlanta, GA 11/29/17)
[03:54] 02. Dead & Company - Smokestack Lightning (Live at Phillips Arena, Atlanta, GA 11/29/17)
[13:05] 03. Dead & Company - Feel Like a Stranger (Live at Phillips Arena, Atlanta, GA 11/29/17)
[06:03] 04. Dead & Company - Dire Wolf (Live at Phillips Arena, Atlanta, GA 11/29/17)
[10:39] 05. Dead & Company - Loser (Live at Phillips Arena, Atlanta, GA 11/29/17)
[11:29] 06. Dead & Company - Cassidy (Live at Phillips Arena, Atlanta, GA 11/29/17)
[12:52] 07. Dead & Company - Bird Song (Live at Phillips Arena, Atlanta, GA 11/29/17)
[11:38] 08. Dead & Company - Deal (Live at Phillips Arena, Atlanta, GA 11/29/17)
[06:18] 09. Dead & Company - Help on the Way (Live at Phillips Arena, Atlanta, GA 11/29/17)
[07:58] 10. Dead & Company - Slipknot! (Live at Phillips Arena, Atlanta, GA 11/29/17)
[11:11] 11. Dead & Company - Franklin's Tower (Live at Phillips Arena, Atlanta, GA 11/29/17)
[09:35] 12. Dead & Company - Comes a Time (Live at Phillips Arena, Atlanta, GA 11/29/17)
[09:54] 13. Dead & Company - Viola Lee Blues (Live at Phillips Arena, Atlanta, GA 11/29/17)
[10:02] 14. Dead & Company - Drums (Live at Phillips Arena, Atlanta, GA 11/29/17)
[04:12] 15. Dead & Company - Space (Live at Phillips Arena, Atlanta, GA 11/29/17)
[10:26] 16. Dead & Company - Wharf Rat (Live at Phillips Arena, Atlanta, GA 11/29/17)
[10:45] 17. Dead & Company - Throwing Stones (Live at Phillips Arena, Atlanta, GA 11/29/17)
[08:47] 18. Dead & Company - U.S. Blues (Live at Phillips Arena, Atlanta, GA 11/29/17)
[05:57] 19. Dead & Company - Brokedown Palace (Live at Phillips Arena, Atlanta, GA 11/29/17)
ANALYZER: auCDtect: CD records authenticity detector, version 0.8.2
Copyright © 2004 Oleg Berngardt. All rights reserved.
Copyright © 2004 Alexander Djourik. All rights reserved.


FILE: 01. Truckin' (Live at Phillips Arena, Atlanta, GA 11-29-17).flac
Size: 71322847 Hash: 025A86EDA2D3C69501DE745D493EC42C Accuracy: -m40
Conclusion: CDDA 100%
Signature: 42E145F0E254EC2BCD7B037539A9AFEDA2C78FF2
FILE: 02. Smokestack Lightning (Live at Phillips Arena, Atlanta, GA 11-29-17).flac
Size: 21617803 Hash: EB02EBADCC9EFA86304EC899684272F2 Accuracy: -m40
Conclusion: CDDA 100%
Signature: 2B26383E1024D11552643B45A26CE9962DFA1CCD
FILE: 03. Feel Like a Stranger (Live at Phillips Arena, Atlanta, GA 11-29-17).flac
Size: 72534487 Hash: 4732BE47D9EAEE82AD2C1D7D9A13A41C Accuracy: -m40
Conclusion: CDDA 100%
Signature: 537E7A2A1BC43A896211D593CE35229F8CBF8E89
FILE: 04. Dire Wolf (Live at Phillips Arena, Atlanta, GA 11-29-17).flac
Size: 33128543 Hash: 1EAC4045BCC2E9672B2983DB9068D448 Accuracy: -m40
Conclusion: CDDA 100%
Signature: E6869A1D3F072468B199135E5F679816F0A276D9
FILE: 05. Loser (Live at Phillips Arena, Atlanta, GA 11-29-17).flac
Size: 52813038 Hash: F97DCD7AC5C052AF96DD2FEC97BBFB46 Accuracy: -m40
Conclusion: CDDA 100%
Signature: 4B70F5B6C4F4722DCA0435B520F5F1E701DD2A5B
FILE: 06. Cassidy (Live at Phillips Arena, Atlanta, GA 11-29-17).flac
Size: 61834214 Hash: 27A50953BC239A6067FD86D24FD8B0FE Accuracy: -m40
Conclusion: CDDA 100%
Signature: 1B288DA20D1F74000F30A7192663CDE0A2D1B2C2
FILE: 07. Bird Song (Live at Phillips Arena, Atlanta, GA 11-29-17).flac
Size: 65723779 Hash: 5ACAE38DB5BA28726FD96266795CA033 Accuracy: -m40
Conclusion: CDDA 100%
Signature: 51AF42F1B0EC02FECD851DE7852953CCBAA8867C
FILE: 08. Deal (Live at Phillips Arena, Atlanta, GA 11-29-17).flac
Size: 65524471 Hash: 05489FB28202873FB925A2544E2EE1B5 Accuracy: -m40
Conclusion: CDDA 100%
Signature: 9043AD7FE8A135A758E4FC9093D68CA50FEA9748
FILE: 09. Help on the Way (Live at Phillips Arena, Atlanta, GA 11-29-17).flac
Size: 31795104 Hash: 40D301BD8212B6EC0BF6F6DEEA8E69AB Accuracy: -m40
Conclusion: CDDA 100%
Signature: 3502CAE96A309F9249E8BD5E9419AA340F3E38A3
FILE: 10. Slipknot! (Live at Phillips Arena, Atlanta, GA 11-29-17).flac
Size: 43297083 Hash: C572B60E1AD9F5628F006C86A753B458 Accuracy: -m40
Conclusion: CDDA 99%
Signature: 6C3DEC53969A3E5136E7454081DC55D5E9AA8795
FILE: 11. Franklin's Tower (Live at Phillips Arena, Atlanta, GA 11-29-17).flac
Size: 61295702 Hash: 0E4AB21D5000464A273306FA713B959A Accuracy: -m40
Conclusion: CDDA 100%
Signature: CD3A6396E22117CAC6546CEFB738F93BE8722170
FILE: 12. Comes a Time (Live at Phillips Arena, Atlanta, GA 11-29-17).flac
Size: 46376182 Hash: DC6753BD968F31D7BADA6565B1D195AB Accuracy: -m40
Conclusion: CDDA 100%
Signature: AB648273BC707EC7E5F4B368D89BC6CD7EB8F9E7
FILE: 13. Viola Lee Blues (Live at Phillips Arena, Atlanta, GA 11-29-17).flac
Size: 55496724 Hash: 60D3F920F3245458234111DE0944B5F4 Accuracy: -m40
Conclusion: CDDA 100%
Signature: 848A8612652E1A7A6C9E1EC56F4A45AE467D6DE5
FILE: 14. Drums (Live at Phillips Arena, Atlanta, GA 11-29-17).flac
Size: 52578688 Hash: B2BCE2ECF007EEC477B788E51188A218 Accuracy: -m40
Conclusion: CDDA 100%
Signature: 3833032F533C6DA7FE11210AD9C8513F601A5B0B
FILE: 15. Space (Live at Phillips Arena, Atlanta, GA 11-29-17).flac
Size: 19904560 Hash: 2709C3C9F6DFE07C86FFA46304737B1C Accuracy: -m40
Conclusion: CDDA 100%
Signature: 4D60D1016B53D8D89553ED15BD9DFE42A5919187
FILE: 16. Wharf Rat (Live at Phillips Arena, Atlanta, GA 11-29-17).flac
Size: 53388295 Hash: BF5F2680DDB05038A21AD14192FFB292 Accuracy: -m40
Conclusion: CDDA 100%
Signature: C31225E4E02618F9EFC34B06E368F449061106AF
FILE: 17. Throwing Stones (Live at Phillips Arena, Atlanta, GA 11-29-17).flac
Size: 58933248 Hash: 2CC0FB85C59616DB3D13C6D12271CF2B Accuracy: -m40
Conclusion: CDDA 100%
Signature: 5FA08185B7E4B214C246631E826FC337C352FD46
FILE: 18. U.S. Blues (Live at Phillips Arena, Atlanta, GA 11-29-17).flac
Size: 50347924 Hash: BEA8CDFBD55BE8D78A0B0136AF3604E4 Accuracy: -m40
Conclusion: CDDA 100%
Signature: 3EA3C504E67060411164AAE5AD6572ADC93A4D80
FILE: 19. Brokedown Palace (Live at Phillips Arena, Atlanta, GA 11-29-17).flac
Size: 29230569 Hash: 5E4B2FA764FB25C432101CA37161439E Accuracy: -m40
Conclusion: CDDA 100%
Signature: 436F295D033583B7E34C0F6201711299D866CA5D