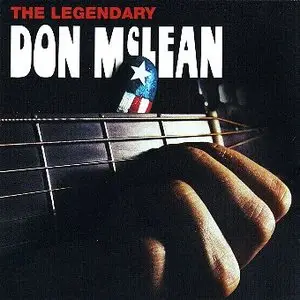 Don McLean - The Legendary Don McLean (2007)
Singer/Songwriter | MP3 CBR 320 Kbps | 173 MB | RS.com
Limited two disc (CD + DVD) pressing of this excellent new compilation from the American singer/songwriter best known for his hits 'American Pie' and 'Vincent' as well as penning Perry Como's worldwide hit 'And I Love You So'. Also included is a brand new unreleased song: 'In A Museum'. The CD features 20 tracks including the aforementioned hits and more.
This is only the CD
01. American Pie
02. Vincent
03. And I Love You So
04. Wonderful Baby
05. Everyday
06. Dreidel
07. In A Museum
08. Jerusalem
09. Words And Music
10. Maybe Baby
11. Have You Seen Me
12. Since I Don't Have You
13. Your Cheatin' Heart
14. If We Try
15. Mountains O'Mourne
16. Winterwood
17. Crossroads
18. Castles In The Air
19. Empty Chairs
20. Crying
Part 1
Part 2