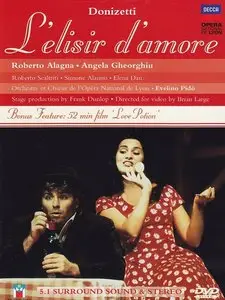 Evelino Pidò, Lyon Opera Chorus & Orchestra, Angela Gheorghiu, Roberto Alagna - Donizetti: L'elisir d'amore (2002)
NTSC 16:9 (720x480) | Italiano (Dolby AC3, 2 ch) | (Dolby AC3, 6 ch) | 7.79 Gb (DVD9) | 125 min
Classical | DECCA | Sub: English, Francais, Deutsch, Espanol, Chinese
Frank Dunlop's witty, unvarnished view of Donizetti's country comedy, updated to the 1930s, is delightful to see, wondrous to hear. Gheorghiu and Alagna make an ideal partnership as capricious girl and shy bumpkin. They both act and sing their roles to near perfection in a staging that exposes the heart and heartlessness as much as the fun of this work.
Singing with every care for tone and nuance, Gheorghiu presents Adina as by turns, haughty, flighty, concerned, annoyed when the other girls paw him, and finally tender when love at last triumphs, and she finds the vocal equivalent for each mood. Not so versatile vocally, but always tidy and responsive to the text, Alagna makes an attractively naive, emotionally vulnerable Nemorino.
Scaltriti's Belcore is made deliberately unsympathetic by Dunlop and at times he seems to be overblowing his basically attractive voice. There need be no reservations about Alaimo's witty yet genial Dulcamara: all the buffo elements of the part are there but never exaggerated. Evelino Pidò conducts a trim account of the score, his often fast speeds justified by the way his singers enjoy them in terms of athletic delivery. Brian Large's video direction is predictably exemplary. The sound and widescreen picture make us feel present at an obviously enjoyable night at the opera. (Gramophone Classical Music Guide).
Cast:
Nemorino - Roberto Alagna
Adina - Angela Gheorghiu
Belcore - Roberto Scaltriti
Dulcamara - Simone Alaimo
Giannetta - Elana Dan
Lyon Opera Chorus & Orchestra
Conductor - Evelino Pidò