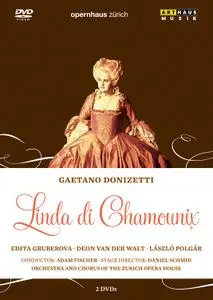 Adam Fischer, Chor und Orchester der Oper Zürich - Donizetti: Linda di Chamounix (2012/1996)
NTSC 4:3 (720x480) | Italiano | LinearPCM, 2 ch | Dolby AC3, 6 ch | DTS, 6 ch | 3.88 + 6.24 Gb (DVD5+DVD9) | 162 min
Classical | Arthaus Musik | Sub.: English, Français, Español, Italiano, Deutsch
Gaetano Donizetti (1797-1848) wrote his first opera at the early age of 21, which over the next 25 years was to be followed by another seventy. From 1830 onwards his operas caught the attention of the public and remained on the programmes, which was unusual at that time. When in 1841 the sought-after opera composer was on yet another of his tours, he was approached by the manager of the Vienna Kärntnertortheater, Bartolomeo Morelli, who requested him to set Linda di Chamonix to music after a libretto by Gaetano Rossi. Donizetti, who was keen to establish himself in Vienna, having already done so in Paris and Milan, accepted the commission. Anxious for the success of his opera, Donizetti spent almost two months on individual rehearsals, all together more time than the six weeks it took him to compose the work. He moreover continually revised the work; on 19 May 1842 Linda di Chamonix at last had its dazzling premiere in Vienna. The composer himself took seventeen curtain calls. During the years that followed, the work was performed throughout Italy and in many other countries of the world.
Cast:
Linda - Edita Gruberová
Carlo, Visconte di Sirval - Deon van der Walt
Il Marchese di Boisfleury - Jacob Will
Il Prefetto - László Polgár
Antonio, Padre di Linda - Armando Ariostini
Maddalena, Madre di Linda - Nadine Asher
Pierotto - Cornelia Kallisch
L'Intendente - Miroslav Christoff
Chor und Orchester der Oper Zürich
Conductor - Adam Fischer