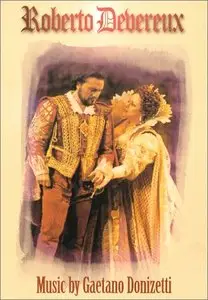 Alain Guingal, Orchestra of the San Carlo Theatre Naples, Alexandrina Pendatchanska, Giuseppe Sabatini - Donizetti: Roberto Devereux (2000)
NTSC 4:3 (720x480) VBR | Italiano (Dolby AC3, 2 ch) | (Dolby AC3, 6 ch) | 6.47 Gb (DVD9) | 136 min
Classical | Image Entertainment | Sub: English
A lyric tragedy in three acts by Gaetano Donizetti, libretto by Salvatore Cammarano. Roberto Devereux was composed in the summer of 1837, the year, according to biographers, in which Donizetti seems to have suffered most, having lost his third son and his adored wife Virginia Vasselli. The opera made its debut at the San Carlo Theatre in Naples on October 28th in the same year and was a great success. The rehearsals of the original performance were postponed for a month due to censorship of the decapitation scene of the leading actor.
Cast:
Elisabetta - Alexandrina Pendatchanska
Devereux - Giuseppe Sabatini
Duke - Roberto Servile
Duchess - Ildiko Komlosi
Cecil - Pierre Lefebvre
Gualtiero - Carlo Del Bosco
Orchestra of the San Carlo Theatre, Naples
Conductor - Alain Guingal