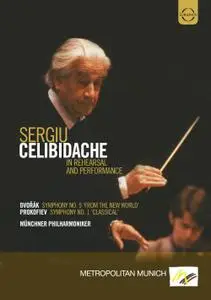 Celibidache in Rehearsal and Performance - Dvořák: Symphony No.9; Prokofiev: Symphony No.1 (2011/1988,1991)
NTSC 4:3 (720x480) | Deutsch (LinearPCM, 2 ch) | 6.00 Gb (DVD9) | 114 min
Classical | EuroArts | Subtitles: English, Francais, Espanol
Sergiu Celibidache (1912-1996) has been called a musical giant, a magician, a brilliant lion-tamer and an enfant terrible of classical music. He was a legend in his own lifetime, mesmerizing orchestras audiences and critics with his intensity and brilliance. Celibidache himself claimed that not a single French conductor was capable of conducting French music - a bold statement that makes this recording even more interesting. This DVD shows most of what made Celibidache a legend in his own lifetime and offers todays viewer to participate in the musical wonders he produced.
Cast:
Münchner Philharmoniker
Sergiu Celibidache, conductor
Track List:
01. Opening
Antonín Dvořák (1841-1904)
Symphony no 9 in E minor, Op. 95/B 178 "From the New World"
02. I. Adagio – allegro molto
03. II. Largo
04. III. Scherzo – molto vivace
05. IV. Allegro con fuoco
06. Credits
Sergei Prokofiev (1891-1953)
Rehearsal: Symphony no 1 in D major, Op. 25 "Classical"
07. I. Allegro
08. II. Larghetto
09. III. Gavotte: Non troppo allegro
10. IV. Finale: Molto vivace
Performance: Symphony no 1 in D major, Op. 25 "Classical"
11. I. Allegro
12. II. Larghetto
13. III. Gavotte: Non troppo allegro
14. IV. Finale: Molto vivace
15. Credits