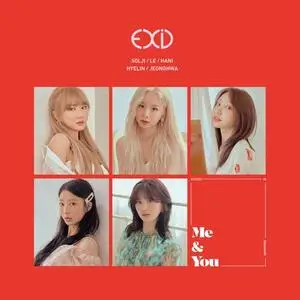 EXID - We (2019)
FLAC tracks | 24:17 | 154 Mb
Genre: K-pop / Label: Banana Culture
We (stylized in all caps) is the fifth extended play by South Korean girl group EXID. It was released on May 15, 2019 by Banana Culture. The EP marks their last release as a group in South Korea after it was announced that the group will be taking an indefinite hiatus.
Track List:
[03:24] 01. EXID - Me & You
[03:54] 02. EXID - We Are
[03:23] 03. EXID - The Vibe
[03:08] 04. EXID - How You Doin'
[03:35] 05. EXID - Midnight
[03:25] 06. EXID - Lady (Urban Mix)
[03:25] 07. EXID - Me & You (Instrumental)
ANALYZER: auCDtect: CD records authenticity detector, version 0.8.2
Copyright © 2004 Oleg Berngardt. All rights reserved.
Copyright © 2004 Alexander Djourik. All rights reserved.


FILE: 1 Me & You.flac
Size: 23801621 Hash: 6FCA8FC82600C5D7CAA1736CAF894234 Accuracy: -m40
Conclusion: CDDA 99%
Signature: 763F49359E666A573641D7BEF89A4FB794F1407F
FILE: 2 We Are.flac
Size: 25135916 Hash: A59EDBE80585BD77B30BD6F87FBD1495 Accuracy: -m40
Conclusion: CDDA 100%
Signature: 5D6075CD24DD45E3FD98AFB65E254019975AB76D
FILE: 3 The Vibe.flac
Size: 21422386 Hash: BA609969C7432D9578921216471F2575 Accuracy: -m40
Conclusion: CDDA 99%
Signature: 285AA89FF571AA7FC3DEB3DCAA26CFE754A36DA0
FILE: 4 How You Doin'.flac
Size: 20981264 Hash: A0E38356BCF11AAA520046D9967D34DB Accuracy: -m40
Conclusion: CDDA 100%
Signature: 1279D9772CB4604C4AC9D6AAD387864E3FF9E532
FILE: 5 Midnight.flac
Size: 23150074 Hash: 4F4E4CAC0AE0E484B69790B72A577368 Accuracy: -m40
Conclusion: CDDA 100%
Signature: 369C02DB44CA90E6D55183CCB0A817DFAC3DD742
FILE: 6 Lady (Urban Mix).flac
Size: 24271495 Hash: 7B324153133833E411457DEEF0F15F5C Accuracy: -m40
Conclusion: CDDA 100%
Signature: 134708C4ECBF995FD888A7D176B83990A76689CE
FILE: 7 Me & You (Instrumental).flac
Size: 23160206 Hash: D71A9F3F69DBEDA4C11AEC420A4466E9 Accuracy: -m40
Conclusion: CDDA 100%
Signature: D8613C0A63BF85E701F6A64DD4E1F160787AB531