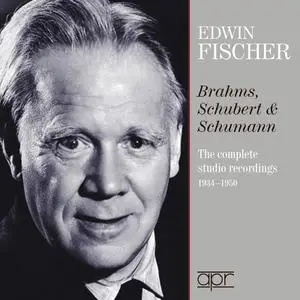 Edwin Fischer - Brahms, Schubert & Schumann- Works for Piano (2022)
WEB FLAC (tracks) - 589 MB | Tracks: 34 | 209:01
Style: Classical | Label: APR
This release features some of Fischer's best-known recordings and also his rarest. His pre-war Schubert recordings are classics of the gramophone and have been almost continuously available. APR's original 1997 transfers of the Impromptus had the benefit of being taken from vinyl pressings of the 78rpm masters and this reissue has allowed us to improve them even further, presenting these gems in the best possible sound.
Fischer's recordings of Brahms and Schumann, on the other hand are much less known and indeed his masterly performance of the 1st Brahms Piano Quartet, recorded in Germany just after the start of the war with principals from the Edwin Fischer Chamber Orchestra, and only issued there, is extremely rare.
Not much better known are the very fine Brahms group from 1947, and from 1949 we have the Brahms F minor Sonata and the Schumann Fantasy, his only Schumann recording, but a work he described as "a symbol of the soul of the piano".
Tracklist:
1. I. Allegro
2. II. Intermezzo. Allegro ma non troppo
3. III. Andante con moto
4. IV. Rondo alla Zingarese. Presto
5. I. Allegro maestoso
6. II. Andante espressivo
7. III. Scherzo. Allegro energico
8. IV. Intermezzo. Andante molto
9. V. Finale. Allegro moderato ma rubato
10. Intermezzo in B-Flat Minor, Op. 117 No. 2 (Excerpts)
11. Ballade in G Minor, Op. 118 No. 3
12. Intermezzo in E-Flat Major, Op. 117 No. 1 (Excerpts)
13. Rhapsody in G Minor, Op. 79 No. 2
14. I. Durchaus phantastisch und leidenschaftlich vorzutragen
15. II. Mäßig. Durchaus energisch
16. III. Langsam getragen. Durchweg leise zu halten
17. No. 1 in C Major, Moderato
18. No. 2 in A-Flat Major, Andantino
19. No. 3 in F Minor, Allegro moderato
20. No. 4 in C-Sharp Minor, Moderato
21. No. 5 in F Minor, Allegro vivace
22. No. 6 in A-Flat Major, Allegretto
23. No. 1 in C Minor, Allegro molto moderato
24. No. 2 in E-Flat Major, Allegro
25. No. 3 in G-Flat Major, Andante (Transcr. for G Major)
26. No. 4 in A-Flat Major, Allegretto
27. No. 1 in F Minor, Allegro moderato
28. No. 2 in A-Flat Major, Allegretto
29. No. 3 in B-Flat Major, Theme & Variations
30. No. 4 in F Minor, Allegro scherzando
31. I. Allegro con fuoco ma non troppo
32. II. Adagio
33. III. Presto
34. IV. Allegro


FILE: 1. I. Allegro.flac
Size: 32658778 Hash: 823A167CA08E5717E113FA9FA5FBF97A Accuracy: -m0
Conclusion: CDDA 99%
Signature: 0A0A87C452325FF0A65D924EE4EC0E4FF786A331
FILE: 10. Intermezzo in B-Flat Minor, Op. 117 No. 2 (Excerpts).flac
Size: 11162220 Hash: B76BB1E1A0ED92EDFF7EB89BA7968FB3 Accuracy: -m0
Conclusion: MPEG 80%
Signature: 9171A49548E7956EAB1B80488F2AA0E2E3A55FC1
FILE: 11. Ballade in G Minor, Op. 118 No. 3.flac
Size: 10043432 Hash: FE6A8263AD2F4141D44CF76DB7B947CA Accuracy: -m0
Conclusion: MPEG 90%
Signature: B87539CD4D4FBDC7D28CC4FC13E17B4434D4E20D
FILE: 12. Intermezzo in E-Flat Major, Op. 117 No. 1 (Excerpts).flac
Size: 11915600 Hash: 0B6C5B1228D22478806E67D601BD7F6C Accuracy: -m0
Conclusion: MPEG 80%
Signature: 54510063E803A3B77F7528CF81F7C2E669B41BD8
FILE: 13. Rhapsody in G Minor, Op. 79 No. 2.flac
Size: 12996275 Hash: 945466693811F8A3313917A54A0FC3B3 Accuracy: -m0
Conclusion: MPEG 90%
Signature: 5CEF49B1785655CC2669C595B1C3ED5B1DDC97B8
FILE: 14. I. Durchaus phantastisch und leidenschaftlich vorzutragen.flac
Size: 27432164 Hash: 51F86F2424A6FB7038296971269A64D8 Accuracy: -m0
Conclusion: MPEG 92%
Signature: 1D9B4E14A03C0A7D413497E23A0128279D85D7E4
FILE: 16. III. Langsam getragen. Durchweg leise zu halten.flac
Size: 23289820 Hash: 00EDF67172218E1BCC7ACB92F8C6D6E0 Accuracy: -m0
Conclusion: CDDA 43%
Signature: 14AF4C7BCD901B076E9ED2AB8576DC22CABDEF37
FILE: 17. No. 1 in C Major, Moderato.flac
Size: 13106488 Hash: 9ED2A21C1F3D22058D57D175ED6D8369 Accuracy: -m0
Conclusion: CDDA 100%
Signature: 373B1C8432796BB55CC7A6E96D0D229C75250FFB
FILE: 18. No. 2 in A-Flat Major, Andantino.flac
Size: 16716709 Hash: 18E1090353E305DFFA6CB427A990BE30 Accuracy: -m0
Conclusion: CDDA 100%
Signature: 54437302B967A6EB1FD49EAFC041CF9DCEF44495
FILE: 19. No. 3 in F Minor, Allegro moderato.flac
Size: 5104225 Hash: FC6320016FA048B3D45ED3601098AAD2 Accuracy: -m0
Conclusion: CDDA 100%
Signature: 110FF217477DD777C9AD97A6E50BAF48C3A9A76F
FILE: 2. II. Intermezzo. Allegro ma non troppo.flac
Size: 20196364 Hash: 3D5889F8673B8CC1CEEFF002A6AB8120 Accuracy: -m0
Conclusion: CDDA 100%
Signature: 0A61C06E636C4C8AB24B24E825B5587600586496
FILE: 20. No. 4 in C-Sharp Minor, Moderato.flac
Size: 11368630 Hash: 99598958595AD9C68000289B81B63A1F Accuracy: -m0
Conclusion: CDDA 100%
Signature: E535EC05105200D953EED2FECE90439E0871396B
FILE: 21. No. 5 in F Minor, Allegro vivace.flac
Size: 4410728 Hash: FDA8F44B35E4BE26C6706D44CD7D8FA0 Accuracy: -m0
Conclusion: CDDA 100%
Signature: 39FEF98E9E9B8B820A8A2CD0F57DAA1FCBAE87F1
FILE: 22. No. 6 in A-Flat Major, Allegretto.flac
Size: 15914505 Hash: 83EB676AA6C072721D8E9B816211476A Accuracy: -m0
Conclusion: CDDA 100%
Signature: 8C30ADE6EF725C16D409579CC5B7DB044DCF0918
FILE: 23. No. 1 in C Minor, Allegro molto moderato.flac
Size: 29319838 Hash: 284E129F6404AC5C68659CEE10AD671E Accuracy: -m0
Conclusion: CDDA 100%
Signature: AB01F4C62B572478AE1D8504E4C5E0CE63E03F52
FILE: 24. No. 2 in E-Flat Major, Allegro.flac
Size: 16085926 Hash: 8F12BFB181279C71E2907A5E702B2DFD Accuracy: -m0
Conclusion: CDDA 100%
Signature: DE2CBD4A5DDAE1B5658DDD4D71F10286A9521A4A
FILE: 25. No. 3 in G-Flat Major, Andante (Transcr. for G Major).flac
Size: 17504889 Hash: 5383F541C5B4165A02E40B935362C87B Accuracy: -m0
Conclusion: CDDA 100%
Signature: EF74559D617D8C7CCB55902192FC2D5486E71E73
FILE: 26. No. 4 in A-Flat Major, Allegretto.flac
Size: 27723811 Hash: 0FDB9A4BAFA854E065F81072EA8B75F4 Accuracy: -m0
Conclusion: CDDA 100%
Signature: D58E61BDDA408734F45231E2A1E1765597F5BFE6
FILE: 27. No. 1 in F Minor, Allegro moderato.flac
Size: 31348114 Hash: 2292A397224B3AB3095A7E66510EBD11 Accuracy: -m0
Conclusion: CDDA 100%
Signature: F51D929ECED1B1552E43F0267B7DDE2FAE8800D8
FILE: 28. No. 2 in A-Flat Major, Allegretto.flac
Size: 16280528 Hash: CAAA600E2878281D32E863EAD770E3A5 Accuracy: -m0
Conclusion: CDDA 99%
Signature: BE10AEC7082EF68797C6E522EE192C73FFB608B8
FILE: 29. No. 3 in B-Flat Major, Theme & Variations.flac
Size: 32507622 Hash: FDEBD783BCFC9F68DED397B745BCD745 Accuracy: -m0
Conclusion: CDDA 100%
Signature: 03925C9B8B490837684EAB2B511FF2C286C74C9E
FILE: 3. III. Andante con moto.flac
Size: 23278611 Hash: CC417A7F0BA609DCDF6CD9E40BAFE6C6 Accuracy: -m0
Conclusion: CDDA 100%
Signature: 204B1AF589842209B1EF65866FA0576327651572
FILE: 30. No. 4 in F Minor, Allegro scherzando.flac
Size: 18962971 Hash: D4896DCAE697C084BE1FA7A3BC44ADC5 Accuracy: -m0
Conclusion: CDDA 100%
Signature: B996006AE6051C8E0B654D1250156BE8E94C620C
FILE: 31. I. Allegro con fuoco ma non troppo.flac
Size: 22874636 Hash: 16D4EF99388A4E7C2A854917AEA69D97 Accuracy: -m0
Conclusion: CDDA 100%
Signature: 58D3F17C577E4E8E0CF561EB73B393961B121423
FILE: 32. II. Adagio.flac
Size: 26244728 Hash: C37867775DF9D384D8C6B0D0DE9E71D9 Accuracy: -m0
Conclusion: CDDA 100%
Signature: 140A534E7E8AC6A1A013FEE1D7EA1B8805EDF7AD
FILE: 33. III. Presto.flac
Size: 17128887 Hash: 55E6CB8DBB3264C40B735FD95DA22A5D Accuracy: -m0
Conclusion: CDDA 100%
Signature: 76B149B7D87B0DE284BFF90AC6DC326FAC8590EA
FILE: 34. IV. Allegro.flac
Size: 11501400 Hash: C0A3E739FCCB4DD59F94C8E08433F0C4 Accuracy: -m0
Conclusion: CDDA 100%
Signature: BC773120B5430C784436345F696A561E60DC3D0F
FILE: 4. IV. Rondo alla Zingarese. Presto.flac
Size: 20730715 Hash: 407097B90F8D2785A3FB14A628AD2DF6 Accuracy: -m0
Conclusion: CDDA 100%
Signature: 5A204F3C1A79FB7CD1B545864DD7F8F5F2AA7661
FILE: 5. I. Allegro maestoso.flac
Size: 16006108 Hash: D3563991498C86FF02501DFD1402ABB7 Accuracy: -m0
Conclusion: CDDA 100%
Signature: AD7CF0BB6471EA9CE641A809AA672E4ED219AD43
FILE: 6. II. Andante espressivo.flac
Size: 20314780 Hash: 9EDA2DBC79A205A797383C921E3EC8F3 Accuracy: -m0
Conclusion: CDDA 100%
Signature: FAE51C2E7DC3521446A4CD6CE8519C0B32077B1F
FILE: 7. III. Scherzo. Allegro energico.flac
Size: 11043070 Hash: 154B28CFB3BAE021EEF79D2AA0B72D34 Accuracy: -m0
Conclusion: CDDA 100%
Signature: A33A35C86CCCACB95DBBEFBBD2A0245E9622A331
FILE: 8. IV. Intermezzo. Andante molto.flac
Size: 7371080 Hash: 67971757C2AD8094AA7FB3D266E9DA88 Accuracy: -m0
Conclusion: CDDA 100%
Signature: 6A32105CD88C41A166EC8DB8675B9900ABCAB344
FILE: 9. V. Finale. Allegro moderato ma rubato.flac
Size: 16890916 Hash: 939D8F29BB1D097E96638FD5F6B6E89E Accuracy: -m0
Conclusion: CDDA 99%
Signature: 79FA7AD93380F4F9883990A3B2998E4DA4A46F4B