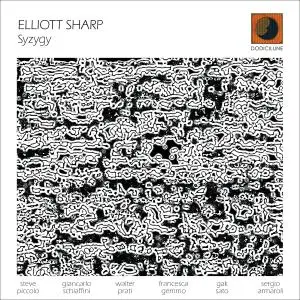 Elliott Sharp - Syzygy (2019)
WEB FLAC (tracks) - 398 MB | Tracks: 8 | 52:09 min
Style: Jazz | Label: Dodicilune
Syzygy is the new album by Elliott Sharp - American multi-instrumentalist, composer and performer. Central figure of the avant-garde and experimental music scene in New York for over 30 years, he has published more than eighty-five record projects ranging from orchestral music to blues, from jazz to noise, from no wave to techno.
The work was produced by the record label of Salento Dodicilune. The disc is divided into two sections: the first consisting of tracks recorded in the studio and the second part live (the first recorded in the studio "Il Pollaio" by Ronco Biellese and the second in a live at the Teatro Tertulliano in Milan). All compositions are by Sharp and have the same title as the album followed by a number in chronological order.
This disc perpetuates the author's experimental tradition. You will listen to so many strange and bizarre things that, perhaps, one day you will be able to hear in something, and in a different way, more accessible to ordinary mortals.
Elliott Sharp - guitar, computer devices
Steve Piccolo - voice, el.bass, object(s)
Giancarlo Schiaffini - trombone
Walter Prati - el.cello
Francesca Gemmo - piano
Gak Sato - theremin
Sergio Armaroli - vibraphone
Tracklist:
CD1:
01. Syzygy (Studio Version 1)
02. Syzygy (Studio Version 2)
03. Syzygy (Studio Version 3)
04. Syzygy (Studio Version 4)

FILE: 01. Syzygy (Studio Version 1).flac
Size: 43656622 Hash: D8677C40EB5B0A79B76957FC31F6B863 Accuracy: -m0
Conclusion: CDDA 100%
Signature: 5C05DD7F7A0C884E891FFB00B64A8F3B25B48AF0
FILE: 02. Syzygy (Studio Version 2).flac
Size: 52624925 Hash: C957D1E6D438142D8874B26D52AF5D86 Accuracy: -m0
Conclusion: CDDA 100%
Signature: F77C0E694FF16A522AC79651ACA9F46A2D772531
FILE: 03. Syzygy (Studio Version 3).flac
Size: 53810218 Hash: 168D42DF066E9135E6CFFC79AC35B209 Accuracy: -m0
Conclusion: CDDA 100%
Signature: E66988ADB36FE59460F7FE2E61972BA6D15CFAF5
FILE: 04. Syzygy (Studio Version 4).flac
Size: 64991903 Hash: 1369A00A0B820A2ED60035BDF40C22DA Accuracy: -m0
Conclusion: CDDA 76%
Signature: 5A8B51DB211DA88A346F057DE1F14BF892A57804
CD2:
01. Syzygy (Live Version 1)
02. Syzygy (Live Version 2)
03. Syzygy (Live Version 3)
04. Syzygy (Live Version 4)


FILE: 01. Syzygy (Live Version 1).flac
Size: 43848788 Hash: EDBC2D8902BD6ADE983BB875EB5D7747 Accuracy: -m0
Conclusion: CDDA 100%
Signature: E386730D942BE7D4A4A9E62C6DF8FE7C15AB9723
FILE: 02. Syzygy (Live Version 2).flac
Size: 40076581 Hash: 7BC51CC7D1D3565BF7CB26F407C53682 Accuracy: -m0
Conclusion: CDDA 100%
Signature: 54829CDD4F80FA9969E23414D0A8B92EC9CF3D58
FILE: 03. Syzygy (Live Version 3).flac
Size: 51232016 Hash: E12E8524B52326136EACD40687443FA6 Accuracy: -m0
Conclusion: MPEG 100%
Signature: 2EB5F2CEDEE1675C55332474814C1651C3489838
FILE: 04. Syzygy (Live Version 4).flac
Size: 67505917 Hash: 635C190A87652692B06B73670A4777A6 Accuracy: -m0
Conclusion: CDDA 43%
Signature: 26D9A793A4FE7A9763D116EA911E56A1C7D5C3FD