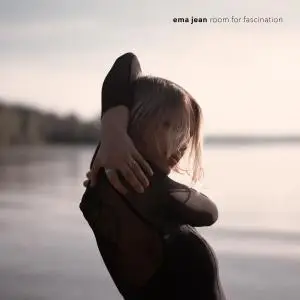 Ema Jean - Room for Fascination (2019)
WEB FLAC (tracks) - 204 MB | Tracks: 11 | 40:03 min
Style: Jazz, Soul, Pop | Label: Ema Jean
Ema Jean's myriad influences are vast - from Elis Regina to Weather Report to PJ Harvey. Although aesthetically rooted in jazz and folk, and infused with Mediterranean and Brazilian flavors, her music is hard to categorize - she has developed a distinguished style of which her forthcoming record, Room For Fascination, is a testament. Recorded in Montreal and Barcelona, with highly esteemed musicians from around the world, the album is due out November 13th, 2019.
Ema is an acclaimed singer-songwriter from Montreal, QC. Raised by two musicians, she discovered how to transmute her emotional experience into song from an early age and began performing in and around Montreal shortly after, solo and with her band. In 2015, she released an album called Solace. Shortly thereafter, she enrolled at the University of North Texas, where she was offered a scholarship to study jazz voice. She later transferred to the Liceo Conservatory in Barcelona, where she studied briefly before opting to carve her own path, working as a freelance musician in Spain and Morocco for several years - all the while conceptualizing and writing for her own project, which has come to fruition this year. Ema is also a writer, dancer and visual artist.
Tracklist:
01. I Refuse to Pour Love
02. Wish It Was Me
03. Natalia
04. New Kind of Love
05. Mastery
06. Dois Sonhos
07. Ana Basha El Bahr
08. Aloe Vera
09. Indomables
10. Impass (Lullaby for Jaume)
11. Lucky


FILE: 01. I Refuse to Pour Love.flac
Size: 16235423 Hash: 50837DB990BBAAC596030FB2ABC56585 Accuracy: -m0
Conclusion: CDDA 99%
Signature: 59AAB2EE809AA1A8F6E8349D23D919830BE83196
FILE: 02. Wish It Was Me.flac
Size: 20727635 Hash: E5CD62FD064900614694B0BC81FC24A6 Accuracy: -m0
Conclusion: CDDA 100%
Signature: EA89DBA28070275BAF377CDC8E9FC4F2D2BF7A05
FILE: 03. Natalia.flac
Size: 24107535 Hash: DB55362CDC051F0E1CFBFE41F972D47A Accuracy: -m0
Conclusion: CDDA 100%
Signature: AC77CAF21332FEF0B4C33F3ECEB95C5F90D3B652
FILE: 04. New Kind of Love.flac
Size: 26800667 Hash: 740C091FFBF2961E7E6ECA8911C8A363 Accuracy: -m0
Conclusion: CDDA 100%
Signature: 3EA80390420FE87E45513188C0539BA69ADA1D66
FILE: 05. Mastery.flac
Size: 22774193 Hash: 4BD536D6EC3F45C103BCB8D0CE4264B7 Accuracy: -m0
Conclusion: CDDA 100%
Signature: A87BCFAB5F091E83DECEE948A233784FCF148952
FILE: 06. Dois Sonhos.flac
Size: 16538852 Hash: A2C23821CCB09EC95FA3F31E0FE80B41 Accuracy: -m0
Conclusion: CDDA 100%
Signature: F1A9F2FC02695A3BBCBFE7560210B5F5B5C73314
FILE: 07. Ana Basha El Bahr.flac
Size: 18628671 Hash: DD33A0000D22298971A60D98B4899657 Accuracy: -m0
Conclusion: CDDA 99%
Signature: B0E26612DA98AE2DF834C4ACB4567631D8798C84
FILE: 08. Aloe Vera.flac
Size: 20640042 Hash: 0F8BAE42B5329805C45041C00A92BC32 Accuracy: -m0
Conclusion: CDDA 100%
Signature: 42B4339F03672F9F8BE776198583DA68DC0170E0
FILE: 09. Indomables.flac
Size: 20324070 Hash: 005637EF531D57B475BBD4BC2F750B67 Accuracy: -m0
Conclusion: CDDA 99%
Signature: D4BA8C8810D7F093BA466474C052E4A900E11439
FILE: 10. Impass (Lullaby for Jaume).flac
Size: 1977120 Hash: 96047351A4B655783EB783B32762A94D Accuracy: -m0
Conclusion: MPEG 93%
Signature: 608DC681D6EC83A8BC6D20283A4D3AEFC961E425
FILE: 11. Lucky.flac
Size: 25249509 Hash: 0B4B1DE6E726D2C971BA24C25A1FFA1F Accuracy: -m0
Conclusion: CDDA 100%
Signature: 5A62730435DAED782EFAD423B9D327575E995609