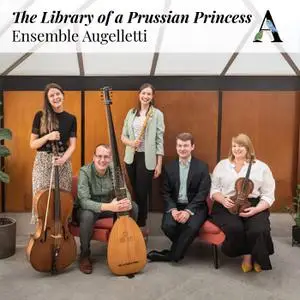 Ensemble Augelletti - The Library of a Prussian Princess (2022)
WEB FLAC (tracks) - 272 MB | Tracks: 28 | 59:01
Style: Classical | Label: Barn Cottage Records
Founded by recorder player Olwen Foulkes, Ensemble Augelletti explores the chamber music and concertos that were performed on London theatre stages in the first decades of the 18thcentury. The name Augelletti means 'little birds' and references the aria 'Augelletti che cantate' that comes from the first act of Handel's opera Rinaldo. The ensemble have performed on BBC Radio 3 'In Tune' and 'Early Music' shows, in several UK Arts Festivals; London, Brighton, and York Early Music Festivals, and were winners of the FBAS young artist competition in Italy in 2019. Our debut CD of trio sonatas entitled 'The library of a Prussian Princess' will be released on Barn Cottage Records in February 2022.
Olwen's PhD research explores the practices of recorder players resident in London and active in the theatre scene from 1670-1730. Using this research, Olwen collaborates with collections including the Foundling Museum, British Library, Handel House (London), to create programmes for Ensemble Augelletti to present to the museums' general visitors as well as early music audiences. Our ensemble performs in both a trio sonata format (recorder, violin, cello, archlute, organ) and expands to include an additional violin, viola, and double bass for some projects. Our recent programmes include 'A Spring in Lockown' (NCEM, Spring 2021), 'New Beginnings' (London Sound Gallery, Autumn 2020), and 'Arcadian Wilderness' (BREMF, Autumn 2020).
Tracklist:
1. Trio Sonata in G Major, BWV 1039: I. Adagio
2. Trio Sonata in G Major, BWV 1039: II. Allegro ma non presto
3. Trio Sonata in G Major, BWV 1039: III. Adagio e piano
4. Trio Sonata in G Major, BWV 1039: IV. Presto
5. Fugue in D Major, Am. B 479
6. Trio Sonata in F Major, Op. 2, No. 4: I. Larghetto
7. Trio Sonata in F Major, Op. 2, No. 4: II. Allegro
8. Trio Sonata in F Major, Op. 2, No. 4: III. Adagio
9. Trio Sonata in F Major, Op. 2, No. 4: IV. Allegro
10. Trio Sonata in F Major, Op. 2, No. 4: V. Allegro
11. Trio Sonata in B:Flat Major, Op. 1, No. 5: I. Grave
12. Trio Sonata in B:Flat Major, Op. 1, No. 5: II. Allegro
13. Trio Sonata in B:Flat Major, Op. 1, No. 5: III. Adagio : Allegro
14. Trio Sonata in B:Flat Major, Op. 1, No. 5: IV. Allegro
15. Trio Sonata in D Minor, Op. 2, No. 5: I. Grave
16. Trio Sonata in D Minor, Op. 2, No. 5: II. Allegro
17. Trio Sonata in D Minor, Op. 2, No. 5: III. Adagio
18. Trio Sonata in D Minor, Op. 2, No. 5: IV. Allegro
19. Fugue in A Minor, Am. B 479
20. Fugue in C Major, Am. B 479
21. Trio Sonata in G Major, BWV 1038: I. Largo
22. Trio Sonata in G Major, BWV 1038: II. Vivace
23. Trio Sonata in G Major, BWV 1038: III. Adagio
24. Trio Sonata in G Major, BWV 1038: IV. Presto
25. Fugue in C Major (2), Am. B 479
26. Trio Sonata in C Major, H. 571: I. Allegro
27. Trio Sonata in C Major, H. 571: II. Adagio
28. Trio Sonata in C Major, H. 571: III. Allegro


FILE: 1. Trio Sonata in G Major, BWV 1039- I. Adagio.flac
Size: 13768841 Hash: 05DC3E6FBFD757EFE090AFBB85D31834 Accuracy: -m0
Conclusion: CDDA 100%
Signature: 8B6B42B6854514D89849D24E81773382A1AEC7E2
FILE: 10. Trio Sonata in F Major, Op. 2, No. 4- V. Allegro.flac
Size: 11497941 Hash: 7A497B2BCE3F37E7434566684B1D9D14 Accuracy: -m0
Conclusion: CDDA 100%
Signature: 52D8B00066E30F1835ED3EF528C1639F6655A1E9
FILE: 11. Trio Sonata in B-Flat Major, Op. 1, No. 5- I. Grave.flac
Size: 10812981 Hash: BA7F0A8B1CF4893D1511A3FE2D5B916F Accuracy: -m0
Conclusion: CDDA 100%
Signature: 573854270F02AD02E0DA7407F3C76014BBBF8E00
FILE: 12. Trio Sonata in B-Flat Major, Op. 1, No. 5- II. Allegro.flac
Size: 6666258 Hash: 52739F7CD91FC41689F64685F196FBE0 Accuracy: -m0
Conclusion: CDDA 99%
Signature: 5952C53A118AC5D2AA3DFECA2C4C6FBEEB753F8F
FILE: 13. Trio Sonata in B-Flat Major, Op. 1, No. 5- III. Adagio - Allegro.flac
Size: 7816049 Hash: 17D8A3C0A5B02DC9DA5297FFD6255E36 Accuracy: -m0
Conclusion: CDDA 100%
Signature: 02241B3C2C77D2EE43E1BB35694B713FA2AEAC8F
FILE: 14. Trio Sonata in B-Flat Major, Op. 1, No. 5- IV. Allegro.flac
Size: 5934510 Hash: 18446782C9445357EAB7679FCB79EBF6 Accuracy: -m0
Conclusion: CDDA 99%
Signature: 09EBB088AF41DC4333053B8CE0C0CFEFB528CA17
FILE: 15. Trio Sonata in D Minor, Op. 2, No. 5- I. Grave.flac
Size: 5816427 Hash: 2F2531B15836A228F7FE3D1DD21AEDAB Accuracy: -m0
Conclusion: CDDA 100%
Signature: 60473594EE7F776C967F7D8D64C4AB848CC0754C
FILE: 16. Trio Sonata in D Minor, Op. 2, No. 5- II. Allegro.flac
Size: 13810118 Hash: 9B6AC5E19DA4D1304BB38918AF3C96D7 Accuracy: -m0
Conclusion: CDDA 100%
Signature: BF6941E3BE48139B53881E9EB53EE0AB41E2703C
FILE: 17. Trio Sonata in D Minor, Op. 2, No. 5- III. Adagio.flac
Size: 3069593 Hash: D6C990D221A927CC379B97F688E45BEA Accuracy: -m0
Conclusion: CDDA 100%
Signature: 410D7B33A9C9D96122DD8E27C2A8544BDFEAB993
FILE: 18. Trio Sonata in D Minor, Op. 2, No. 5- IV. Allegro.flac
Size: 9941270 Hash: 452A8618AE5BC8237F055CD73B62E53F Accuracy: -m0
Conclusion: CDDA 100%
Signature: 01D845452ABB8C0A663375ADA752D802EC6A1D54
FILE: 19. Fugue in A Minor, Am. B 479.flac
Size: 4432803 Hash: 776A6B5A15CF3F4D9486FF1DA3CBAE8C Accuracy: -m0
Conclusion: CDDA 100%
Signature: 541F13C94A80E345CAEEC49698CCD88168203F84
FILE: 2. Trio Sonata in G Major, BWV 1039- II. Allegro ma non presto.flac
Size: 16451084 Hash: 378005DFC91E61286EA37D148A9D04A2 Accuracy: -m0
Conclusion: CDDA 100%
Signature: 22618969A870B8166D906B04C4ADCE5519A43150
FILE: 20. Fugue in C Major, Am. B 479.flac
Size: 6118099 Hash: 62D6E7D6520315451BE78F6122BA548C Accuracy: -m0
Conclusion: CDDA 100%
Signature: 44DC9DFA81ED06DD2811A38734170038CD3D4CF8
FILE: 21. Trio Sonata in G Major, BWV 1038- I. Largo.flac
Size: 14189207 Hash: 0C959D2809D64D46482BDFF8951B9265 Accuracy: -m0
Conclusion: CDDA 100%
Signature: B3AAC637D570378C83BF70B2CF9648FC77BC157C
FILE: 22. Trio Sonata in G Major, BWV 1038- II. Vivace.flac
Size: 4966078 Hash: 15D20440059317F61DA60F42BE8B7323 Accuracy: -m0
Conclusion: CDDA 100%
Signature: C3EBE3A9D46CEA718B8E7F40E1AF1139726C1E7B
FILE: 23. Trio Sonata in G Major, BWV 1038- III. Adagio.flac
Size: 9733450 Hash: D32A57BDD53395FC5F8D106EED1FCE9B Accuracy: -m0
Conclusion: CDDA 100%
Signature: 9436B23A3D0B8078C20953B341AF8E380B0E16F4
FILE: 24. Trio Sonata in G Major, BWV 1038- IV. Presto.flac
Size: 7628730 Hash: 90108929A90852FE8B833C7F3043A195 Accuracy: -m0
Conclusion: CDDA 100%
Signature: F737C0F7F5FCEEBBFB55B9873AADA3356460F3D6
FILE: 25. Fugue in C Major (2), Am. B 479.flac
Size: 5316414 Hash: 34EDD775B85E14CBEBBFAD2CFDF39727 Accuracy: -m0
Conclusion: CDDA 100%
Signature: 4DACB07E2B55AEDBE1DB23BA7BA44C6E97A4C2BB
FILE: 26. Trio Sonata in C Major, H. 571- I. Allegro.flac
Size: 18803522 Hash: 033A5F29520DC430DB204689399ABE98 Accuracy: -m0
Conclusion: CDDA 100%
Signature: C1C27DC3E6063EFAF3DCD8242DF7E6BDBF72E264
FILE: 27. Trio Sonata in C Major, H. 571- II. Adagio.flac
Size: 20927277 Hash: B42ABCEEF07B3ADC9FC0FDAA0C4A1EFA Accuracy: -m0
Conclusion: CDDA 100%
Signature: D81CF8AD7F486932260F0865C7A3B7C65606B48B
FILE: 28. Trio Sonata in C Major, H. 571- III. Allegro.flac
Size: 15760577 Hash: B740EE2564121B4A4348B3245FE886B6 Accuracy: -m0
Conclusion: CDDA 100%
Signature: 71D7008A233B93093DB991500A74B585187A6D98
FILE: 3. Trio Sonata in G Major, BWV 1039- III. Adagio e piano.flac
Size: 10771782 Hash: BE2CA2DECFAC8A7535A4AA106D7F0819 Accuracy: -m0
Conclusion: CDDA 100%
Signature: 2DB2D74598AA30C158873063A8AB4BAB268CBC0B
FILE: 4. Trio Sonata in G Major, BWV 1039- IV. Presto.flac
Size: 7605444 Hash: C5313B9AE6C680B792F7B324BA55AD11 Accuracy: -m0
Conclusion: CDDA 100%
Signature: 6D7DB0ED3512C409734C76739995AD972AAD5B6E
FILE: 5. Fugue in D Major, Am. B 479.flac
Size: 11243605 Hash: A06E72354E7B419C92F820BF9BC0124A Accuracy: -m0
Conclusion: CDDA 99%
Signature: E8C7A78B26AB591B17FA946A994FD23423C194E0
FILE: 6. Trio Sonata in F Major, Op. 2, No. 4- I. Larghetto.flac
Size: 10809769 Hash: 19A454DF93A796514A803DB158DDA241 Accuracy: -m0
Conclusion: CDDA 100%
Signature: 4BBABDB0249AAD8292B4045697F0CED7BFB9FF40
FILE: 7. Trio Sonata in F Major, Op. 2, No. 4- II. Allegro.flac
Size: 10651106 Hash: D4917FCF6172C3A23499457501BACE43 Accuracy: -m0
Conclusion: CDDA 100%
Signature: B2E98EC866EAE51CB2E86B9CC739ECE385389B4B
FILE: 8. Trio Sonata in F Major, Op. 2, No. 4- III. Adagio.flac
Size: 10576046 Hash: A633C7DE4E41F0B5E14326929F3AADC4 Accuracy: -m0
Conclusion: CDDA 100%
Signature: E97FE86CC57D313F31D9913B9D33DD612BF6FF6E
FILE: 9. Trio Sonata in F Major, Op. 2, No. 4- IV. Allegro.flac
Size: 9909052 Hash: 3C6AE0F4082A9877415AC1052DCDB874 Accuracy: -m0
Conclusion: CDDA 100%
Signature: 288940C4D95516C89B7766DDADD8380A2218980C