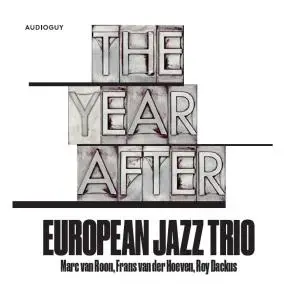 European Jazz Trio - The Year After (2019)
WEB FLAC (tracks) - 294 MB | Tracks: 10 | 55:06 min
Style: Jazz | Label: AudioGuy
EJT has been recording and performing since 1995, when it released a CD of Beatles' songs in fresh arrangements. On each album, the trio has taken songs in every style, shape and color, and has given them a jazz interpretation. For the trio 'Jazz' means to have the freedom to combine and mix styles, melodies, sounds and rhythms to create something fresh
and surprising.
Van Roon: "A Specialty of the trio is to try and find some unusual material - unusual in a jazz setting - and to arrange it for the trio. It works both ways: You can take the sound of a jazz trio and give it a fresh voice, a new approach; likewise, you can take the music that everybody knows - pop tunes and classical tunes - and give people a chance to hear them in a different way."
The European Jazz Trio pushes the envelope of jazz music by adding to it its own sound and rhythm, a result of the music that has influenced the trio's members.
"We grew up in the seventies and eighties with pop, rock, classical, rap and lots of fusion music. It wasn't only jazz anymore. Being musicians, we try to absorb everything like a sponge and use it somehow. The classical music we perform we really admire, it's very close to us - to our European side."
With every song the trio records the main focus is on the essence and the inner beauty of the composition.
"You cannot approach each song in the same way. And it doesn't have so much to do with what we as a trio want to do. It's contained within the song, it's already there. So it's more about what we can leave out, what we don't have to play. This makes each performance unique and special."
The European Jazz trio has been recording new albums every year since the release of 'Memories of Liverpool' in 1995. All recordings are produced by Makoto Kimata. Recent albums are co-produced by Hiro Yamashita.
Tracklist:
01. As Time Goes By
02. Loved But
03. Because I Love You
04. Heart
05. I'm Happy
06. Purple Fragrance
07. Late Night 1994
08. Love About That Loneliness
09. Some Other Day
10. Already Been a Year

FILE: 01. As Time Goes By.flac
Size: 33293968 Hash: FA68337F4C9F2A520BC6A80D16169B15 Accuracy: -m0
Conclusion: CDDA 100%
Signature: 1B12A201571D3DEBD13331247A32C9A3B6EE8A9E
FILE: 02. Loved But.flac
Size: 30905981 Hash: 0738EA067C131C203D0A251E3ED2F05C Accuracy: -m0
Conclusion: CDDA 100%
Signature: 8D903B697456272D413A17496784DC2085DDA0D3
FILE: 03. Because I Love You.flac
Size: 35868107 Hash: 7D6AC4841770B5C31FD4D53A5265976E Accuracy: -m0
Conclusion: CDDA 99%
Signature: 01F81C0E8FF370FD5ADF52032F9B7154229826B5
FILE: 04. Heart.flac
Size: 29508028 Hash: 3BA03DC822A912C4EF3275CB31704DBF Accuracy: -m0
Conclusion: CDDA 76%
Signature: C912DEEA23462E52EBEF4C8C49E0FC62D15FAEBB
FILE: 05. I'm Happy.flac
Size: 24912780 Hash: 4E0EEFC97FEC570AAD3380763EE6810B Accuracy: -m0
Conclusion: CDDA 100%
Signature: 64CC1C164B1BCC3C6FA8B7DB06B6B334022AFBBE
FILE: 06. Purple Fragrance.flac
Size: 35423958 Hash: D2D7148D29042844960E323C1A3A717A Accuracy: -m0
Conclusion: CDDA 86%
Signature: E5379F850289BFAF483D77570CC4FD109F5457A4
FILE: 07. Late Night 1994.flac
Size: 29000269 Hash: 7D4D5D305A31CB9A37CA204E6955A78B Accuracy: -m0
Conclusion: CDDA 100%
Signature: 2FFFF4CC9ED7E18F46121B8888A63836D3F5103E
FILE: 08. Love About That Loneliness.flac
Size: 27212755 Hash: 3743A5F15887E9A0EFC7CAE9C408EBFD Accuracy: -m0
Conclusion: CDDA 100%
Signature: 768C42DF3010D52E0CBA3709150FA148301926B6
FILE: 09. Some Other Day.flac
Size: 33006945 Hash: F2220AE295DE728144EE04183918F34D Accuracy: -m0
Conclusion: CDDA 100%
Signature: 40C13D8DC976744DEDEBC7760E05821D04C41E91
FILE: 10. Already Been a Year.flac
Size: 29624055 Hash: 80D79B0FA7537DBC58364F478094B9ED Accuracy: -m0
Conclusion: CDDA 100%
Signature: 967313B2C3B3C754B811F5EDC0B242C2A11FE72C