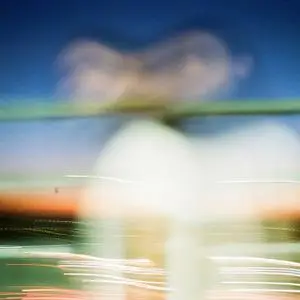 Ten Fé - Future Perfect, Present Tense (2019)
Alternative, Indie, Pop | 00:47:22 | WEB FLAC (tracks) | 302 MB
Label: Some Kinda Love
After touring Ten Fé's debut album, Hit The Light (over 20M Spotify streams), Leo Duncan and Ben Moorhouse returned to London knowing something had changed. What began as a duo, evolved on the road into a fully formed band. Their sophomore album, Future Perfect, Present Tense, is a poignant, uplifting meditation on everything that's brought the band to this point, and all they've left behind. It captures a more close-knit, lush sound of five people playing together in a room. The intricate CSNY-influenced four-part harmonies that were honed on the road fuse with the energy captured in their live shows to create a sound that's anthemic and rooted in personal chemistry. Setting 10 weeks to complete, it ultimately took 10 months. From a winter in Oslo, to a summer in London, the band battled writer's block, eviction from their studio and vocal exhaustion. The result is a record about time: the time it takes, the time it took, the time yet to come. Future Perfect, Present Tense is the sound of a band coming of age.
Tracklist
:
01.
Ten Fé - Won't Happen
02.
Ten Fé - Isn't Ever a Day
03.
Ten Fé - No Night Lasts Forever
04.
Ten Fé - Coasting
05.
Ten Fé - Echo Park
06.
Ten Fé - Caught on the Inside
07.
Ten Fé - To Lie Here Is Enough
08.
Ten Fé - Here Again
09.
Ten Fé - Not Tonight
10.
Ten Fé - Can't Take You With Me
11.
Ten Fé - Superrich
ANALYZER: auCDtect: CD records authenticity detector, version 0.8.2
Copyright © 2004 Oleg Berngardt. All rights reserved.
Copyright © 2004 Alexander Djourik. All rights reserved.


FILE: 11. Superrich.flac
Size: 37312681 Hash: 2C07DE05A42FFBD72E2A5C8504EB1429 Accuracy: -m8
Conclusion: CDDA 100%
Signature: 42F800D4367C8651EED87F7A3CD5C3001E24B77F
FILE: 10. Can't Take You With Me.flac
Size: 17160831 Hash: 75195E53A6667CC93C6A0A895AB5759D Accuracy: -m8
Conclusion: CDDA 100%
Signature: 934D0F59AD9B68CF40C308AD56DAF0D8EC310118
FILE: 09. Not Tonight.flac
Size: 23288420 Hash: A6F1F5E1A0FEA9C8B1DB3C57D82AD8B4 Accuracy: -m8
Conclusion: CDDA 100%
Signature: 9D0893D594B081267360220907C45D1579C8F3B6
FILE: 08. Here Again.flac
Size: 29674234 Hash: F73736665E3420CEBB997478FBD3079A Accuracy: -m8
Conclusion: CDDA 100%
Signature: D766770DA3903139187142C349163B2855CA6707
FILE: 07. To Lie Here Is Enough.flac
Size: 15347140 Hash: D0749C6E341F817EC6A8EABBE9250D22 Accuracy: -m8
Conclusion: CDDA 100%
Signature: E1A2B8AD34165448A60761C5EF6F2CD3A2FE1857
FILE: 06. Caught on the Inside.flac
Size: 46062130 Hash: 4C05F1A9F2C06537DAB195F6179B151F Accuracy: -m8
Conclusion: CDDA 100%
Signature: 0F7A82213DED1BD55AF27D8E06C2AD8A29A36D4F
FILE: 05. Echo Park.flac
Size: 25662413 Hash: 0B5225611794711B50B833B2EF384564 Accuracy: -m8
Conclusion: CDDA 100%
Signature: FB5109C142F2FC92909E09F96BFBCECF69F52626
FILE: 04. Coasting.flac
Size: 30950732 Hash: 4B1A7E66CB67C79FDA09203E389A40F7 Accuracy: -m8
Conclusion: CDDA 100%
Signature: 10BC4E2EF79F1B314DE063B228D7BFC7FB94AA57
FILE: 03. No Night Lasts Forever.flac
Size: 25110900 Hash: 8163308D502364BC67AD26B31843D3E3 Accuracy: -m8
Conclusion: CDDA 100%
Signature: 013726BEF5BE2467DB5EC006C898BD1B2A1A6763
FILE: 02. Isn't Ever a Day.flac
Size: 34966433 Hash: 55812184B3B4502C2C9ACA4B46D11119 Accuracy: -m8
Conclusion: CDDA 100%
Signature: 282B52A57C62EF281099FB47FEAB0BD27B0CCBB0
FILE: 01. Won't Happen.flac
Size: 31363650 Hash: 77A4F23DB46615F2DF182CF0F0672976 Accuracy: -m8
Conclusion: CDDA 100%
Signature: 3A0F85B55D1BC40715FD59530CBB2DC43105F0F2