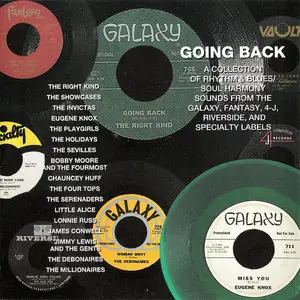 VA - Going Back: A Collection Of Rhythm & Blues/Soul Harmony Sounds From The Galaxy, Fantasy, 4-J, Riverside and Specialty Labels (2000)
EAC Rip | FLAC with CUE and log | scans | 227 mb
MP3 CBR 320kbps | RAR | 162 mb
Genre: doo-wop, R&B, soul, rock'n'roll
What unites these 26 tracks? They're all black vocal group sides from 1960-1970, originally released on the Galaxy, Fantasy, 4-J, Riverside, and Specialty labels. That might be a fragile thread to tie a compilation around, but basically it's a way for Fantasy, which now distributes Specialty, to round up a bunch of doo wop, R&B, and soul rarities that it has license to. It's an agreeable though not great listen, illustrating in a modest way the transitional links between doo wop and soul music. It mixes some late-period doo wop sounds – some as late as 1964, as with the Showcases' "(This Love) Was Real" – with other '60s records that went into soul and a bit of girl group music, the harmonies retaining links to the doo wop era. Only one of these, the Sevilles' rollicking 1960 single "Charlena," made the national charts (and only at number 84, for that matter), so for both doo wop and soul fans, this is bound to include some damned hard to find sides. As for cuts that make the leap from okay to noteworthy, the Serenaders' 1963 single "Adios, My Love" is a superbly arranged, energetic cut that (according to the liner notes) included original Temptations Eddie Kendricks and Eldridge Bryant; the Playgirls' "Donnie" is rare and slightly raw girl group soul; and Lonnie Russ' "Something Old, Something New" has the kind of orchestration that you might associate with a group like the Skyliners. As for a big name, there's a pre-Motown single by the Four Tops, 1962's "Pennies From Heaven" (on Riverside). As for a big price tag, there's Eugene Knox's "Miss You"/"Carmelita," pairing a smoocher with a Latin-influenced up-tempo tune, originally issued by Galaxy in 1962, and so rare that it reportedly is worth up to four figures on the collector's market.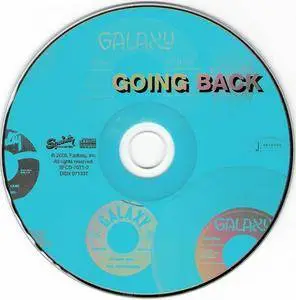 01. The Right Kind - Going Back (1968)
02. The Showcases - (This Love) Was Real (1964)
03. The Invictas featuring Sonny Patterson - Gone So Long (1959)
04. Eugene Knox - Miss You (1962)
05. The Playgirls - Bells (1962)
06. The Holidays - Send Back My Love (1963)
07. The Sevilles - Baby (1964)
08. Eugene Knox - My Carmelita (1962)
09. The Sevilles - Charlene (1960)
10. The Holidays - Deacon Brown vs. The Devil (1963)
11. The Sevilles - Loving You (Is My Desire)
12. Bobby Moore & The Fourmost - You Got To Live For Yourself (1964)
13. Chauncey Huff - Does She Love Me? (1964)
14. The Four Tops - Pennies From Heaven (1962)
15. The Serenaders - Adios, My Love (1963)
16. The Sevilles - Creation (1964)
17. The Showcases - Anna My Love (1964)
18. The Playgirls - Donnie (1962)
19. The Sevilles - Treat You Right (1962)
20. Little Alice - Why Oh Why (1962)
21. Lonnie Russ - Something Old, Something New (1962)
22. James Conwell - I Know I'm Sure (I'm In Love) (1963)
23. Johnny Lewis & The Gents - Right, Don't Wrong Nobody (1963)
24. The Debonaires - Woman, Why? (1970)
25. The Millionaires - It Ain't No Achievement (1969)
26. The Millionaires - And The Rains Came (1969)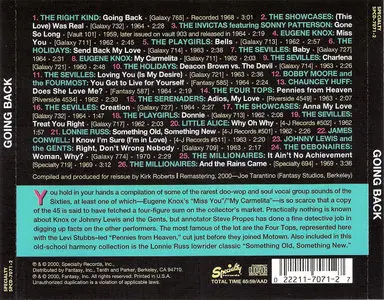 EAC extraction logfile from 3. March 2007, 12:48 for CD
Various / Going Back

Used drive : LITE-ON DVDRW SOHW-1633S Adapter: 0 ID: 0
Read mode : Secure with NO C2, accurate stream, disable cache
Read offset correction : 12
Overread into Lead-In and Lead-Out : No

Used output format : Internal WAV Routines
44.100 Hz; 16 Bit; Stereo

Other options :
Fill up missing offset samples with silence : Yes
Delete leading and trailing silent blocks : No
Installed external ASPI interface


Track 1
Filename D:\FLAC\VA - Going Back (2000) [FLAC]\01 - The Right Kind - Going Back.wav

Pre-gap length 0:00:02.00

Peak level 85.8 %
Track quality 99.9 %
Test CRC E4342EDC
Copy CRC E4342EDC
Copy OK

Track 2
Filename D:\FLAC\VA - Going Back (2000) [FLAC]\02 - The Showcases - (This Love) Was Real.wav

Pre-gap length 0:00:02.00

Peak level 94.3 %
Track quality 100.0 %
Test CRC 21541D67
Copy CRC 21541D67
Copy OK

Track 3
Filename D:\FLAC\VA - Going Back (2000) [FLAC]\03 - The Invictas featuring Sonny Patterson - Gone So Long.wav

Pre-gap length 0:00:02.24

Peak level 86.3 %
Track quality 100.0 %
Test CRC F3007B3F
Copy CRC F3007B3F
Copy OK

Track 4
Filename D:\FLAC\VA - Going Back (2000) [FLAC]\04 - Eugene Knox - Miss You.wav

Pre-gap length 0:00:02.46

Peak level 94.9 %
Track quality 99.9 %
Test CRC D9A65C57
Copy CRC D9A65C57
Copy OK

Track 5
Filename D:\FLAC\VA - Going Back (2000) [FLAC]\05 - The Playgirls - Bells.wav

Pre-gap length 0:00:01.33

Peak level 92.7 %
Track quality 100.0 %
Test CRC 96B2850A
Copy CRC 96B2850A
Copy OK

Track 6
Filename D:\FLAC\VA - Going Back (2000) [FLAC]\06 - The Holidays - Send Back My Love.wav

Pre-gap length 0:00:02.46

Peak level 91.7 %
Track quality 100.0 %
Test CRC 71628D46
Copy CRC 71628D46
Copy OK

Track 7
Filename D:\FLAC\VA - Going Back (2000) [FLAC]\07 - The Sevilles - Baby.wav

Pre-gap length 0:00:02.57

Peak level 85.7 %
Track quality 99.9 %
Test CRC A84D3428
Copy CRC A84D3428
Copy OK

Track 8
Filename D:\FLAC\VA - Going Back (2000) [FLAC]\08 - Eugene Knox - My Carmelita.wav

Pre-gap length 0:00:02.93

Peak level 92.6 %
Track quality 100.0 %
Test CRC 1E70E754
Copy CRC 1E70E754
Copy OK

Track 9
Filename D:\FLAC\VA - Going Back (2000) [FLAC]\09 - The Sevilles - Charlene.wav

Pre-gap length 0:00:02.84

Peak level 88.7 %
Track quality 100.0 %
Test CRC 0841DDA4
Copy CRC 0841DDA4
Copy OK

Track 10
Filename D:\FLAC\VA - Going Back (2000) [FLAC]\10 - The Holidays - Deacon Brown vs. The Devil.wav

Pre-gap length 0:00:02.42

Peak level 99.0 %
Track quality 100.0 %
Test CRC 4ACC0F41
Copy CRC 4ACC0F41
Copy OK

Track 11
Filename D:\FLAC\VA - Going Back (2000) [FLAC]\11 - The Sevilles - Loving You (Is My Desire).wav

Pre-gap length 0:00:03.16

Peak level 92.3 %
Track quality 100.0 %
Test CRC FFDBF2E3
Copy CRC FFDBF2E3
Copy OK

Track 12
Filename D:\FLAC\VA - Going Back (2000) [FLAC]\12 - Bobby Moore & The Fourmost - You Got To Live For Yourself.wav

Pre-gap length 0:00:03.26

Peak level 86.4 %
Track quality 100.0 %
Test CRC DC7001C2
Copy CRC DC7001C2
Copy OK

Track 13
Filename D:\FLAC\VA - Going Back (2000) [FLAC]\13 - Chauncey Huff - Does She Love Me .wav

Pre-gap length 0:00:02.80

Peak level 85.4 %
Track quality 100.0 %
Test CRC C9FE47D4
Copy CRC C9FE47D4
Copy OK

Track 14
Filename D:\FLAC\VA - Going Back (2000) [FLAC]\14 - The Four Tops - Pennies From Heaven.wav

Pre-gap length 0:00:02.46

Peak level 95.8 %
Track quality 100.0 %
Test CRC 40C31E99
Copy CRC 40C31E99
Copy OK

Track 15
Filename D:\FLAC\VA - Going Back (2000) [FLAC]\15 - The Serenaders - Adios, My Love.wav

Pre-gap length 0:00:02.86

Peak level 83.3 %
Track quality 100.0 %
Test CRC 5C8C5FA2
Copy CRC 5C8C5FA2
Copy OK

Track 16
Filename D:\FLAC\VA - Going Back (2000) [FLAC]\16 - The Sevilles - Creation.wav

Pre-gap length 0:00:02.44

Peak level 90.5 %
Track quality 100.0 %
Test CRC 90911A54
Copy CRC 90911A54
Copy OK

Track 17
Filename D:\FLAC\VA - Going Back (2000) [FLAC]\17 - The Showcases - Anna My Love.wav

Pre-gap length 0:00:03.06

Peak level 88.6 %
Track quality 100.0 %
Test CRC C4CA8BB8
Copy CRC C4CA8BB8
Copy OK

Track 18
Filename D:\FLAC\VA - Going Back (2000) [FLAC]\18 - The Playgirls - Donnie.wav

Pre-gap length 0:00:02.10

Peak level 96.5 %
Track quality 100.0 %
Test CRC ADDB0210
Copy CRC ADDB0210
Copy OK

Track 19
Filename D:\FLAC\VA - Going Back (2000) [FLAC]\19 - The Sevilles - Treat You Right.wav

Pre-gap length 0:00:02.53

Peak level 99.7 %
Track quality 100.0 %
Test CRC B74E21FC
Copy CRC B74E21FC
Copy OK

Track 20
Filename D:\FLAC\VA - Going Back (2000) [FLAC]\20 - Little Alice - Why Oh Why.wav

Pre-gap length 0:00:02.20

Peak level 85.3 %
Track quality 100.0 %
Test CRC A04A0600
Copy CRC A04A0600
Copy OK

Track 21
Filename D:\FLAC\VA - Going Back (2000) [FLAC]\21 - Lonnie Russ - Something Old, Something New.wav

Pre-gap length 0:00:02.13

Peak level 92.8 %
Track quality 100.0 %
Test CRC 8FC80F81
Copy CRC 8FC80F81
Copy OK

Track 22
Filename D:\FLAC\VA - Going Back (2000) [FLAC]\22 - James Conwell - I Know I'm Sure (I'm In Love).wav

Pre-gap length 0:00:01.80

Peak level 71.8 %
Track quality 99.9 %
Test CRC B823D7EB
Copy CRC B823D7EB
Copy OK

Track 23
Filename D:\FLAC\VA - Going Back (2000) [FLAC]\23 - Johnny Lewis & The Gents - Right, Don't Wrong Nobody.wav

Pre-gap length 0:00:02.33

Peak level 99.6 %
Track quality 100.0 %
Test CRC A29202A9
Copy CRC A29202A9
Copy OK

Track 24
Filename D:\FLAC\VA - Going Back (2000) [FLAC]\24 - The Debonaires - Woman, Why .wav

Pre-gap length 0:00:01.60

Peak level 99.1 %
Track quality 100.0 %
Test CRC 681E03C1
Copy CRC 681E03C1
Copy OK

Track 25
Filename D:\FLAC\VA - Going Back (2000) [FLAC]\25 - The Millionaires - It Ain't No Achievement.wav

Pre-gap length 0:00:02.04

Peak level 96.7 %
Track quality 99.9 %
Test CRC 0D182683
Copy CRC 0D182683
Copy OK

Track 26
Filename D:\FLAC\VA - Going Back (2000) [FLAC]\26 - The Millionaires - And The Rains Came.wav

Pre-gap length 0:00:02.29

Peak level 99.9 %
Track quality 100.0 %
Test CRC 4C0A71D8
Copy CRC 4C0A71D8
Copy OK

No errors occured


End of status report