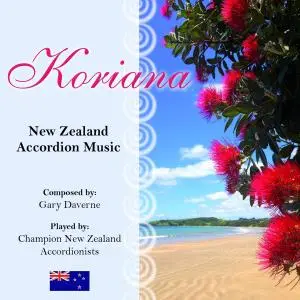 Gary Daverne - Koriana: New Zealand Accordion Music (2019)
WEB FLAC (tracks) - 345 MB | Tracks: 15 | 76:17 min
Style: Classical | Label: Stebbing Recording Centre Ltd.
There are 15 tracks of Daverne compositions of many different styles. Solo, duet, trio, solo accordion solo with symphony orchestra and accordion orchestra. The performers include internationally known players: Grayson Masefield, Kevin Friedrich, Lionel Reekie, International Trio (USA), Stephanie Poole, Eddie Giffney and orchestras: Accordion Orchestra Music School 'Risto Saviv' (Slovenia), Auckland Symphony Orchestra, "World Accordion Orchestra III".
Tracklist:
01. Rhapsody No. 2 for Accordion and Orchestra
02. Song of the Far North
03. Koriana
04. Two Plus One (Song of Peace)
05. Tango 130 (For Stephanie)
06. German Polka (For Gunther)
07. Concert Waltz
08. A Jazz Burlesque
09. Hokianga Hornpipe
10. Margarita Revisited
11. Musical Party
12. Pocket Overture
13. Auckland - March
14. Caprice
15. Oblivion

FILE: 01. Rhapsody No. 2 for Accordion and Orchestra.flac
Size: 47096953 Hash: F32FB32F2E0DF72B43DD438D1F702E49 Accuracy: -m0
Conclusion: CDDA 99%
Signature: 1EBE12D5DE11FF0AA9F4591E53E7BCC346A04746
FILE: 02. Song of the Far North.flac
Size: 24257746 Hash: 2F63958C264512E25A0F9326E7021971 Accuracy: -m0
Conclusion: CDDA 100%
Signature: 761520D26FA8E5F8EA3CBC1BA5708711647EA8AA
FILE: 03. Koriana.flac
Size: 36427486 Hash: ADB0FF101BDF30488970B12F929CA407 Accuracy: -m0
Conclusion: CDDA 99%
Signature: F75E7C796A3300147B6C830C41AFBAF315B88174
FILE: 04. Two Plus One (Song of Peace).flac
Size: 12475451 Hash: 2E9F0F51851561B238FDB0625312E929 Accuracy: -m0
Conclusion: MPEG 95%
Signature: 6F684FB766825F1945F41DD972A953D2E08D78CE
FILE: 05. Tango 130 (For Stephanie).flac
Size: 14440709 Hash: AC958A2BC372DE3174D70633FF7429C7 Accuracy: -m0
Conclusion: CDDA 85%
Signature: 37440354855A535DF0705825BF0602F2135AC761
FILE: 06. German Polka (For Gunther).flac
Size: 8680985 Hash: 68F77BC136B62F5DAD67A6ED4A42F173 Accuracy: -m0
Conclusion: CDDA 94%
Signature: B8AA7FD511943BAF2F203C1239B2FE230273D4A3
FILE: 07. Concert Waltz.flac
Size: 27364022 Hash: F951E8F6EA744B056BCC9ABCD15EACA1 Accuracy: -m0
Conclusion: CDDA 92%
Signature: 2E6AD8D6F49D6C270F47A459D4030A62F70EC8AB
FILE: 08. A Jazz Burlesque.flac
Size: 14249715 Hash: D5FE6C242C1D9B1C938939BA4DCB57D5 Accuracy: -m0
Conclusion: CDDA 100%
Signature: 4AE29D17D882558A46E46CBCC48DD87754118ECA
FILE: 09. Hokianga Hornpipe.flac
Size: 20631584 Hash: FCE7677439B738D2B3C4B0476FBADC7D Accuracy: -m0
Conclusion: CDDA 100%
Signature: 61EECA335FB9C9DF5463BAB397DE21E532D03C86
FILE: 10. Margarita Revisited.flac
Size: 10683020 Hash: 034B5F263B0662799814C316CD5866D2 Accuracy: -m0
Conclusion: CDDA 100%
Signature: 912D1637C4CD009D71725614C88DABE0A37E7DD2
FILE: 11. Musical Party.flac
Size: 34040460 Hash: F1664EC77E393B2DBDA1322E42C25C7A Accuracy: -m0
Conclusion: CDDA 92%
Signature: F04BDBD81632A2F729F8745C784169EFE2752185
FILE: 12. Pocket Overture.flac
Size: 27830957 Hash: 32924AC9031B7AC25DBCDEA52B2FD4F6 Accuracy: -m0
Conclusion: CDDA 99%
Signature: 8DCF3F9B631DD3CE6312C93EECDE6A24683BBF03
FILE: 13. Auckland - March.flac
Size: 26038729 Hash: 1B6A69CE31F4E02D76F97EF522A50466 Accuracy: -m0
Conclusion: CDDA 100%
Signature: 6A9C8F3C93B25A142F4A74F63DF9EE870FFAFA1F
FILE: 14. Caprice.flac
Size: 41638491 Hash: 8A0EA19472B6761EA944ED89E3A7AD19 Accuracy: -m0
Conclusion: CDDA 100%
Signature: 9D0E98D892004F6E3AFF2BCCFD9F2B5EB5871193
FILE: 15. Oblivion.flac
Size: 16417881 Hash: 38910609FDD8E5B4A7BFE53F6AD8066C Accuracy: -m0
Conclusion: ???
Signature: E7A82E57BD22A808C3F5B424FCB67BFC901392F0