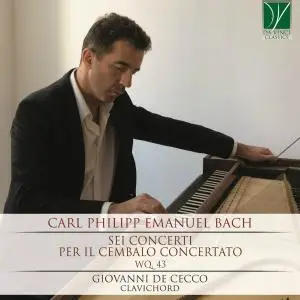 Giovanni De Cecco - Carl Philipp Emanuel Bach: Sei concerti per il cembalo concertato (Arr. for Clavichord) (2019)
WEB FLAC (tracks) - 712 MB | Tracks: 19 | 123:13 min
Style: Classical | Label: Da Vinci Classics
Bach started to compose the "6 Concerti per il cembalo concertato" Wq 43 at the end of 1770, 2 years after moving to Hamburg and succeeding his godfather Telemann, who died on June 25th 1767, as Kapellmeister at Hamburg's Johanneum. Their publication by Breitkopf was advertised in the Hamburg press on November 25th 1772. The concertos were designed to be widely accessible and described as "leicht", easy, a term that lends itself to different interpretations.
The "ease" of these concertos does not just concern the instrumental and technical aspect, nor the form in which they were conceived.
Rather, the appeal of this "ease" lies in their accessibility to amateur and professional musicians who will perform them, for a number of reasons.
Firstly, all the parts of the various instruments are written in such a way as to allow the keyboard player to perform the concertos solo, without accompaniment.
J.S. Bach and W.F. Bach had already written both solo keyboard concertos without orchestra and transcriptions of their own as well as other authors' original concertos. In this way, C.P.E. Bach continues a family tradition.
Secondly, some passages are provided with fingering. Bach the teacher, who had published the first part of the "Versuch über die wahre Art das Clavier zu spielen" in 1753, gave some very interesting suggestions of fingerings.
Lastly, the solo cadences are not left to the freedom of the interpreter, but they are written in full.
This way Bach shows a double character of his philosophy as a composer and interpreter. On the one hand, in fact, in his Versuch, Bach guides the reader towards the foundations of improvisation, improvised cadence and free fantasia; on the other hand, however, aware of the great variety of styles of his time, he is determined to give a very clear guide and a reading of the score that allows for the fewest possible misunderstandings.
In fact he writes in his Versuch:
"Composers, in order to ensure a good performance, should add the embellishments so as not to leave room for doubt, instead of abandoning their compositions to the whims of the performers"
"What is a good interpretation? EXCLUSIVELY the ability to make the ear perceive, by singing or playing, THE REAL CONTENT AND THE TRUE FEELING OF A MUSICAL COMPOSITION. By changing the interpretation, a passage can be expressed in so many different ways so as to change meaning and become unrecognizable. […] A good interpretation can be recognized if, when listening, all the notes appear without heaviness and the relative embellishments are well proportioned at the right moment, performed with the appropriate strength, with well-proportioned accents and IN COMPLIANCE WITH THE TRUE SIGNIFICANCE OF THE PIECE: clarity and expressiveness correspond to this sweet, pure and flowing way of playing "
A NIGHT WITH C.P.E. BACH: CHARLES BURNEY'S TESTIMONY
In October 1772, Charles Burney had the chance to meet Bach, whose fame had already preceded him. The meeting with Bach, as he described it in his "Musical Tours", is worth quoting:
"Hamburg is not at present, possessed of great eminence, except Carl Philip Emanuel Bach; but he is a legion! I had long contemplated, with the highest delight, his elegant and original compositions; and they had created in me so strong desire to see, and to hear him, that I wanted no other musical temptation to visit this city. […] It must be owned, that the style of this author is so uncommon, that a little habit is necessary for the enjoyment of it; Quintilian made a relish for the works of Cicero the criterion of a young orator's advancement in his studies; and those of C.P.E. Bach may serve as a touchstone to the taste and discernement of a young musician. Complaints have been made against his pieces, for being long, difficult, fantastic, and far-fetched. In the first particular, he is less defensible than in the rest; Yet the fault will admit of some extenuation; for length, in a musical composition, is so much expected in Germany, that an author is thought barren of ideas, who leaves off till every thing has been said which the subject suggests.
Easy and difficult, are relative terms; what is called a hard word by a person of no education, may be very familiar to a scholar: our author's works are more difficult to express, than to execute. As to their being fantastical, and far-fetched, the accusation, if it be just, may be softened, by alledging, that his boldest strokes, both of melody and modulation, are always consonant to rule, and supported by learning; and his flights are not the wild ravings of ignorance or madness, but the effusions of cultivated genius. His pieces, therefore, will be found, upon a close examination, to be so rich in invention, taste, and learning, that, with all the faults due to their charge, each line of them, if wire-drawn, would furnish more ideas than can be discovered in a whole page of many other compositions that have been well received by the public."
A day with C.P.E. Bach
"When I went to his house […] the instant I entered, he conducted me up stairs, into a large and elegant music room, furnished with pictures, drawings, and prints of more than a hundred and fifty eminent musicians […] M. Bach was so obliging as to sit down to his Silbermann clavichord, and favourite instrument, upon which he played three or four of his choicest and most difficult compositions, with the delicacy, precision, and spirit, for which he is so justly celebrated among his countrymen. In the pathetic and slow movements, whenever he had a long note to express, he absolutely contrived to produce, from his instrument, a cry of sorrow and complaint, such as can only be effected upon the clavichord, and perhaps by himself.
After dinner, which was elegantly served, and chearfully eaten, I prevailed upon him to sit down again to a clavichord, and he played, with little intermission, till near eleven o' clock at night. During this time, he grew so animated and possessed, that he not only played, but looked like one inspired. His eyes were fixed, his under lip fell, and drops of effervescence distilled from his countenance. He said, if he were to be set to work frequently, in this manner, he should grow young again. He is now fifty-nine, rather short in stature, with black hair and eyes, and brown complexion, has a very animated countenance, and is of a chearful and lively disposition.
His performance to-day convinced me of what I had suggested before from his works; that he is not only one of the greatest composers that ever existed, for keyed instruments, but the best player, in point of expression; for others, perhaps, have had as rapid execution: however, he possesses every style; though he chiefly confines himself to the expressive. He is learned, I think, even beyond his father, whenever he pleases, and is far before him in variety of modulation; his fugues are always upon new and curios subjects, and treated with great art as well as genius."
That same night Burney had the privilege of listening to Bach play his 6 concertos on the clavichord:
"He played to me, among many other things, his last six concertos, lately published by subscription, in which he has studied to be easy, frequently I think at the expence of his usual originality; however, the great musician appears in every movement, and these productions will probably be the better received, for resembling the music of this world more than his former pieces, which seem made for another region, or at least another century, when what is now thought difficult and far-fetched, will, perhaps, be familiar and natural."
Tracklist:
01. Harpsichord Concerto in F Major, Wq. 43:1: I. Allegro di molto
02. Harpsichord Concerto in F Major, Wq. 43:1: II. Andante
03. Harpsichord Concerto in F Major, Wq. 43:1: III. Prestissimo
04. Harpsichord Concerto in D Major, Wq. 43:2: I. Allegro di molto - Andante - Allegro di molto
05. Harpsichord Concerto in D Major, Wq. 43:2: II. Andante
06. Harpsichord Concerto in D Major, Wq. 43:2: III. Allegretto
07. Harpsichord Concerto in E-Flat Major, Wq. 43:3: I. Allegro
08. Harpsichord Concerto in E-Flat Major, Wq. 43:3: II. Larghetto
09. Harpsichord Concerto in E-Flat Major, Wq. 43:3: III. Presto
10. Harpsichord Concerto in C Minor, Wq. 43:4: I. Allegro assai
11. Harpsichord Concerto in C Minor, Wq. 43:4: II. Poco adagio
12. Harpsichord Concerto in C Minor, Wq. 43:4: III. Tempo di minuetto
13. Harpsichord Concerto in C Minor, Wq. 43:4: IV. Allegro assai
14. Harpsichord Concerto in G Major, Wq. 43:5: I. Adagio - Presto
15. Harpsichord Concerto in G Major, Wq. 43:5: II. Adagio
16. Harpsichord Concerto in G Major, Wq. 43:5: III. Allegro
17. Harpsichord Concerto in C Major, Wq. 43:6: I. Allegro di molto
18. Harpsichord Concerto in C Major, Wq. 43:6: II. Larghetto
19. Harpsichord Concerto in C Major, Wq. 43:6: III. Allegro
FILE: 01. Harpsichord Concerto in F Major, Wq. 43_1_ I. Allegro di molto.flac
Size: 48210626 Hash: 193B76CEEE7E54B56743E833B6930E08 Accuracy: -m0
Conclusion: CDDA 100%
Signature: 391CBBC86654DAA709D85A5A9B1DD9BA129F8511
FILE: 02. Harpsichord Concerto in F Major, Wq. 43_1_ II. Andante.flac
Size: 24879206 Hash: C60BC6360290ED9A51E77B109C80339D Accuracy: -m0
Conclusion: CDDA 100%
Signature: 571FF67F1EC25E857BD141787194FF894E816370
FILE: 03. Harpsichord Concerto in F Major, Wq. 43_1_ III. Prestissimo.flac
Size: 38879031 Hash: EB8366AB22844E493C632F2BD435237C Accuracy: -m0
Conclusion: CDDA 100%
Signature: 5215210C4D8F4E8C22674EF384820B5831F484DF
FILE: 04. Harpsichord Concerto in D Major, Wq. 43_2_ I. Allegro di molto - Andante - Allegro di molto.flac
Size: 71747502 Hash: 285CD2A21CB9DC27CC2B6E289CC85C97 Accuracy: -m0
Conclusion: CDDA 92%
Signature: 2AAC4296552E335004AFC5F0291C36599EAE777E
FILE: 05. Harpsichord Concerto in D Major, Wq. 43_2_ II. Andante.flac
Size: 40009475 Hash: E9AC13232927A20C64A8B312039F1186 Accuracy: -m0
Conclusion: CDDA 100%
Signature: 5FE8CEDA92589AEBA7CD2F3DD3317A77C8736D9B
FILE: 06. Harpsichord Concerto in D Major, Wq. 43_2_ III. Allegretto.flac
Size: 65591094 Hash: 417EA3C62ADEFCD1A26A6D69381E01C0 Accuracy: -m0
Conclusion: CDDA 100%
Signature: 7B342DA0AA1FC38443191AAAB1BDC9731FBD1D5A
FILE: 07. Harpsichord Concerto in E-Flat Major, Wq. 43_3_ I. Allegro.flac
Size: 67232871 Hash: B29C959AA68E87D04D98262C10CC889D Accuracy: -m0
Conclusion: CDDA 100%
Signature: 8031E15A92E5201B48CB6D9D3877BE12F4A8F68D
FILE: 08. Harpsichord Concerto in E-Flat Major, Wq. 43_3_ II. Larghetto.flac
Size: 20579390 Hash: D8ED8E6DA35A3146810E971A126AFB42 Accuracy: -m0
Conclusion: CDDA 87%
Signature: 59BF1C39A57F757136C256FFFAA0FCB10BB7EA93
FILE: 09. Harpsichord Concerto in E-Flat Major, Wq. 43_3_ III. Presto.flac
Size: 38471187 Hash: 2F5042C3E754E3DF459968F95EDC13B0 Accuracy: -m0
Conclusion: CDDA 99%
Signature: 4DF2A88BCF4789153B9DE3DC95719A664ADFC6D5
FILE: 10. Harpsichord Concerto in C Minor, Wq. 43_4_ I. Allegro assai.flac
Size: 28501088 Hash: 72C8AE7446FD75C7CCE6B3EF5B31B43E Accuracy: -m0
Conclusion: CDDA 100%
Signature: FC14F36EFB1D8076E6477428D39D26522044E3CF
FILE: 11. Harpsichord Concerto in C Minor, Wq. 43_4_ II. Poco adagio.flac
Size: 14390694 Hash: 31A8B99046EEAE246108BF63DBEC9988 Accuracy: -m0
Conclusion: CDDA 100%
Signature: C438CD0F8741A6221F857EE32C578160982595EB
FILE: 12. Harpsichord Concerto in C Minor, Wq. 43_4_ III. Tempo di minuetto.flac
Size: 17962598 Hash: 27713131499E03A9E450533CA577D629 Accuracy: -m0
Conclusion: CDDA 100%
Signature: 8721F6806F19A82FFD58BF930E435B412CB84978
FILE: 13. Harpsichord Concerto in C Minor, Wq. 43_4_ IV. Allegro assai.flac
Size: 34993001 Hash: FE365B4940AE5E525BB2AB8946CF0112 Accuracy: -m0
Conclusion: CDDA 100%
Signature: CDEF343201D703C7850C757BB44345050A572B4F
FILE: 14. Harpsichord Concerto in G Major, Wq. 43_5_ I. Adagio - Presto.flac
Size: 41663409 Hash: C376FC66D877891FA758A719937B5D8E Accuracy: -m0
Conclusion: CDDA 100%
Signature: BFFDBB4D0E07FDB264CDACB79FB639C2EB4E136B
FILE: 15. Harpsichord Concerto in G Major, Wq. 43_5_ II. Adagio.flac
Size: 15033110 Hash: D1871B3CEE1C8DF5B812324EB57285E1 Accuracy: -m0
Conclusion: CDDA 100%
Signature: 13984B8F19335F2B6F94055B478FA3C9AFD0444D
FILE: 16. Harpsichord Concerto in G Major, Wq. 43_5_ III. Allegro.flac
Size: 40180143 Hash: C0AEA8E239509E98BD28777ADA7B649A Accuracy: -m0
Conclusion: CDDA 100%
Signature: 1E3841B9DA45E2648964E7DF3277B50976221688
FILE: 17. Harpsichord Concerto in C Major, Wq. 43_6_ I. Allegro di molto.flac
Size: 61051556 Hash: 8E91327007115AD45E637B70B4525B1F Accuracy: -m0
Conclusion: CDDA 100%
Signature: 8E0F9608864BCA1BFF10F1A715A2D9AE8572ECCE
FILE: 18. Harpsichord Concerto in C Major, Wq. 43_6_ II. Larghetto.flac
Size: 23286291 Hash: E48A5A4F0DAF4E30D618C9BEBDD18F6B Accuracy: -m0
Conclusion: CDDA 100%
Signature: 6CDF5ED6E1E4BA5E9DA312C7A567FDD87E26965E
FILE: 19. Harpsichord Concerto in C Major, Wq. 43_6_ III. Allegro.flac
Size: 54199771 Hash: C94985C4B37146327592FADE6F508291 Accuracy: -m0
Conclusion: CDDA 100%
Signature: A1C43DD1B76B2F1537B10C153BF8A4BF82FD27AE