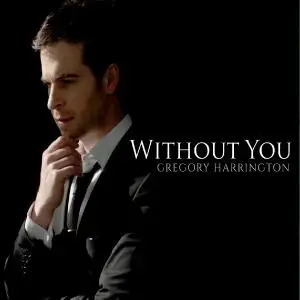 Gregory Harrington - Without You (2019)
WEB FLAC (tracks+booklet) - 266 MB | Tracks: 11 | 47:21 min
Style: Jazz | Label: Estile Records
Born in Dublin and based in New York City, Gregory Harrington raises the bar for violinists in the 21st century. With his broad musical range, he has the unique ability to translate popular jazz, rock and pop music to classical violin virtuosity, juxtaposing Bach and Bob Dylan, Beethoven and Leonard Cohen, Astor Piazzolla and Philip Glass with Radiohead and Johnny Cash. Harrington's cross-cultural and wide-reaching appeal has brought him to perform for Presidents and Vice Presidents, celebrities, heads of state, the United Nations and millions of classical, pop and jazz music fans around the globe.
He has released three critically acclaimed albums to date with his fourth album "Without You", released in June 2019, comprises 11 emotionally charged tracks of reimagined pop and jazz love songs for jazz quartet.
As a performer/arranger, his transcriptions of iconic songwriters, classical masterworks and film and movie score greats have all received critical acclaim in performance and on recordings.
He performs on a 2007 Stefan Peter Greiner violin.
Tracklist:
01. Hallelujah
02. Autumn Leaves
03. Emmanuel
04. Summertime
05. It Never Entered My Mind
06. Life and Death
07. With or Without You
08. Oblivion
09. Caruso
10. The Nearness of You
11. When I Fall in Love

FILE: 01. Hallelujah.flac
Size: 22425384 Hash: F1C32B9E768F45993ED3CECAB1B4DA80 Accuracy: -m0
Conclusion: CDDA 99%
Signature: 16C98DE6CDA8B6FC7C938783CB326F72E6C650A2
FILE: 02. Autumn Leaves.flac
Size: 17830369 Hash: AA5DBF46DE7968CE0AC45A2FBE08CE3C Accuracy: -m0
Conclusion: CDDA 100%
Signature: A21508E6498BCE7CE0EAC1ED5622FA5D9593326F
FILE: 03. Emmanuel.flac
Size: 15266788 Hash: 555C8E39926C916C19EB03D1BA277955 Accuracy: -m0
Conclusion: CDDA 100%
Signature: ACFD147BD38A4B9699D7A6509FF8D61A428E25DD
FILE: 04. Summertime.flac
Size: 24300360 Hash: 39AEDA5F5335FB536295364FA9B5E46D Accuracy: -m0
Conclusion: CDDA 100%
Signature: 725C9F3F8F5DD8AA0FA67A782E057C29299E09A3
FILE: 05. It Never Entered My Mind.flac
Size: 34778625 Hash: E513BF04DC31B06A5D02C9A63939ADE0 Accuracy: -m0
Conclusion: CDDA 100%
Signature: 23D5CA891BEE2A56845F66FA367D36E95CF7B53D
FILE: 06. Life and Death.flac
Size: 25273073 Hash: 0065B67A12FB9506C6AAED1063110AF3 Accuracy: -m0
Conclusion: CDDA 100%
Signature: 781542861FB2307C417A1522800952BAE9565DB0
FILE: 07. With or Without You.flac
Size: 30868000 Hash: 2ED10DF599D36F356DEE6653F9E3FAD7 Accuracy: -m0
Conclusion: CDDA 99%
Signature: F0234EEFD2239765B94B0D18FBA56B2328731F01
FILE: 08. Oblivion.flac
Size: 22050361 Hash: DDDCB5078A4E27DAF65DFFFBD7ED2B30 Accuracy: -m0
Conclusion: CDDA 100%
Signature: CF472AC2BD1A121EA4AC8EF9DEC1B51831A60045
FILE: 09. Caruso.flac
Size: 21674459 Hash: 31361D89AF1A110B87888037283CFB9C Accuracy: -m0
Conclusion: CDDA 100%
Signature: B2B40EAD31212C6147F9C2BE702A59D7EA7BD60E
FILE: 10. The Nearness of You.flac
Size: 31220618 Hash: 90FC9F78F28F8B132D584F65BCCD0B50 Accuracy: -m0
Conclusion: CDDA 100%
Signature: C16C26EB55D58DF9C27E591A15CF24A56E9F503F
FILE: 11. When I Fall in Love.flac
Size: 33304805 Hash: 427E18A166561205066972F453CEAE7C Accuracy: -m0
Conclusion: CDDA 100%
Signature: A9804DE1C3C16C0AEB426E5DBF2A5601BE285BBB