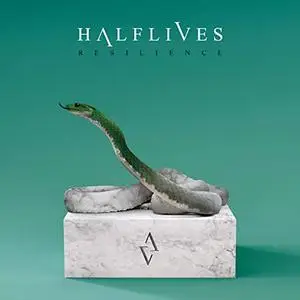 Halflives – Resilience (2020)
WEB FLAC (Tracks) 112 MB | Cover | 16:19 | MP3 CBR 320 kbps | 39 MB
Alternative, Alternative Rock, Female Fronted, Female Vocals, Pop, Rock | Label: Halflives
Set for release on March 13, it features five new tracks including recent single 'Snake' and 'Time Bomb' featuring Sleeping With Sirens' frontman Kellin Quinn.
Lead singer Linda Battilan says "'Resilience' is a record about getting lost and finding yourself again and the journey in-between. Each song explores a different step of the process in the following order: denial, anger, bargaining/self-questioning, depression and acceptance."
The band are set tour mainland Europe next month alongside Icon For Hire with UK dates soon to follow.
TRACKLIST
1. Halflives - Rockstar Everyday
2. Halflives - Snake
3. Halflives;Kellin Quinn - Time Bomb
4. Halflives - One Bad Day
5. Halflives - Hard to Break
–––––––––––-
DON'T MODIFY THIS FILE
–––––––––––-
PERFORMER: auCDtect Task Manager, ver. 1.6.0 RC1 build 1.6.0.1
Copyright © 2008-2010 y-soft. All rights reserved
http://y-soft.org
ANALYZER: auCDtect: CD records authenticity detector, version 0.8.2
Copyright © 2004 Oleg Berngardt. All rights reserved.
Copyright © 2004 Alexander Djourik. All rights reserved.
FILE: 5 - Hard to Break.flac
Size: 20295241 Hash: B94DA1021D0A11918D0BB0851AAD2BD8 Accuracy: -m0
Conclusion: CDDA 100%
Signature: BCF75591695228E8375E1A80D04A3882A8338080
FILE: 4 - One Bad Day.flac
Size: 23686562 Hash: 550A7B05839CDB3D2482DB88DFF49FBC Accuracy: -m0
Conclusion: CDDA 100%
Signature: CFD1FCE0D9DED210BCE085987C771BA3D11DCDBD
FILE: 3 - Time Bomb.flac
Size: 23557209 Hash: 701FE9F10635940761645B84D9C5741C Accuracy: -m0
Conclusion: CDDA 100%
Signature: 0F92C5C99CAD102E110F4D82B5E3FA1C4FD6917B
FILE: 2 - Snake.flac
Size: 25397429 Hash: A9909493295D49550A2E6F4488AD3B61 Accuracy: -m0
Conclusion: CDDA 100%
Signature: D5F92C91D477C32FE95B2945643C8894FBCBB0E7
FILE: 1 - Rockstar Everyday.flac
Size: 24816770 Hash: 98C55C32E4F6C4F47FB0635263956ECB Accuracy: -m0
Conclusion: CDDA 100%
Signature: 0B094138DEC0B87152887D02A80846FEB225D55B