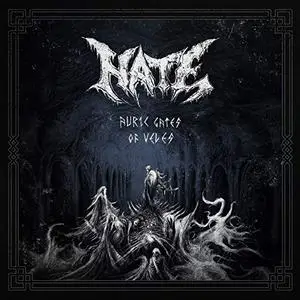 Hate - Auric Gates of Veles (2019)
WEB FLAC (Tracks) 378 MB | Cover | 49:23 | MP3 CBR 320 kbps | 113 MB
Rock, Hardrock, Metal | Label: Metal Blade Records
Hate werden ihrem Namen seit 1991 insofern gerecht, als sie zu den brutalsten, erbarmungslosesten Death-Metal-Bands der Welt zählen. Mit Tremendum wagten sie 2017 einen Schritt in düsterere eher atmosphärische Black-Metal-Gefilde und beschäftigten sich mit slawischer Mystik, was nun selbstbewusst mit Auric Gates Of Veles fortgesetzt wird. "Wir wollten tiefer in die Materie eindringen, sowohl musikalisch als auch inhaltlich", erklärt Sänger und Gitarrist ATF Sinner. "Außerdem sollte unsere Rhythmusgruppe diesmal besser zur Geltung kommen, so wie es im Death Metal üblich ist. In puncto Gitarren schwebte uns eine fette Soundmauer vor, akustische Zerstörung mit Ambient-Elementen im Hintergrund." Zu sagen, dies sei ihnen gelungen, wäre untertrieben, denn Auric Gates Of Veles klingt gigantisch, dabei aber sowohl natürlich als auch dynamisch. Es dürfte sich um die bislang stärkste Produktion in der langen Geschichte der Gruppe handeln.
Nachdem das unheilvolle Intro des Openers 'Seventh Manvantara' in einem Meer aus Gitarren und Blastbeats verklungen ist, steht fest, dass sich Hate am Zenit ihres Spielvermögens befinden. Weiter geht's mit sowohl Thrash-Parts als auch raumgreifenden Momenten in 'The Volga's Veins', dem gespenstisch groovenden Titelstück über das nicht minder garstige, aber auch tragische 'Salve Ignis' bis zum roh schwarzmetallischen Finale 'Generation Sulphur', wobei Vielfalt Trumpf und Wiederkäuen der immergleichen Ideen ausgeschlossen ist. Im Zentrum steht zweifellos das sechseinhalbminütige Epos 'Sovereign Sanctity', das vom ersten bis zum letzten Ton volle Aufmerksamkeit erfordert. "Die Nummer sollte wie eine Hymne klingen und gibt nun ein Paradebeispiel dafür ab. Ich halte sie für eines der besten Lieder, die ich seit Jahren geschrieben habe", so Sinner weiter.
TRACKLIST
1. Seventh Manvantara
2. Triskhelion
3. The Volga's Veins
4. Sovereign Sanctity
5. Path to Arkhen
6. Auric Gates of Veles
7. Salve Ignis
8. Generation Sulphur
9. In the Shrine of Veles (Pre-Production)
10. Path to Arkhen (Pre-Production)
–––––––––––-
DON'T MODIFY THIS FILE
–––––––––––-
PERFORMER: auCDtect Task Manager, ver. 1.6.0 RC1 build 1.6.0.1
Copyright © 2008-2010 y-soft. All rights reserved
http://y-soft.org
ANALYZER: auCDtect: CD records authenticity detector, version 0.8.2
Copyright © 2004 Oleg Berngardt. All rights reserved.
Copyright © 2004 Alexander Djourik. All rights reserved.
FILE: 9 - In the Shrine of Veles (Pre-Production).flac
Size: 41106704 Hash: DA6C2CE790608A04111D0915144CE2DE Accuracy: -m0
Conclusion: CDDA 100%
Signature: E7DAA7E2412A1A4106DC8784EACB3B8FBE854C27
FILE: 8 - Generation Sulphur.flac
Size: 35836110 Hash: 02BE1F8ACBC9C55EE21D8DB28B267BD5 Accuracy: -m0
Conclusion: CDDA 100%
Signature: 8286760C23FF844CCFC23F7D67F3102DDC68577F
FILE: 7 - Salve Ignis.flac
Size: 39688160 Hash: ADBE5EFDF6E7C72AAC4344809F8A8313 Accuracy: -m0
Conclusion: CDDA 99%
Signature: 0F108CAEF652933DE949519CE146EE5E0CC76D60
FILE: 6 - Auric Gates of Veles.flac
Size: 43160146 Hash: 7A17E0DABC253012D745D6A2E4827D13 Accuracy: -m0
Conclusion: CDDA 100%
Signature: 1413A0292BFB28F1D97EB00E93CA2989F4CA2235
FILE: 5 - Path to Arkhen.flac
Size: 40237566 Hash: 607ACBB6BDF2CD23A13C0238000558F2 Accuracy: -m0
Conclusion: CDDA 100%
Signature: EC136DD335067BD4D2B82EE11FF2C905F851A2BF
FILE: 4 - Sovereign Sanctity.flac
Size: 52784888 Hash: A5EE177FF1070DB4C060A378692E90D5 Accuracy: -m0
Conclusion: CDDA 99%
Signature: 38F418AC470E4BEAEF5257AD0DBB2F2F5C0845DE
FILE: 3 - The Volga's Veins.flac
Size: 34143924 Hash: 4BAFCD0C81DDAF869EC5112287E6B62D Accuracy: -m0
Conclusion: CDDA 100%
Signature: 5EB8B932C6155D3F56D3D32FDD9C8AF92E9A7D76
FILE: 2 - Triskhelion.flac
Size: 32720400 Hash: 5676C359E096DAB1B58B00B12AB5A4EB Accuracy: -m0
Conclusion: CDDA 100%
Signature: 70B5BF90497A1484E3797679A96C3F66FB24611B
FILE: 10 - Path to Arkhen (Pre-Production).flac
Size: 41215204 Hash: 077D0456AD333164A915AEAC58FD8211 Accuracy: -m0
Conclusion: CDDA 100%
Signature: 3098387B19587EAD14C4DCD6F31B8A071F416720
FILE: 1 - Seventh Manvantara.flac
Size: 36199445 Hash: 1DC5B91159A83931F82700E4B204E3A2 Accuracy: -m0
Conclusion: CDDA 100%
Signature: CAB017C7D69E67E3DA7428F1039393E73DBA9468