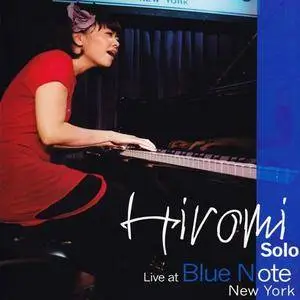 Hiromi Uehara - Solo Live at Blue Note New York (2011)
Jazz | MP3 320 kbps CBR | 70 min | 245 MB
Label: Telarc | Rel:2011
To say that Hiromi Uehara is a hypnotic performer would be an incredible understatement. With her live DVD, Hiromi Solo Live at Blue Note New York, the pianist electrifies, stimulates, intoxicates. She's done the very same to audiences throughout the United States, Asia and Europe, blowing the lid off of what to expect from a performance with her complete and utter surrender to her art. The DVD allows those of us who lack the fortune to see her in person a window to what we're missing. Hiromi rolls through a number of tracks from Place to Be, her critically-acclaimed solo release, and dedicates herself entirely to the discovery and joy of music. Recorded live on August 20 and 21, 2010, Live at the Blue Note New York features 11 songs and a bonus feature that includes an interview and some footage from her performances around the world.
Tracklist:
01. BQE [10:09]
02. Sicilian Blue [10:52]
03. Choux A La Creme [08:58]
04. Green Tea Farm [11:12]
05. Capecod Chips [10:47]
06. Old Castle, By The River, In The Middle Of A Forest [10:09]
07. Pachelbel's Canon [08:24]
08. Show City, Show Girl [05:20]
09. Daytime In Las Vegas [03:57]
10. The Gambler [07:42]
11. Place To Be [12:20]