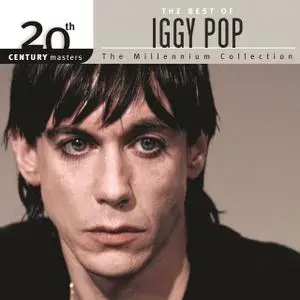 Iggy Pop - 20th Century Masters: The Best Of Iggy Pop (2006)
WEB | FLAC (tracks) - 364 MB | MP3 (CBR 320 kbps) - 111 MB | 43:07
Genre: Rock | Label: A&M Records
At this writing there are about a dozen "best-of" collections on the market of Iggy Pop's major-label work, and until someone compiles one more comprehensive than 2005's A Million in Prizes: The Anthology, there is no need to release another. Does everyone understand this? While there are already a bunch of dodgy collections of Iggy's music out there, 20th Century Masters – The Millennium Collection has the very serious drawback of having been drawn primarily from Pop's recordings for A&M Records. Iggy cut two albums for A&M, Blah Blah Blah and Instinct, and to be blunt, they're two of the weakest records of his career, and while listening to four cuts from one and two from the other is better than sitting through the entirety of both, that hardly makes this a good album. The disc is padded out with three live numbers from a 1988 promo-only LP that are OK but not especially remarkable (and hardly adequate substitutes for the original versions of "Kill City," "1969," and "I Wanna Be Your Dog"), and two numbers licensed from another label, and it's significant that they're the best songs on the disc. If you don't own an Iggy Pop album, there's no question that you need one, but by no means is this a good place to start. Try A Million in Prizes, Nude & Rude: The Best of Iggy Pop, or Lust for Life, still his strongest solo disc, and you'll get an idea of why this man is important. 20th Century Masters – The Millennium Collection works best as a reminder that Iggy Pop made some really lamentable career choices in the 1980s.
Track List:
01. Sister Midnight 4:19
02. Lust For Life 5:11
03. Real Wild Child (Wild One) 3:38
04. Cry For Love 4:27
05. Fire Girl 3:34
06. Isolation 4:31
07. Cold Metal 3:26
08. Tuff Baby 4:26
09. Kill City (Live) 2:45
10. 1969 (Live) 2:45
11. I Wanna Be Your Dog (Live) 4:11
–––––––––––-
DON'T MODIFY THIS FILE
–––––––––––-
PERFORMER: auCDtect Task Manager, ver. 1.6.0 RC1 build 1.6.0.1
Copyright © 2008-2010 y-soft. All rights reserved
http://y-soft.org
ANALYZER: auCDtect: CD records authenticity detector, version 0.8.2
Copyright © 2004 Oleg Berngardt. All rights reserved.
Copyright © 2004 Alexander Djourik. All rights reserved.
FILE: 1 Sister Midnight.flac
Size: 31270366 Hash: F06BAA6C5227EFD7624527821F764FAE Accuracy: -m0
Conclusion: CDDA 100%
Signature: 0656BCB08ED2CD364BBFB8C1E464B1BD9592E3D1
FILE: 10 1969 (Live At The Channel - 1988).flac
Size: 21622693 Hash: 4A3EED27B71EDA84592E56515446538B Accuracy: -m0
Conclusion: CDDA 100%
Signature: C62D5CA1AB42D5B73A40AA52DD820A3080C5C382
FILE: 11 I Wanna Be Your Dog (1988-Live At The Channel).flac
Size: 34449818 Hash: F5EE0484644710B2C2306D277311EB37 Accuracy: -m0
Conclusion: CDDA 100%
Signature: 400D2F41331EC84CB3CE64C5C4C65BC071E48008
FILE: 2 Lust For Life.flac
Size: 43842847 Hash: 057E66C9DB3F032D4A651C7C96DCB746 Accuracy: -m0
Conclusion: CDDA 100%
Signature: 14655A11D302AAEFFAC2B3484D13A9648363001E
FILE: 3 Real Wild Child (Wild One).flac
Size: 29527014 Hash: EDCFC27A6794C023794A9A21B44C1ED7 Accuracy: -m0
Conclusion: CDDA 100%
Signature: 08375D5A576DC714F5EB9DFA31FD6C9B4DBC6A86
FILE: 4 Cry For Love.flac
Size: 36252753 Hash: AA53A02F5AC2121FCDB5D1182034A87B Accuracy: -m0
Conclusion: CDDA 100%
Signature: 915CAB281C628DFD55AD626D47C45E4F87650FD8
FILE: 5 Fire Girl.flac
Size: 28028164 Hash: 191E4ECE5628E21C4F0728A0BDB5D184 Accuracy: -m0
Conclusion: CDDA 100%
Signature: E2C83F8C6E93972EC3D089B6A0F11485808839E8
FILE: 6 Isolation.flac
Size: 37045998 Hash: 794F1CC15BFBB36D7F0968940955C41B Accuracy: -m0
Conclusion: CDDA 100%
Signature: E2E9C865DDD77E0ED3F1DBA1EF8CB3A912DCB812
FILE: 7 Cold Metal.flac
Size: 28327265 Hash: 5E08D4217036BD06BBACC03CD599658A Accuracy: -m0
Conclusion: CDDA 100%
Signature: E0DB66FEB83105BA963D7FD8FD4900AFCBF613D3
FILE: 8 Tuff Baby.flac
Size: 33848553 Hash: 6E065ACA68EA8809779E822F4343F9D7 Accuracy: -m0
Conclusion: CDDA 100%
Signature: 4F1A37FAA33BA188A95A80E6F533E9697CF5F1D4
FILE: 9 Kill City (1988-Live At The Channel).flac
Size: 22929097 Hash: 9B950836924AB08BCC7DA4A4A7A0465B Accuracy: -m0
Conclusion: CDDA 99%
Signature: F6C9C0377C9BEF099D0723601863BEFF4339D766