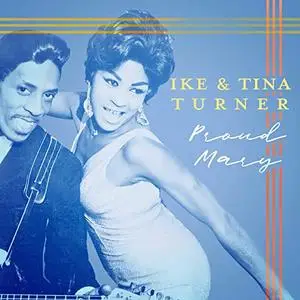 Ike & Tina Turner - Proud Mary (2020)
FLAC tracks | 1:15:32 | 423 Mb
Genre: Blues, R&B, Soul, Rock / Label: Jasnet Music Co
In late 1959, Turner's band entered the studio to cut a song called "A Fool in Love" for the Sue Records label. The scheduled male vocalist failed to show up for the session, and Tina was pressed into service. Released in 1960, "A Fool in Love" shot to the number two spot on the R&B charts, also making the pop Top 30.
Track List:
[04:57] 01. Ike & Tina Turner - Proud Mary
[03:57] 02. Ike & Tina Turner - River Deep Mountain High
[02:56] 03. Ike & Tina Turner - Nutbrush City Limits
[03:38] 04. Ike & Tina Turner - Mississippi Rolling Stone
[02:50] 05. Ike & Tina Turner - I Want to Take You Higher
[03:28] 06. Ike & Tina Turner - Come Together
[02:24] 07. Ike & Tina Turner - Shake a Tail Feather
[04:36] 08. Ike & Tina Turner - Never Been to Spain
[04:02] 09. Ike & Tina Turner - I Idolize You
[02:34] 10. Ike & Tina Turner - Knock on Wood
[05:07] 11. Ike & Tina Turner - A Fool in Love
[02:26] 12. Ike & Tina Turner - You're So Fine
[03:40] 13. Ike & Tina Turner - Shake a Hand
[03:31] 14. Ike & Tina Turner - Livin' for the City
[02:24] 15. Ike & Tina Turner - Bold Soul Sister
[02:34] 16. Ike & Tina Turner - Poor Fool
[03:10] 17. Ike & Tina Turner - It Sho Ain't Me
[02:13] 18. Ike & Tina Turner - Please Love Me
[02:36] 19. Ike & Tina Turner - It's Gonna Work Out Fine
[02:40] 20. Ike & Tina Turner - Stagger Lee
[03:19] 21. Ike & Tina Turner - Rockin' and Rollin'
[02:45] 22. Ike & Tina Turner - Rock Me Baby
[03:44] 23. Ike & Tina Turner - I've Been Loving You Too Long
ANALYZER: auCDtect: CD records authenticity detector, version 0.8.2
Copyright © 2004 Oleg Berngardt. All rights reserved.
Copyright © 2004 Alexander Djourik. All rights reserved.


FILE: 01 - Proud Mary.flac
Size: 22034382 Hash: 2CB8CEA9A0A12B08B11434F59113F683 Accuracy: -m40
Conclusion: MPEG 95%
Signature: 67F781EE0FCC425385BA0C3E6228484CF79F2D96
FILE: 02 - River Deep Mountain High.flac
Size: 27946691 Hash: 2C5F4183DDEBAB3B6C81ED3B6193957F Accuracy: -m40
Conclusion: CDDA 100%
Signature: 044DB6E08A6110F337A7634B09F5F7D672102483
FILE: 03 - Nutbrush City Limits.flac
Size: 19753093 Hash: 39BEA2C974B751049D5DAD419B165DEA Accuracy: -m40
Conclusion: CDDA 100%
Signature: 74AB46969D96F399F48EF502F669919DBF98E492
FILE: 04 - Mississippi Rolling Stone.flac
Size: 24489008 Hash: 6AB6B6EECA3831153BC5FCD24BE2DE7F Accuracy: -m40
Conclusion: CDDA 94%
Signature: 2474B387F1EC46B3CE5B8B4A9EFD1DEA0AA2614A
FILE: 05 - I Want to Take You Higher.flac
Size: 18281798 Hash: F3CAE2EDD43189E79D8A3CDE3D158FDB Accuracy: -m40
Conclusion: CDDA 100%
Signature: 12DC4306879D2A386EE020CA48C76C1BDD2936EA
FILE: 06 - Come Together.flac
Size: 18593165 Hash: 80A3FC3D090BE3A91F0A8C670C453E78 Accuracy: -m40
Conclusion: CDDA 43%
Signature: 12AC77150172BE49F7528FE03020D76790C89636
FILE: 07 - Shake a Tail Feather.flac
Size: 18935669 Hash: 3EF43D8DE1DE2D7D87FFAAA682397421 Accuracy: -m40
Conclusion: CDDA 100%
Signature: 1906BA74F340466BEAE90AB537A1D03590957605
FILE: 08 - Never Been to Spain.flac
Size: 27217858 Hash: A96424CD45ABDB8C0168A1780ED72E60 Accuracy: -m40
Conclusion: CDDA 100%
Signature: 69AC68A68598AAA4D18A5723EBFB8562A755FF55
FILE: 09 - I Idolize You.flac
Size: 24718106 Hash: 26EA939EFA3C644B683DCCEE827ADF1F Accuracy: -m40
Conclusion: CDDA 100%
Signature: 65BD291C68DD3AE0AF7FBE18587094AC4E5E2795
FILE: 10 - Knock on Wood.flac
Size: 17771184 Hash: C233D6A0566F7ECACF45DA4A2ADE4679 Accuracy: -m40
Conclusion: CDDA 99%
Signature: F4F41A2995773F7A76C0C18DC56A95B9830BBDDC
FILE: 11 - A Fool in Love.flac
Size: 29075120 Hash: DEAEBF01C8A960D4E6DEFB2FC7B519B5 Accuracy: -m40
Conclusion: CDDA 100%
Signature: B14FC31F681EBBE5DF9B39C8B2858B69ED7C0471
FILE: 12 - You're So Fine.flac
Size: 14318609 Hash: 7003737F956CC44E5589FCDEC98D68C9 Accuracy: -m40
Conclusion: CDDA 100%
Signature: BA02BDB4F564E1E6AF54E435749E8254D38FDEFC
FILE: 13 - Shake a Hand.flac
Size: 22757310 Hash: 60F67B10C90FBF45FBFADFACB619D2C8 Accuracy: -m40
Conclusion: CDDA 100%
Signature: 857B4F459740E0A01725168C03D9714E1033AC67
FILE: 14 - Livin' for the City.flac
Size: 18225596 Hash: 3348D68E6864DDDFE5D36D99535D358B Accuracy: -m40
Conclusion: CDDA 49%
Signature: 86C5ECB777D2FC9BFDA77D6F767854F1A793E682
FILE: 15 - Bold Soul Sister.flac
Size: 9078047 Hash: A87E15ADDBFFA0476C91A041542C9AFB Accuracy: -m40
Conclusion: ???
Signature: 82D26C860E9F3A8D5C05A22661F82C5A44571256
FILE: 16 - Poor Fool.flac
Size: 14519872 Hash: F9B400CFAE1AE9E26DD8BA13CDEBD083 Accuracy: -m40
Conclusion: CDDA 100%
Signature: 03304CDC964B7D4B2A83A5CFCDB3CA81730480E7
FILE: 17 - It Sho Ain't Me.flac
Size: 15910126 Hash: 0909EA2CBD0B60425AF0D3031947C0FA Accuracy: -m40
Conclusion: MPEG 95%
Signature: A306C96C6BF12B616F8968A8BE297B19079C2D27
FILE: 18 - Please Love Me.flac
Size: 12155351 Hash: C1BA1997CD1718ACAB7431C3B59B22F4 Accuracy: -m40
Conclusion: MPEG 95%
Signature: FA9A97834FA06BDE6521894118F20846381A1068
FILE: 19 - It's Gonna Work Out Fine.flac
Size: 14893906 Hash: 2DFC6AEFB9B8AA212B046F24A421E6C2 Accuracy: -m40
Conclusion: CDDA 100%
Signature: 1C672C6A314243A6DC66ADB822CE8A29632F2AEC
FILE: 20 - Stagger Lee.flac
Size: 15786927 Hash: FF86EB769E3D82C927088197F3AAB9CE Accuracy: -m40
Conclusion: MPEG 95%
Signature: 8DB0E430EAF2AD6566208E1BA40BBA0851EC8CA5
FILE: 21 - Rockin' and Rollin'.flac
Size: 19480555 Hash: 27DD0B3F4F8CC7F6F22A55BBF3FB4F02 Accuracy: -m40
Conclusion: CDDA 100%
Signature: 742796A65F8201CA954C4AB748FC808D44607438
FILE: 22 - Rock Me Baby.flac
Size: 15864801 Hash: 8FC8D0A5FF269DBE776CF66CF6411CD0 Accuracy: -m40
Conclusion: MPEG 95%
Signature: 1E3275117BF3F9E24BC1D32FAE35C9ABEF8750C5
FILE: 23 - I've Been Loving You Too Long.flac
Size: 21790057 Hash: 593D4BF8D25FFF8783F5DEDB9CA07C15 Accuracy: -m40
Conclusion: MPEG 95%
Signature: 340E2049EB957F971A534B9BE5F18B2C8028DEF1