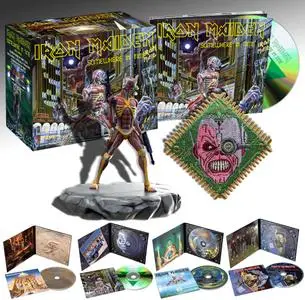 Iron Maiden - The Studio Collection, Part 2: Somewhere In Time (1984-1990) (4CD Box Set, 2019)
MP3 CBR 320 kbps | Run Time: 03:10:49 | 741 Mb
Genre: Heavy Metal | Label: Label: Iron Maiden/Parlophone Records
Parlophone Records (BMG in the US) will continue their reissues series of the IRON MAIDEN catalogue with the second set of Digipak CD titles in The Studio Collection – Remastered, to be released on March 29th. Following on from 2014/2017's black vinyl releases and 2015's Mastered for iTunes project, The Studio Collection – Remastered features recordings taken from the same remasters as the 2015 hi-res digital releases. The albums supersede the previously available studio catalogue and all titles will also be made available on streaming platforms. As a bonus for collectors, one CD from each batch of releases will also be optionally available in a specially artworked box featuring a 1:24 scale figurine and exclusive patch. In the March 22nd batch, this will be Somewhere In Time.
Contains CDs:
1984 - Powerslave (00:50:58)
1986 - Somewhere In Time (00:51:40)
1988 - Seventh Son Of A Seventh Son (00:44:05)
1990 - No Prayer For The Dying (00:44:06)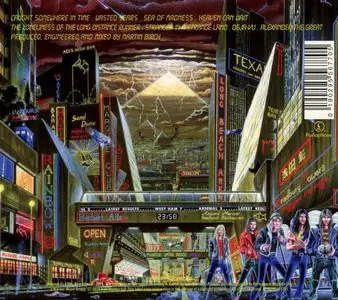 Full Tracklist:

1984 - Powerslave (00:50:58)
01. Aces High (4:32)
02. 2 Minutes To Midnight (6:04)
03. Losfer Words (Big 'Orra) (4:15)
04. Flash Of The Blade (4:06)
05. The Duellists (6:08)
06. Back In The Village (5:03)
07. Powerslave (7:12)
08. Rime Of The Ancient Mariner (13:39)
1986 - Somewhere In Time (00:51:40)
01. Caught Somewhere In Time (7:27)
02. Wasted Years (5:10)
03. Sea Of Madness (5:44)
04. Heaven Can Wait (7:24)
05. The Loneliness Of The Long Distance Runner (6:33)
06. Stranger In A Strange Land (5:47)
07. Deja-Vu (4:59)
08. Alexander The Great (356-323 BC) (8:37)
1988 - Seventh Son Of A Seventh Son (00:44:05)
01. Moonchild (5:41)
02. Infinite Dreams (6:09)
03. Can I Play With Madness (3:31)
04. The Evil That Men Do (4:34)
05. Seventh Son Of A Seventh Son (9:54)
06. The Prophecy (5:06)
07. The Clairvoyant (4:27)
08. Only The Good Die Young (4:43)
1990 - No Prayer For The Dying (00:44:06)
01. Tailgunner (4:14)
02. Holy Smoke (3:49)
03. No Prayer For The Dying (4:23)
04. Public Enema Number One (4:14)
05. Fates Warning (4:11)
06. The Assassin (4:18)
07. Run Silent Run Deep (4:35)
08. Hooks In You (4:07)
09. Bring Your Daughter…..To The Slaughter (4:44)
10. Mother Russia (5:32)