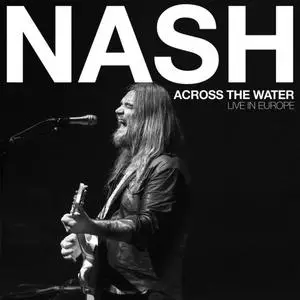 Israel Nash - Across The Water Live In Europe (2020)
FLAC tracks / MP3 320 kbps | 1:05:46 | 353 / 153 Mb
Genre: Rock, Folk, Country, Indie / Label: Desert Folklore Music
Israel Nash announces the release of Across The Water a limited vinyl only 180 gram double LP release with tracks that is signed, hand numbered and has some extra goodies too. The tracks on this album were recorded live London, Berlin, Paris, Zurich, Munich, Malmo, Utrecht, and Cologne in 2018. Listen hard and feel the noise, live and across the waters in Europe.
Track List:
1. Rolling On (Live) (5:45)
2. Lucky Ones (Live) (4:35)
3. Spiritfalls (Live) (4:04)
4. Rexanimarum (Live) (5:32)
5. La Lately (Live) (6:16)
6. Who In Time (Live) (5:21)
7. Woman At The Well (Live) (4:55)
8. Goodbye Ghost (Live) (6:49)
9. Mansions (Live) (8:00)
10. Baltimore (Live) (6:16)
11. Rain Plans (Live) (8:13)
ANALYZER: auCDtect: CD records authenticity detector, version 0.8.2
Copyright © 2004 Oleg Berngardt. All rights reserved.
Copyright © 2004 Alexander Djourik. All rights reserved.


FILE: 09 - Mansions (Live).flac
Size: 49258935 Hash: 6EF5828D7CCD2E4B65C90A98222FA8E1 Accuracy: -m40
Conclusion: CDDA 100%
Signature: 6CEB69584BF1FD6E6E286381A3BC907FA6F703FD
FILE: 10 - Baltimore (Live).flac
Size: 31884548 Hash: 5A1F5EFA1EE7F28B1436C58E28D511B3 Accuracy: -m40
Conclusion: CDDA 99%
Signature: CFB66A1D7C592C485438EC08CD9E8D1E9B8F9E3F
FILE: 11 - Rain Plans (Live).flac
Size: 49967372 Hash: 0A61706BB634F5090E085923ABB1DC93 Accuracy: -m40
Conclusion: CDDA 100%
Signature: 582A947B9E6039A069A74BF76306B4265EB10D68
FILE: 01 - Rolling On (Live).flac
Size: 38593691 Hash: CFE1728C53311C8B1F0BFAEF0D52B98E Accuracy: -m40
Conclusion: CDDA 100%
Signature: 9F5068C896F55F9FA726CFD3B9BDD179C10C31EE
FILE: 02 - Lucky Ones (Live).flac
Size: 31066089 Hash: 47C9BA13CD5D64C1F75F4FAB7BEECB7B Accuracy: -m40
Conclusion: CDDA 100%
Signature: 48E3F7F3E107A5AA941EC88CB614BFB7C8757ABD
FILE: 03 - Spiritfalls (Live).flac
Size: 24379415 Hash: 9EFF96CB4337BAD91F2FE306BDD315F1 Accuracy: -m40
Conclusion: CDDA 100%
Signature: 2129B2E9BFF985325D4FB0243E38D3AADE985876
FILE: 04 - Rexanimarum (Live).flac
Size: 33885378 Hash: 354BDC457002AE85420F0C015C769757 Accuracy: -m40
Conclusion: CDDA 100%
Signature: DC74079BD7452A32F65DAAB7DD5D27383DCD964F
FILE: 05 - La Lately (Live).flac
Size: 38163893 Hash: E44E9A604C3198E3AA4B7461BCA05A7F Accuracy: -m40
Conclusion: CDDA 100%
Signature: C419497479C70AA0CE3125C6EE8D89A125233378
FILE: 06 - Who In Time (Live).flac
Size: 31681203 Hash: 2E68047BA6092056E7824CF8E10B817E Accuracy: -m40
Conclusion: CDDA 100%
Signature: 6F28ABCC3FF6160E18224559C239F33EA31C9996
FILE: 07 - Woman At The Well (Live).flac
Size: 30790023 Hash: 9A91832C566A6FFE53DD3BA167A2E220 Accuracy: -m40
Conclusion: CDDA 100%
Signature: A7CCBE11D74B9738DE5E6E563A4DD282E37ECFE5
FILE: 08 - Goodbye Ghost (Live).flac
Size: 41691651 Hash: ABEB33C56790AFCF453DA64EA9BFDFB5 Accuracy: -m40
Conclusion: CDDA 100%
Signature: 3B9F2A86B118C3E90FFAE8CE005B0ABDD03E1E41