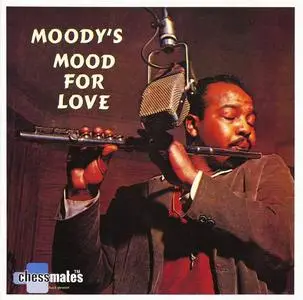 James Moody - Moody's Mood for Love (1957) [Reissue 1998]
XLD Rip | FLAC (tracks+.cue+log) - 170 MB | MP3 CBR 320 kbps (LAME 3.93) - 73 MB | Covers - 28 MB
Genre: Jazz, Bop | RAR 3% Rec. | Label: GRP Records (GRD-823)
James Moody's first Argo album revealed not only his remarkable abilities as a jazz flutist, but also sold gratifyingly, proving, we guess, that you have the same admiration for him that we do. So this is the second of what will undoubtedly become a series of Moody portraits in vinylite.
Moody's abrupt emergence as a flutist of great ability should come as no surprise to those familiar with his career. Since his initial national exposure as tenor soloist with Dizzy Gillespie's big band in 1947, through his prolonged stay in Europe from 1948-51, where he influenced and spurred into action many overseas jazzmen and became equally known for his alto work, right up to the present time, as leader of his own group, his distinctive style and fluent technique on the saxes have made him notable.
The addition of the flute to his onstand collection of horns was a logical step for a man of his musical curiosity to take. Audience response was immediate and he became a confident exponent of the instrument, one which has come into wide general use among jazzmen.
That he has in short order become one of the best is once more evidenced recordwise here, as he moves easily from the finger snapping "Foolin' the Blues" to an extended, lovely "Stardust," with stops along the way for the swinging "Plus Eight," the vibrant "Phil Up," and a thoughtful "You Go to My Head."
Eddie Jefferson's King Pleasure-sprung vocals on "I'm in the Mood for Love" and "Billie's Bounce," and Moody's moving alto solo on "Mean to Me" complete the set.
Tracklist:
01. Foolin' the Blues
02. Plus Eight
03. I'm in the Mood for Love
04. Phil Up
05. You Go to My Head
06. Billie's Bounce
07. Stardust
08. Mean to Me
Total time:
31:20
X Lossless Decoder version 20181019 (151.1)

XLD extraction logfile from 2021-11-10 17:19:06 -0500

James Moody / Moody's Mood For Love

Used drive : TSSTcorp CDDVDW SE-218CB (revision MF00)
Media type : Pressed CD

Ripper mode : XLD Secure Ripper
Disable audio cache : OK for the drive with a cache less than 1375KiB
Make use of C2 pointers : NO
Read offset correction : 6
Max retry count : 100
Gap status : Analyzed, Appended (except HTOA)

TOC of the extracted CD
Track | Start | Length | Start sector | End sector
––––––––––––––––––––––––––––-
1 | 00:00:00 | 05:07:57 | 0 | 23081
2 | 05:07:57 | 03:59:30 | 23082 | 41036
3 | 09:07:12 | 03:09:25 | 41037 | 55236
4 | 12:16:37 | 02:36:40 | 55237 | 66976
5 | 14:53:02 | 03:27:33 | 66977 | 82534
6 | 18:20:35 | 03:17:19 | 82535 | 97328
7 | 21:37:54 | 06:38:36 | 97329 | 127214
8 | 28:16:15 | 03:03:50 | 127215 | 140989

AccurateRip Summary (DiscID: 0009ae22-003fe85c-79075708)
Track 01 : OK (v1+v2, confidence 11/11)
Track 02 : OK (v1+v2, confidence 11/11)
Track 03 : OK (v1+v2, confidence 11/11)
Track 04 : OK (v1+v2, confidence 11/11)
Track 05 : OK (v1+v2, confidence 11/11)
Track 06 : OK (v1+v2, confidence 10/10)
Track 07 : OK (v1+v2, confidence 11/11)
Track 08 : OK (v1+v2, confidence 11/11)
->All tracks accurately ripped.

All Tracks
Album gain : 0.14 dB
Peak : 0.841858
Statistics
Read error : 0
Jitter error (maybe fixed) : 0
Retry sector count : 0
Damaged sector count : 0

Track 01
Filename : /Volumes/Multimedia/XLD/James Moody - (1957) Moody's Mood For Love [FLAC]/01 - Foolin' The Blues.flac
Pre-gap length : 00:02:00

Track gain : 1.31 dB
Peak : 0.734375
CRC32 hash (test run) : ECF8A85C
CRC32 hash : ECF8A85C
CRC32 hash (skip zero) : A3A4AD47
AccurateRip v1 signature : C99FAAE1
AccurateRip v2 signature : 5F3C64BD
->Accurately ripped (v1+v2, confidence 3+8/11)
Statistics
Read error : 0
Jitter error (maybe fixed) : 0
Retry sector count : 0
Damaged sector count : 0

Track 02
Filename : /Volumes/Multimedia/XLD/James Moody - (1957) Moody's Mood For Love [FLAC]/02 - Plus Eight.flac
Pre-gap length : 00:02:35

Track gain : -0.54 dB
Peak : 0.727509
CRC32 hash (test run) : 285EB026
CRC32 hash : 285EB026
CRC32 hash (skip zero) : 72FCF0B0
AccurateRip v1 signature : 34E1C669
AccurateRip v2 signature : 142F719B
->Accurately ripped (v1+v2, confidence 3+8/11)
Statistics
Read error : 0
Jitter error (maybe fixed) : 0
Retry sector count : 0
Damaged sector count : 0

Track 03
Filename : /Volumes/Multimedia/XLD/James Moody - (1957) Moody's Mood For Love [FLAC]/03 - I'm In The Mood For Love.flac
Pre-gap length : 00:02:35

Track gain : 0.57 dB
Peak : 0.814423
CRC32 hash (test run) : 6F23ADA2
CRC32 hash : 6F23ADA2
CRC32 hash (skip zero) : E7BF2C7A
AccurateRip v1 signature : 65C5F62B
AccurateRip v2 signature : FB028EED
->Accurately ripped (v1+v2, confidence 3+8/11)
Statistics
Read error : 0
Jitter error (maybe fixed) : 0
Retry sector count : 0
Damaged sector count : 0

Track 04
Filename : /Volumes/Multimedia/XLD/James Moody - (1957) Moody's Mood For Love [FLAC]/04 - Phil Up.flac
Pre-gap length : 00:03:07

Track gain : -1.09 dB
Peak : 0.715057
CRC32 hash (test run) : A27D6342
CRC32 hash : A27D6342
CRC32 hash (skip zero) : 92D3B1F5
AccurateRip v1 signature : BD8F98F8
AccurateRip v2 signature : 32A9F061
->Accurately ripped (v1+v2, confidence 3+8/11)
Statistics
Read error : 0
Jitter error (maybe fixed) : 0
Retry sector count : 0
Damaged sector count : 0

Track 05
Filename : /Volumes/Multimedia/XLD/James Moody - (1957) Moody's Mood For Love [FLAC]/05 - You Go To My Head.flac
Pre-gap length : 00:02:52

Track gain : -1.05 dB
Peak : 0.736420
CRC32 hash (test run) : 18738065
CRC32 hash : 18738065
CRC32 hash (skip zero) : 9A4F4451
AccurateRip v1 signature : D836EAB3
AccurateRip v2 signature : 06729626
->Accurately ripped (v1+v2, confidence 3+8/11)
Statistics
Read error : 0
Jitter error (maybe fixed) : 0
Retry sector count : 0
Damaged sector count : 0

Track 06
Filename : /Volumes/Multimedia/XLD/James Moody - (1957) Moody's Mood For Love [FLAC]/06 - Billie's Bounce.flac
Pre-gap length : 00:02:33

Track gain : 0.27 dB
Peak : 0.675568
CRC32 hash (test run) : 6B88F33D
CRC32 hash : 6B88F33D
CRC32 hash (skip zero) : BAA0FAEC
AccurateRip v1 signature : 12C283B2
AccurateRip v2 signature : 3C6583D6
->Accurately ripped (v1+v2, confidence 2+8/10)
Statistics
Read error : 0
Jitter error (maybe fixed) : 0
Retry sector count : 0
Damaged sector count : 0

Track 07
Filename : /Volumes/Multimedia/XLD/James Moody - (1957) Moody's Mood For Love [FLAC]/07 - Stardust.flac
Pre-gap length : 00:02:32

Track gain : 2.32 dB
Peak : 0.737396
CRC32 hash (test run) : 8D547158
CRC32 hash : 8D547158
CRC32 hash (skip zero) : 0E5B6747
AccurateRip v1 signature : C8FDDDCA
AccurateRip v2 signature : 3AD81698
->Accurately ripped (v1+v2, confidence 3+8/11)
Statistics
Read error : 0
Jitter error (maybe fixed) : 0
Retry sector count : 0
Damaged sector count : 0

Track 08
Filename : /Volumes/Multimedia/XLD/James Moody - (1957) Moody's Mood For Love [FLAC]/08 - Mean To Me.flac
Pre-gap length : 00:02:35

Track gain : -1.20 dB
Peak : 0.841858
CRC32 hash (test run) : 12D34925
CRC32 hash : 12D34925
CRC32 hash (skip zero) : AEA7BA21
AccurateRip v1 signature : E7BE0038
AccurateRip v2 signature : 6F7D5516
->Accurately ripped (v1+v2, confidence 3+8/11)
Statistics
Read error : 0
Jitter error (maybe fixed) : 0
Retry sector count : 0
Damaged sector count : 0

No errors occurred

End of status report

––-BEGIN XLD SIGNATURE––-
C_5w6o33XV5DnngNvvZehb_v.L5jwloCdH13EckbHhsMwiGSSNEfaTxLANMs.SCqvZskCu6elKeaWCGnWGAEIscXmBUfsICVlJGQ_jC
––-END XLD SIGNATURE––-

[CUETools log; Date: 16.11.2021 10:42:54; Version: 2.1.4]
[CTDB TOCID: 9rOhEOl7lMnMA4gfQd3SdgKRPig-] found.
Track | CTDB Status
1 | (9/9) Accurately ripped
2 | (9/9) Accurately ripped
3 | (9/9) Accurately ripped
4 | (9/9) Accurately ripped
5 | (9/9) Accurately ripped
6 | (9/9) Accurately ripped
7 | (9/9) Accurately ripped
8 | (9/9) Accurately ripped
[AccurateRip ID: 0009ae22-003fe85c-79075708] found.
Track [ CRC | V2 ] Status
01 [c99faae1|5f3c64bd] (03+08/11) Accurately ripped
02 [34e1c669|142f719b] (03+08/11) Accurately ripped
03 [65c5f62b|fb028eed] (03+08/11) Accurately ripped
04 [bd8f98f8|32a9f061] (03+08/11) Accurately ripped
05 [d836eab3|06729626] (03+08/11) Accurately ripped
06 [12c283b2|3c6583d6] (02+08/10) Accurately ripped
07 [c8fdddca|3ad81698] (03+08/11) Accurately ripped
08 [e7be0038|6f7d5516] (03+08/11) Accurately ripped

Track Peak [ CRC32 ] [W/O NULL]
– 84,1 [65D20F93] [C585B945]
01 73,4 [ECF8A85C] [A3A4AD47]
02 72,7 [285EB026] [72FCF0B0]
03 81,4 [6F23ADA2] [E7BF2C7A]
04 71,5 [A27D6342] [92D3B1F5]
05 73,6 [18738065] [9A4F4451]
06 67,5 [6B88F33D] [BAA0FAEC]
07 73,7 [8D547158] [0E5B6747]
08 84,1 [12D34925] [AEA7BA21]
Thanks to the original releaser
See also:
James Moody & Kenny Barron...oon (1962-1964) [Reissue 2007]
James Moody - 1948-1949 (2000)
James Moody - 1950-1951 (2002)
James Moody - Just Moody (Quad...948-1954] [4CD Box Set] (2005)
James Moody - 1951 (2005)