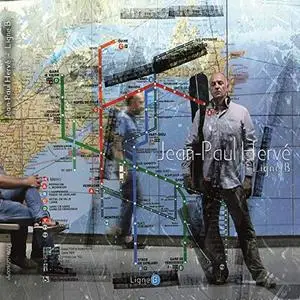 Jean-Paul Hervé - Ligne B (2019)
WEB FLAC (Tracks) - 326 MB | Cover | MP3 CBR 320 kbps - 142 MB | 01:00:54
Jazz | Label: Le Facteur Soudain
Sprouted during the journeys he undertakes almost daily on Line B of the Lyon subway, guitarist and composer Jean Paul-Hervé integrated the sound of the subway into his musical listening to the point where he drew the material for an original musical project to which he wished to associate musicians of the Collectif du Facteur Soudain group in the first rank of which the members of his trio JPH3, Hervé Humbert drums and Raphaël Poly: bass and programming completed by the horns Fred Roudet (trumpet, bugle) and Loïc Bachevillier ( trombone).
TRACKLIST
01. Ouverture (Des portes)
02. Au fil des stations
03. Heure de pointe
04. La larme
05. Perdu dans les couloirs
06. Vous descendez ?
07. Les collégiens
08. Pas à pas
09. Correspondances (Pour Gianni)
10. Métrolectro
–––––––––––-
DON'T MODIFY THIS FILE
–––––––––––-
PERFORMER: auCDtect Task Manager, ver. 1.6.0 RC1 build 1.6.0.1
Copyright © 2008-2010 y-soft. All rights reserved
http://y-soft.org
ANALYZER: auCDtect: CD records authenticity detector, version 0.8.2
Copyright © 2004 Oleg Berngardt. All rights reserved.
Copyright © 2004 Alexander Djourik. All rights reserved.
FILE: 9. Jean-Paul Hervé - Correspondances (Pour Gianni).flac
Size: 29079427 Hash: B5A20E38A110CFFC3C7CA0AE809F8095 Accuracy: -m0
Conclusion: CDDA 49%
Signature: 3E303AE23394DFB4AFA3C45912367A3AD5E34603
FILE: 8. Jean-Paul Hervé - Pas à pas.flac
Size: 46086417 Hash: 51FC0713179A18AF4881354DFD916925 Accuracy: -m0
Conclusion: CDDA 100%
Signature: 577F4FA1A5F3ED0E3057DB03ED752394A339B31D
FILE: 7. Jean-Paul Hervé - Les collégiens.flac
Size: 16538647 Hash: 5D745B061860C7A57C3557982B7C36D3 Accuracy: -m0
Conclusion: CDDA 99%
Signature: DF87D72C5B1B065442B29BCD58E410445F8C5DEB
FILE: 6. Jean-Paul Hervé - Vous descendez _.flac
Size: 31224719 Hash: 51DDC02BF1D099914E92EEC93E50CD58 Accuracy: -m0
Conclusion: CDDA 100%
Signature: 79BBCB0C7EB003074B861F3E7C23ABCD82E77FBA
FILE: 5. Jean-Paul Hervé - Perdu dans les couloirs.flac
Size: 27919178 Hash: 6C74E82168F9CAF85211A2E50ECA6B58 Accuracy: -m0
Conclusion: CDDA 100%
Signature: 746EB4D7DD388A0AC6691EC84C3A80058BA79D94
FILE: 4. Jean-Paul Hervé - La larme.flac
Size: 31096358 Hash: 427289E0E19B85690DB5702721CDA350 Accuracy: -m0
Conclusion: CDDA 100%
Signature: D2E2A3D2BADEB96A58853F00D1E32513E185EA7B
FILE: 3. Jean-Paul Hervé - Heure de pointe.flac
Size: 30045199 Hash: 7046F2055FEC46EBFFB1F4AC3B5BA117 Accuracy: -m0
Conclusion: CDDA 100%
Signature: 25F18282456E5DE834AAEC130B6406EA9CE0FE25
FILE: 2. Jean-Paul Hervé - Au fil des stations.flac
Size: 46976996 Hash: E8A1D06B8ACFE7CCDBE7EF9178AFE5E6 Accuracy: -m0
Conclusion: CDDA 100%
Signature: FB0F8FA5AF9DBE01900C18E5D51BBFA99880FDF6
FILE: 10. Jean-Paul Hervé - Métrolectro.flac
Size: 62461252 Hash: BDC19810A15D40F4F76A7769D9CEAD32 Accuracy: -m0
Conclusion: CDDA 100%
Signature: B91F2E8BB4873092028A219A45281C34E5F2BD0A
FILE: 1. Jean-Paul Hervé - Ouverture (Des portes).flac
Size: 20278596 Hash: BDFE0D6CA75A505728E7F87AE8B81495 Accuracy: -m0
Conclusion: CDDA 100%
Signature: 6C86EBD4038F041CB1551DBF669FFD583EF6107B
All thanks go to the original releaser