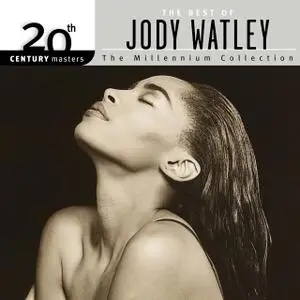 Jody Watley - 20th Century Masters: Best Of Jody Watley (2000)
WEB | FLAC (tracks) - 353 MB | MP3 (CBR 320 kbps) - 110 MB | 42:08
Genre: Pop | Label: MCA Records
Some of the releases in MCA's 20th Century Masters: The Millennium Collection series have been downright baffling, essentially just cutting a few tracks from an already-existing hits package. Jody Watley's installment is one of those – aside from the 1998 non-LP single "Off the Hook," which is only available here, every song on this compilation can be found on 1996's Greatest Hits, which also features four songs not present here (and is still in print). Granted, if you buy The Millennium Collection, you know you'll be getting the original single mixes (i.e., the ones that received radio airplay), whereas Greatest Hits did feature a few remixes, including one of the Top Ten hit "Some Kind of Lover" (which some fans may want in the original version). That and the slightly lower price may actually tip the scales in favor of The Millennium Collection for casual fans, but otherwise, it's kind of redundant.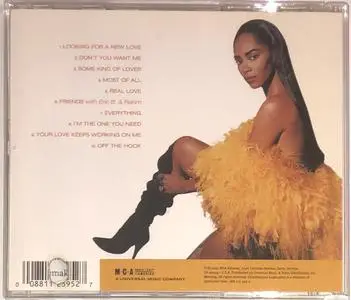 Track List:
01. Looking For A New Love 4:02
02. Don't You Want Me 4:13
03. Some Kind Of Lover 4:09
04. Most Of All 4:29
05. Real Love 4:20
06. Friends 4:30
07. Everything 4:17
08. I'm The One You Need 3:59
09. Your Love Keeps Working On Me 4:39
10. Off The Hook 3:48
–––––––––––-
DON'T MODIFY THIS FILE
–––––––––––-
PERFORMER: auCDtect Task Manager, ver. 1.6.0 RC1 build 1.6.0.1
Copyright © 2008-2010 y-soft. All rights reserved
http://y-soft.org
ANALYZER: auCDtect: CD records authenticity detector, version 0.8.2
Copyright © 2004 Oleg Berngardt. All rights reserved.
Copyright © 2004 Alexander Djourik. All rights reserved.
FILE: 1 Looking For A New Love (Radio Edit).flac
Size: 31689273 Hash: 3A6BB094D4D241837D586E51DFC8678D Accuracy: -m0
Conclusion: CDDA 100%
Signature: 857FCC7703EA3700DAC88BD45E62C4D8B25655E8
FILE: 10 Off The Hook.flac
Size: 28562111 Hash: 2062988208BF187EE875E62F6C5D3C48 Accuracy: -m0
Conclusion: CDDA 100%
Signature: EB7DAE224D5840A7F2BA095AEDE4801D93464413
FILE: 2 Don't You Want Me.flac
Size: 32561024 Hash: 26C9FA12D3EEFECDE6F16B143D26AD53 Accuracy: -m0
Conclusion: CDDA 100%
Signature: 3AC027ED3A9111EAEE9905E2A05CADF5CF9C1B32
FILE: 3 Some Kind Of Lover.flac
Size: 33982886 Hash: A2BD0E489E922112EB2FBEB5331F9F26 Accuracy: -m0
Conclusion: CDDA 100%
Signature: 62F4E1211E3886A6690CDC76631C17B63239488D
FILE: 4 Most Of All.flac
Size: 33881868 Hash: 355AFC1152FADE29E060D60AE2C22411 Accuracy: -m0
Conclusion: CDDA 100%
Signature: CA70EBFBE2D0C374D2182ABB502F3C54F45D0729
FILE: 5 Real Love.flac
Size: 36148183 Hash: 4A0A24E96C4C6111C8CDDE3EDFEB1991 Accuracy: -m0
Conclusion: CDDA 100%
Signature: D8AADF945647B97B9D1EF12E581D270325F0984E
FILE: 6 Friends (feat. Eric B. & Rakim).flac
Size: 36985254 Hash: E7BE56387BC5FDB0B7436B17E82BB527 Accuracy: -m0
Conclusion: CDDA 100%
Signature: DC3191EEA568828313238E88BAD22B1ADC7B6C98
FILE: 7 Everything.flac
Size: 33898431 Hash: 10676F01B2694BEF9A9FB0B94872DB18 Accuracy: -m0
Conclusion: CDDA 100%
Signature: AD634EDC6CB74B19B588C541D7AC47BD3D9E157D
FILE: 8 I'm The One You Need (Single Version).flac
Size: 30842555 Hash: 0C1AAEF552440DAB1C23DB0C15E45975 Accuracy: -m0
Conclusion: CDDA 100%
Signature: 2BD8FA572B94D30A76F4051D9C29545621C3DCEA
FILE: 9 Your Love Keeps Working On Me.flac
Size: 38235177 Hash: 30E77FB6290A05DA954DF0D912B2F62E Accuracy: -m0
Conclusion: CDDA 99%
Signature: 132DD27A28AFC1F2D9A14509DD0FE81103EB357D