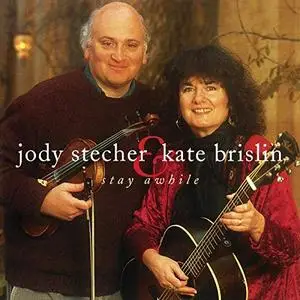 Jody Stecher & Kate Brislin - Stay Awhile (1995/2019)
WEB FLAC (Tracks) - 240 MB | Cover | MP3 CBR 320 kbps - 121 MB | 00:50:17
Traditional Folk | Label: Rounder Records
It's always hard not to be suspicious of musicians from urban areas who play old-timey and bluegrass music. The suspicion is many times justified, as coffeehouse denizens from Greenwich Village to the Haight have all too often been subjected to the naïvely romantic "I really wish I was a poor Kentucky coal miner, but unfortunately I have a gigantic trust fund" school of overly earnest folk performance. Luckily, there are also musicians who become true disciples of traditional music, managing to selflessly infuse the songs with their own unique and genuine human experience. Brooklyn-born Jody Stecher and his wife Kate Brislin are wonderful examples of the latter. On Stay Awhile, the duo's fourth album together, Stecher and Brislin approach their music with a relaxed simplicity, passion, and off-handed confidence reminiscent of the Carter Family. This is the kind of music one would hope to hear in the fire-warmed living room of good friends on a cold winter day. That said, Stay Awhile isn't purely a feel-good record. As usual, Stecher and Brislin are at their best on more melancholy tunes like "Jack Monroe" and "Short Life of Trouble." In fact, the former song is the disc's greatest moment, as it showcases Brislin's voice, with its sublime lack of showiness, to spine-tingling effect. Other highlights include the easy virtuosity displayed on the harmonically challenging "Laybourne's Hornpipe/The Grants' Hornpipe" and the Stecher original "Seventeen Cents," which is destined to be a classic. Overall, Stay Awhile shows two master musicians at the top of their game, playing with a level of taste and sensitivity that many bigger-name players would do well to note and imitate.
TRACKLIST
01. Seventeen Cents
02. Seven Year Blues
03. Fall On My Knees
04. Short Life Of Trouble
05. Jack Monroe
06. Long Time Travelling
07. Blue Mountain
08. Willie Moore
09. A Rude And Rambling Man
10. No Heaven On The County Road
11. Laybourne's Hornpipe / The Grants' Hornpipe
12. We Shall Meet Someday
–––––––––––-
DON'T MODIFY THIS FILE
–––––––––––-
PERFORMER: auCDtect Task Manager, ver. 1.6.0 RC1 build 1.6.0.1
Copyright © 2008-2010 y-soft. All rights reserved
http://y-soft.org
ANALYZER: auCDtect: CD records authenticity detector, version 0.8.2
Copyright © 2004 Oleg Berngardt. All rights reserved.
Copyright © 2004 Alexander Djourik. All rights reserved.
FILE: 12. Jody Stecher & Kate Brislin - We Shall Meet Someday.flac
Size: 16889165 Hash: D6A6440806F95ABA75A0632B64E3A530 Accuracy: -m0
Conclusion: CDDA 99%
Signature: 5F4ACAF09F1E6A9B009DBFD1E2502E0A7E73D177
FILE: 11. Jody Stecher & Kate Brislin - Laybourne's Hornpipe - The Grants' Hornpipe.flac
Size: 28261850 Hash: 389815FD7958D54E96E20AEF3345DFA7 Accuracy: -m0
Conclusion: CDDA 100%
Signature: 01EF104FDEF542F72614FF36C3FB063F9AFF2AEA
FILE: 10. Jody Stecher & Kate Brislin - No Heaven On The County Road.flac
Size: 16178571 Hash: 3BAEF5F8BAB1368BA244B178F34006A9 Accuracy: -m0
Conclusion: CDDA 100%
Signature: 117CA51004EA01750013BF1A9B210E4F64DC9EAF
FILE: 09. Jody Stecher & Kate Brislin - A Rude And Rambling Man.flac
Size: 24382386 Hash: FA781C63C0819AA50799EB405B2AA0B9 Accuracy: -m0
Conclusion: CDDA 100%
Signature: 0195AF7BB09F72598B09BF22207B5DBC6771C142
FILE: 08. Jody Stecher & Kate Brislin - Willie Moore.flac
Size: 16266111 Hash: 1BB255852CA76461B6DBDBA3F79FE42C Accuracy: -m0
Conclusion: CDDA 100%
Signature: DF6D6D4C63A4B7BD2992D25C3ECC4AE8F848B663
FILE: 07. Jody Stecher & Kate Brislin - Blue Mountain.flac
Size: 22100750 Hash: 5917125B983A3BF940CF77E10B669417 Accuracy: -m0
Conclusion: CDDA 100%
Signature: 6ABE8F882B4618B47F9732B874669D252E4F3ADB
FILE: 06. Jody Stecher & Kate Brislin - Long Time Travelling.flac
Size: 19907776 Hash: 703E94DEB9288D4E481F3C752037AE82 Accuracy: -m0
Conclusion: CDDA 100%
Signature: E33F8DFD97472E8D6ABDD1FAAAF00493B69723EC
FILE: 05. Jody Stecher & Kate Brislin - Jack Monroe.flac
Size: 22888541 Hash: AA5CCBDFC77F984D2F2D3609A4C8E1F5 Accuracy: -m0
Conclusion: CDDA 99%
Signature: FF1C1390690A367A29CF57CB8BD698FFE56AA18A
FILE: 04. Jody Stecher & Kate Brislin - Short Life Of Trouble.flac
Size: 22782030 Hash: 28518089872E8F8270B35237D7B3004B Accuracy: -m0
Conclusion: CDDA 100%
Signature: DCBBDD09955D363AE2B30A14A469AB94E4B27486
FILE: 03. Jody Stecher & Kate Brislin - Fall On My Knees.flac
Size: 21136897 Hash: 239797A8B71BBE1E5EF3BEC70F813D61 Accuracy: -m0
Conclusion: CDDA 100%
Signature: 2E78DDD9CD5A5106DE44EDFF93AC726ECDD55B05
FILE: 02. Jody Stecher & Kate Brislin - Seven Year Blues.flac
Size: 18308761 Hash: 05319AA7341858244A121738F121AEC5 Accuracy: -m0
Conclusion: CDDA 100%
Signature: 6990A014E2620DFCACEC6DE062C8E9A686E8B2F3
FILE: 01. Jody Stecher & Kate Brislin - Seventeen Cents.flac
Size: 22857811 Hash: E30AE92D38B3D3B3C75B52E06464CF61 Accuracy: -m0
Conclusion: CDDA 100%
Signature: 272C9F98A5646C8FB2BE70C31F1D4B465C881CAD
All thanks go to the original releaser