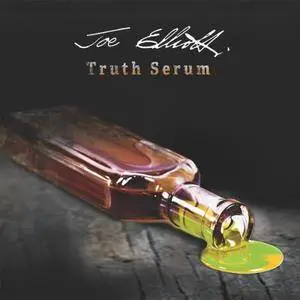 Joe Elliott - Truth Serum (2017)
Jazz Fusion | MP3 320 kbps | 79:28 | ~182 Mb
Label: Joe Elliott Music | Tracks: 14 | Rls.date: 2016
Truth Serum is a collection of compositions I wrote with no preconceived goal of satisfying or conforming to any particular genre label or template. I just wrote what came to me at the moment. I arranged and performed them with my L.A. band, primarily at the legendary Baked Potato in Los Angeles. I wrote expandable solo sections into each tune so the music could flex depending on the mood and atmosphere on a given night.
I'm tremendously grateful for the great musicians who performed these songs with me. Some invested countless hours of rehearsal into the original shaping of the arrangements. Tim McIntyre, Andre Berry and Steve Weingart were the 'original' LA band who performed most of these songs with me many times at the Baked Potato. These guys were invested in the project and helped shape the direction of the songs.
But many others contributed with great musical performances on their respective tracks: Ricky Peterson, Ernest Tibbs, Marc Rio, Richie Gajata Garcia, Tony Axtell, Sean Turner, Christian Klikovits, Shai Hyo, Scott Agster, Steve Jennings, Pete Whitman and Adam Rossmiller were all fantastic.
TJ Helmerich was a tremendous help in so many ways. It started with his superb tracking of most of the basic tracks. He next supplied me with his magic Marshall amp and worked with me to dial in the voice you hear (guitar sound) on most tracks. And finally, the first mixes came from TJ.
Christopher Blood was the wise, skilled and patient final mix engineer. We spent hours and hours together in Studio A working over each tune. Saved me.
Tony Axtell took great pains to master this album and also plays bass on three tracks. The extraordinary care he gave is greatly appreciated.
And through the final stages of completion Ricky Peterson offered much needed advice, good judgment, encouragement and drinks.
How do you name an instrumental song? I get a 'first impression' or image and it usually sticks.
Kaloogeedah… I must say a bit about the song title. Kaloogeedah [kuh-loo-gee-dah] is an Elliott family word created by my sister, Mary, and my brother, Dan, before I was born. Family legend says that as toddlers they would play along the curb in front of our house in Washington, Indiana. Kaloogeedah is the name they gave to the sludge and goopy debris found in the gutter. The name became part of the family vocabulary and was used to describe anything from gutter-goop to clutter. It's still in use today.
TRACKLIST
1. A Timely Prayer (06:37)
2. Smile (05:59)
3. Rain Dance (07:06)
4. Double Trouble (05:34)
5. Kaloogeedah (09:13)
6. Tears (05:30)
7. Truth Serum (05:37)
8. Ferias (03:53)
9. Nite Owl (05:50)
10. Distant Early Warning (05:54)
11. Ain't It Great to Be Crazy (06:00)
12. Owed to Elaf (05:47)
13. Twisted Cowboy (06:18)
14. Laughing Guitars (00:10)