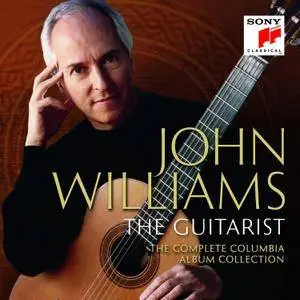 John Williams - The Guitarist: Complete Columbia Album Collection (59CD Box Set, 2016)
EAC Rip | FLAC (image + .cue, log) | Run Time: 63:53:45 | 12,12 Gb
Genre: Classical | Label: Sony Music Classical
The new box contains no fewer than three different Williams recordings of that most popular of all guitar works, Rodrigo's Concierto de Aranjuez – from 1964 with the Ormandy and the Philadelphia Orchestra, from 1974 with Barenboim and the English Chamber Orchestra, and from 1983 with Frémaux and the Philharmonia Orchestra – plus a performance of its much-loved Adagio in Williams's celebrated 1993 "Seville Concert". That entire concert is presented here too, on both CD and DVD – the latter also including a bonus documentary portrait of the artist. Reviewing his second studio recording of the concerto, Gramophone in January 1975 proclaimed: "John Williams himself has already made one of the finest [versions], yet if possible even more conclusively this new one must be counted a winner, irresistible from first to last. Williams before showed himself the most formidable technician, rigorously precise: now he shows himself as that and more, giving Rodrigo's ideas extra flair and imagination."
Williams made his first album – Bach and Spanish repertoire – for Columbia Masterworks in 1964, and seven years later received a special award from CBS Records to celebrate having sold one million records, a unique feat at the time for a classical musician. Among his most recent Sony Classical releases are "The Magic Box", a compilation of classical, folk, world and country music from 2002, and "Places Between: John Williams and John Etheridge Live in Dublin". The complete collection naturally contains these and everything else Williams recorded in between, by composers ranging from Byrd, Dowland, Couperin, Scarlatti and Handel to Paganini, Elgar, Fauré, Falla, Albeniz, Britten, Villa-Lobos, Takemitsu, Theodorakis, Brouwer as well as film music by Nino Rota, Henry Mancini and Ennio Morricone. There's also his intoxicating disc of Venezuelan guitar music, showcasing "exceptional solo playing that is both rhythmically charged and lyrically impulsive … It would be difficult to imagine a finer tribute to a remarkable and appealing musical tradition than this one … In a word: brilliant" (ClassicsToday).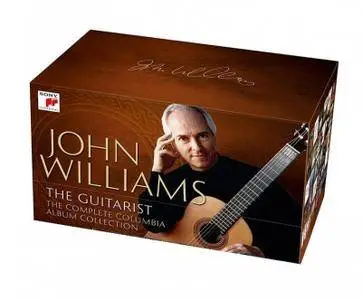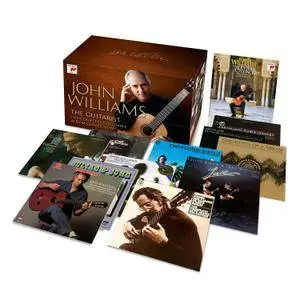 Contents:
DISC 1: MS 6608: Columbia Records Presents John Williams
DISC 2: MS 6696: Virtuoso Music For Guitar
DISC 3: MS 6834: Two Guitar Concertos (Rodrigo and Castelnuovo-Tedesco)
DISC 4: MS 6939: More Virtuoso Music for Guitar
DISC 5: MS 7063: Two Guitar Concertos (Rodrigo and Dodgson)
DISC 6: MS 7163: Haydn and Paganini
DISC 7: MS 7195: Virtuoso Variations for Guitar
DISC 8: MS 7327: Concertos by Vivaldi and Giuliani
DISC 9: 32 16 0398 : Songs for Voice and Guitar
DISC 10: M 30057: John Williams Plays Spanish Music
DISC 11: M 32686: Songs of Freedom - Theodorakis
DISC 12: M 31194: Music for Guitar and Harpsichord
DISC 13: LSC-3257: Together (Julian and John)
DISC 14: 72979: Gowers Chamber Concerto, Scarlatti Sonatas
DISC 15: M 31963: Previn and Ponce Concertos
DISC 16: M 35123: Music from England, Japan, Brazil, Venezuela, Argentina and Mexico
DISC 17: ARL1-0456: Together Again (Julian and John 2)
DISC 18: 73350: Gowers: Rhapsody for Guitar; Villa-Lobos: 5 Preludes
DISC 19: M 33208: Rodrigo & Villa-Lobos
DISC 20-21: M2 33510: Bach: Complete Lute Music
DISC 22: M 35108: John Williams and Friends
DISC 23: M 34508: Duos for Guitar and Violin
DISC 24: M 35172: Castenuovo-Tedesco, Arnold and Dodgson Concertos
DISC 25: M 35145: Barrios
DISC 26: M 36680: Malcolm Arnold and Leo Brouwer Concertos
DISC 27: M 35820: Manuel Ponce
DISC 28: ARL2-3090: Julian Bream & John Williams Live
DISC 29: IM 36671: Guitar Quintets
DISC 30: IM 36679: Echoes of Spain - Albeniz
DISC 31: SE 37726: Stevie
DISC 32: IM 37250: John Williams and Peter Hurford Play Bach
DISC 33: M 37791: Portrait of John Williams
DISC 34: FM 37825: The Guitar is the Song: A Folksong Collection
DISC 35: IM 37848: Rodrigo
DISC 36: IM 39560: Bach, Handel, Marcello: Concertos
DISC 37: FM 42119: Echoes of London
DISC 38: FM 42332: Paul Hart Concerto for Guitar and Jazz Orchestra
DISC 39: FM 44575: Fragments of a Dream
DISC 40: M 44518: The Baroque Album
DISC 41: MK 44898: Spirit of the Guitar: Music of the Americas
DISC 42: MK 45948: Leyenda
DISC 43: SK 46556: Vivaldi Concertos
DISC 44: SK 46720: Takemitsu
DISC 45: SK 48480: Iberia
DISC 46: SK 53359: The Seville Concert
DISC 47: SK 53361: From Australia
DISC 48: SK 64396: The Great Paraguayan (From The Jungles of Paraguay)
DISC 49: SK 68337: Concertos by Harvey and Gray
DISC 50: SK 62007: The Mantis & the Moon
DISC 51: SK63000: John Williams Plays the Movies (and The World of John Williams)
DISC 52: SK 63173: The Black Decameron
DISC 53: SK 60586: The Guitarist
DISC 54: SK 63385: Schubert and Giuliani
DISC 55: SK 89483: The Magic Box
DISC 56: SK 90451: El Diablo Suelto
DISC 57: 88697009072: Places Between
DISC 58: Collaborations [compilation]
Disc: 1
1. Suite in E Major, BWV 1006a / I. Praeludium
2. Suite in E Major, BWV 1006a / II. Loure
3. Suite in E Major, BWV 1006a / III. Gavotte
4. Suite in E Major, BWV 1006a / IV & V: Menuetts I and II
5. Suite in E Major, BWV 1006a / VI. Bourrée
6. Suite in E Major, BWV 1006a / VII. Gigue
7. Suite Española No. 1, Op. 47: III. Sevilla
8. Recuerdos de La Alhambra
9. Fandanguillo, Op. 36
10. Hommage à Tarrega: II. Soleares
11. Ráfaga
12. El Testament d'Amelia
13. Scherzino Mexicano
14. El Colibri

Disc: 2
1. Grand Sonata in A Major / I. Allegro risoluto
2. Grand Sonata in A Major / II. Romanza - Più tosto largo - Amorosamente
3. Grand Sonata in A Major / III. Andantino variato - Scherzando - Var. I-VI
4. Spanish Dance No. 5
5. Etude No. 8 in C-Sharp Minor
6. Homenaje a Debussy
7. Partita for Guitar / I. Allegro con moto
8. Partita for Guitar / II. Molto vivace
9. Partita for Guitar / III. Adagio
10. Partita for Guitar / IV. Allegro
11. Sonata, Op. 77: IV. Vivo ed energico

Disc: 3
1. Concierto de Aranjuez for Guitar and Orchestra / I. Allegro con spirito
2. Concierto de Aranjuez for Guitar and Orchestra / II. Adagio
3. Concierto de Aranjuez for Guitar and Orchestra / III. Allegro gentile
4. Concerto in D Major for Guitar and Orchestra, Op. 99 / I. Allegretto
5. Concerto in D Major for Guitar and Orchestra, Op. 99 / II. Andantino alla romanza
6. Concerto in D Major for Guitar and Orchestra, Op. 99 / III. Ritmico e cavalleresco

Disc: 4
1. Fantasía
2. Diferencias sobre el Conde Claros
3. Paduana (From Suite No. 4)
4. Ballet
5. La Volta
6. Prelude, Fugue and Allegro in E-Flat Major, BWV 998 / I. Präludium
7. Prelude, Fugue and Allegro in E-Flat Major, BWV 998 / II. Fuge
8. Prelude, Fugue and Allegro in E-Flat Major, BWV 998 / III. Allegro
9. Sonata for Guitar, Op. 15: I. Allegro spiritoso
10. Prelude No. 4
11. Prelude No. 2
12. Aires de la Mancha / Jeringoza
13. Aires de la Mancha / Ya llega el invierno
14. Aires de la Mancha / La coplilla
15. Aires de la Mancha / La pastora
16. Aires de la Mancha / Seguidilla

Disc: 5
1. Fantasía para un Gentilhombre / I. Villano y Ricercare - Adagietto
2. Fantasía para un Gentilhombre / II. Españoleta e Fanfare de la Caballeria de Nápoles
3. Fantasía para un Gentilhombre / III. Fanfare de la Caballeria de Nápoles
4. Fantasía para un Gentilhombre / IV. Danza de las Hachas
5. Fantasía para un Gentilhombre / V. Canario
6. Concerto for Guitar and Chamber Orchestra / I. Allegro comodo
7. Concerto for Guitar and Chamber Orchestra / II. Lento
8. Concerto for Guitar and Chamber Orchestra / III. Molto vivace

Disc: 6
1. String Quartet in E Major, Op. 2, No. 2 / I. Allegro - John Williams / Alan Loveday / Cecil Aronowitz / Amaryllis Fleming
2. String Quartet in E Major, Op. 2, No. 2 / II. Adagio - John Williams / Alan Loveday / Cecil Aronowitz / Amaryllis Fleming
3. String Quartet in E Major, Op. 2, No. 2 / III. Menuetto - Trio - John Williams / Alan Loveday / Cecil Aronowitz / Amaryllis Fleming
4. String Quartet in E Major, Op. 2, No. 2 / IV. Finale - Presto - John Williams / Alan Loveday / Cecil Aronowitz / Amaryllis Fleming
5. Trio in D Major for Violin, Cello and Guitar / I. Allegro con brio - John Williams / Alan Loveday / Amaryllis Fleming
6. Trio in D Major for Violin, Cello and Guitar / II. Minuetto and Trio - Allegro vivace - John Williams / Alan Loveday / Amaryllis Fleming
7. Trio in D Major for Violin, Cello and Guitar / III. Andante larghetto - John Williams / Alan Loveday / Amaryllis Fleming
8. Trio in D Major for Violin, Cello and Guitar / IV. Rondo - Allegretto - John Williams / Alan Loveday / Amaryllis Fleming

Disc: 7
1. Bach: Partita for Solo Violin No. 2 in D Minor, BWV 1004: V. Chaconne
2. Queen Elizabeth, Her Galliard
3. Earle of Essex, High Marshall of England, His Galliard
4. Mounsiers Almaine
5. 24 Caprices for Solo Violin, Op. 1: Caprice No. 24 in A Minor
6. Variations on a Theme by Handel, Op. 107
7. Variations on a Theme by Mozart, Op. 9

Disc: 8
1. Concerto No. 1 for Guitar and String Orchestra in A Major, Op. 30 / I. Allegro maestoso - John Williams / English Chamber Orchestra
2. Concerto No. 1 for Guitar and String Orchestra in A Major, Op. 30 / II. Andantino siciliano - John Williams / English Chamber Orchestra
3. Concerto No. 1 for Guitar and String Orchestra in A Major, Op. 30 / III. Alla polacca - John Williams / English Chamber Orchestra
4. Concerto for Guitar and String Orchestra in D Major, RV 93 / I. Allegro giusto - John Williams / English Chamber Orchestra
5. Concerto for Guitar and String Orchestra in D Major, RV 93 / II. Largo - John Williams / English Chamber Orchestra
6. Concerto for Guitar and String Orchestra in D Major, RV 93 / III. Allegro - John Williams / English Chamber Orchestra
7. Concerto in A Major for Guitar and String Orchestra / I. Allegro non molto - John Williams / English Chamber Orchestra
8. Concerto in A Major for Guitar and String Orchestra / II. Larghetto - John Williams / English Chamber Orchestra
9. Concerto in A Major for Guitar and String Orchestra / III. Allegro - John Williams / English Chamber Orchestra

Disc: 9
1. I Care Not For These Ladies - John Williams / Wilfred Brown
2. The Willow Song - John Williams / Wilfred Brown
3. When Laura Smiles - John Williams / Wilfred Brown
4. Fantasie No. 7
5. Songs from the Chinese, Op. 58 / No. 1, The Big Chariot - John Williams / Wilfred Brown
6. Songs from the Chinese, Op. 58 / No. 2, The Old Lute - John Williams / Wilfred Brown
7. Songs from the Chinese, Op. 58 / No. 3, The Autumn Wind - John Williams / Wilfred Brown
8. Songs from the Chinese, Op. 58 / No. 4, The Herd-Boy - John Williams / Wilfred Brown
9. Songs from the Chinese, Op. 58 / No. 5, Depression - John Williams / Wilfred Brown
10. Songs from the Chinese, Op. 58 / No. 6, Dance Song - John Williams / Wilfred Brown
11. Of All the Birds That I Do Know
12. Go To Bed, Sweet Muse - John Williams / Wilfred Brown
13. Diaphenia - John Williams / Wilfred Brown
14. Melancholy Galliard
15. My Lady Hunsdon's Puffe
16. Four Poems of John Clare / No. 1, Trotty Wagtail - John Williams / Wilfred Brown
17. Four Poems of John Clare / No. 2, The Peasant Poet - John Williams / Wilfred Brown
18. Four Poems of John Clare / No. 3, Turkeys - John Williams / Wilfred Brown
19. Four Poems of John Clare / No. 4, The Fox - John Williams / Wilfred Brown

Disc: 10
1. Asturias
2. España, Op. 165: Tango
3. Canarios
4. Tres Piezas Españolas for Guitar: Fandango
5. Nocturno
6. Valses Poéticos
7. Piano Sonata in D Major, Op. 13
8. El sombrero de tres picos: The Corregidor's Dance
9. El sombrero de tres picos: Fisherman's Song
10. El sombrero de tres picos: The Miller's Dance
11. Madroños
12. La Nit de Nadal
13. El Noi de La Mare
14. 12 Tonadillas en estilo antiguo: La Maja de Goya
15. Cantos de España, Op. 232: Córdoba

Disc: 11
1. Andalucía: I. Tou Pikramenou "He with the sorrow" - Maria Farandouri / John Williams
2. Andalucía: II. Antonio Torres Heredia I "Capture of Antonito el Camborio" - Maria Farandouri / John Williams
3. Andalucía: IV. Antonio Torres Heredia II "Death of Antonito el Camborio" - Maria Farandouri / John Williams
4. Andalucía: III. Xamos apo Agapi "Death for Love" - Maria Farandouri / John Williams
5. Andalucía: V. I Kalogria i Tsigana "The Gypsy Nun" - Maria Farandouri / John Williams
6. Andalucía: VI. Tou Anemou ke tis Penemenis "The Wind and the Gypsy Girl" - Maria Farandouri / John Williams
7. Andalucía: VII. I Pandermi "Desperately alone" - Maria Farandouri / John Williams
8. Epitafios, No. 2: Heili mou Moskomyristo "Your Fragrant Lips" - Maria Farandouri / John Williams
9. Epitafios, No. 3: Mera Magiou "A Day in May" - Maria Farandouri / John Williams
10. Epitafios, No. 4: Vasilepses, Asteri mou "My Star, You Have Set" - Maria Farandouri / John Williams
11. Epitafios, No. 6: Sto Parathyri stekosoun "You Stood at the Window" - Maria Farandouri / John Williams
12. 3 Songs: To Gelasto Paidi "The Laughing Boy" - John Williams / Maria Farandouri
13. 3 Songs: Silva - John Williams / Maria Farandouri
14. 3 Songs: Irthan i Anthropoi "The One Who Was Taken by the Road" - John Williams / Maria Farandouri

Disc: 12
1. Sonata for Guitar and Basso Continuo No. 1 in C Major / I. Largo - John Williams / Rafael Puyana / Jordi Savall
2. Sonata for Guitar and Basso Continuo No. 1 in C Major / II. Allegro moderato - John Williams / Rafael Puyana / Jordi Savall
3. Sonata for Guitar and Basso Continuo No. 1 in C Major / III. Allegretto con variazone - John Williams / Rafael Puyana / Jordi Savall
4. Preludio - John Williams / Rafael Puyana / Jordi Savall
5. Sonata No. 2: Largo - John Williams / Rafael Puyana / Jordi Savall
6. Duo Concertante - John Williams / Rafael Puyana / Jordi Savall
7. Sonata No. 3 / I. Larghetto - John Williams / Rafael Puyana / Jordi Savall
8. Sonata No. 3 / II. Allegretto moderato - John Williams / Rafael Puyana / Jordi Savall
9. Sonata No. 3 / III. Tempo di Menuetto - John Williams / Rafael Puyana / Jordi Savall

Disc: 13
1. Suite for Two Guitars / I. Corant I - Julian Bream / John Williams
2. Suite for Two Guitars / II. Alman - Julian Bream / John Williams
3. Suite for Two Guitars / III. Corant II - Julian Bream / John Williams
4. Duo No. 2 in G Major, Op. 34 / I. Largo - Julian Bream / John Williams
5. Duo No. 2 in G Major, Op. 34 / II. Rondo - Julian Bream / John Williams
6. L'encouragement, Op. 34 / I. Cantabile - Julian Bream / John Williams
7. L'encouragement, Op. 34 / II. Theme and Variations - Julian Bream / John Williams
8. L'encouragement, Op. 34 / III. Waltz - Julian Bream / John Williams
9. Cantos de Espana, Op. 232: No. 4, Córdoba (Nocturne) - Julian Bream / John Williams
10. Goyescas: Intermezzo - Julian Bream / John Williams
11. La Vida Breve / Danza Española No. 1 - Julian Bream / John Williams
12. Pavane pour une infante défunte - Julian Bream / John Williams

Disc: 14
1. Chamber Concerto for Guitar
2. Sonata in E Major, K. 380, L. 23
3. Sonata in A Major, K. 208, L. 238
4. Sonata in A Minor, K. 175, L. 429
5. Sonata in A Major, K. 322, L. 483
6. Sonata in D Minor, K. 213, L. 108
7. Sonata in D Major, K. 159, L. 104 (Originally in C Major)
8. Double for Guitar and Electric Organ

Disc: 15
1. Concerto for Guitar and Orchestra / I. Allegretto - John Williams / André Previn / London Symphony Orchestra
2. Concerto for Guitar and Orchestra / II. Adagio - John Williams / André Previn / London Symphony Orchestra
3. Concerto for Guitar and Orchestra / III. Slowly and Reflectively (Andante) - John Williams / André Previn / London Symphony Orchestra
4. Concierto del Sur for Guitar and Orchestra / I. Allegretto - John Williams / André Previn / London Symphony Orchestra
5. Concierto del Sur for Guitar and Orchestra / II. Andante - John Williams / André Previn / London Symphony Orchestra
6. Concierto del Sur for Guitar and Orchestra / III. Allegro moderato e festivo - John Williams / André Previn / London Symphony Orchestra

Disc: 16
1. Theme and Variations on Japanese Folk Song Sakura
2. Fantasy Divisions
3. Sonatina Meridional / I. Campo
4. Sonatina Meridional / II. Compla
5. Sonatina Meridional / III. Fiesta
6. Choros No. 1
7. Vals Criollo
8. Norteña
9. Five Pieces From Venezuela / I. Cántico
10. Five Pieces From Venezuela / II. Cantemos, Cantemos (Aguinaldo)
11. Five Pieces From Venezuela / III. Si de noche ves que brillan (Canción)
12. Five Pieces From Venezuela / IV. Ave Maria que muchacho! (Aire Venezolano)
13. Five Pieces From Venezuela / IV. Malhaya la cocina (Galerón)
14. Danza Paraguaya

Disc: 17
1. Serenade No. 1 in A Major, Op. 96 / I. Largo maestoso - Allegro moderato - Julian Bream / John Williams
2. Serenade No. 1 in A Major, Op. 96 / II. Larghetto - Julian Bream / John Williams
3. Serenade No. 1 in A Major, Op. 96 / III. Finale - Julian Bream / John Williams
4. Danzas Española, Op. 37 / No. 6, Rondella aragonesa - Julian Bream / John Williams
5. Cantos de España, Op. 232: No. 3, Bajo la palmera - Julian Bream / John Williams
6. Danzas Española, Op. 37 / No. 11, Zambra - Julian Bream / John Williams
7. Variazioni concertanti, Op. 130 - Julian Bream / John Williams
8. Iberia: No. 1, Evocación - Julian Bream / John Williams

Disc: 18
1. Rhapsody for Guitar, Electric Guitars and Electric Organ - John Williams / Patrick Gowers
2. Prelude No. 1 in E Minor (Andantino expressivo)
3. Prelude No. 2 in E Major (Andantino)
4. Prelude No. 3 in A Minor (Andante)
5. Prelude No. 4 in E Minor (Lento)
6. Prelude No. 5 in D Major (Poco animato)

Disc: 19
1. Concierto de Aranjuez / I. Allegro con spirito - Daniel Barenboim / John Williams / English Chamber Orchestra / James Brown
2. Concierto de Aranjuez / II. Adagio - Daniel Barenboim / John Williams / English Chamber Orchestra / James Brown
3. Concierto de Aranjuez / III. Allegro gentile - Daniel Barenboim / John Williams / English Chamber Orchestra / James Brown
4. Concerto for Guitar and Small Orchestra / I. Allegro preciso - Daniel Barenboim / John Williams / English Chamber Orchestra
5. Concerto for Guitar and Small Orchestra / II. Andantino e andante - Cadenza - Daniel Barenboim / John Williams / English Chamber Orchestra
6. Concerto for Guitar and Small Orchestra / III. Allegretto non troppo - Daniel Barenboim / John Williams / English Chamber Orchestra

Disc: 20
1. Suite No. 1 in E Minor for Lute, BWV 996 / I. Passaggio - Presto
2. Suite No. 1 in E Minor for Lute, BWV 996 / II. Allemande
3. Suite No. 1 in E Minor for Lute, BWV 996 / III. Courante
4. Suite No. 1 in E Minor for Lute, BWV 996 / IV. Sarabande
5. Suite No. 1 in E Minor for Lute, BWV 996 / V. Bourrée
6. Suite No. 1 in E Minor for Lute, BWV 996 / VI. Gigue
7. Prelude, Fugue and Allegro, BWV 998 / I. Prelude
8. Prelude, Fugue and Allegro, BWV 998 / II. Fugue
9. Prelude, Fugue and Allegro, BWV 998 / III. Allegro
10. Suite in A Minor, BWV 997 / I. Preludio
11. Suite in A Minor, BWV 997 / II. Fuga
12. Suite in A Minor, BWV 997 / III. Sarabande
13. Suite in A Minor, BWV 997 / IV. Gigue
14. Suite in A Minor, BWV 997 / V. Double

Disc: 21
1. Suite in A Minor for Lute, BWV 995 (Originally in G Minor) / I. Präludium - Presto
2. Suite in A Minor for Lute, BWV 995 (Originally in G Minor) / II. Allemande
3. Suite in A Minor for Lute, BWV 995 (Originally in G Minor) / III. Courante
4. Suite in A Minor for Lute, BWV 995 (Originally in G Minor) / IV. Sarabande
5. Suite in A Minor for Lute, BWV 995 (Originally in G Minor) / V. Gavotte I & II
6. Suite in A Minor for Lute, BWV 995 (Originally in G Minor) / VI. Gigue
7. Lute Suite No. 4 in E Major, BWV 1006a / I. Prélude
8. Lute Suite No. 4 in E Major, BWV 1006a / II. Loure
9. Lute Suite No. 4 in E Major, BWV 1006a / III. Gavotte en Rondeau
10. Lute Suite No. 4 in E Major, BWV 1006a / IV. Menuetts I & II
11. Lute Suite No. 4 in E Major, BWV 1006a / V. Bourrée
12. Lute Suite No. 4 in E Major, BWV 1006a / VI. Gigue
13. Präludium in C Minor, BWV 999
14. Fugue in G Minor, BWV 1000

Disc: 22
1. Concerto in G Major for Two Guitars, RV 532 / I. Allegro - John Williams / Carlos Bonell
2. Concerto in G Major for Two Guitars, RV 532 / II. Andante - John Williams / Carlos Bonell
3. Concerto in G Major for Two Guitars, RV 532 / III. Allegro - John Williams / Carlos Bonell
4. Le Coucou - John Williams / Carlos Bonell
5. Cello Suite No. 3 in C Major, BWV 1009: Bourrée I & II
6. Jesu, Joy of Man's Desiring - John Williams / Carlos Bonell
7. Bourrée alla Polacca - John Williams / Carlos Bonell
8. Trio Sonata No.11 in F Minor, Z. 800 - John Williams / Carlos Bonell
9. Trio Sonata in C Major, BWV 1037: IV. Gigue - John Williams / Carlos Bonell
10. Adagio in C Major, K. 356
11. Piano Sonata No. 11 in A Major, K. 331: III. Rondo alla Turca - John Williams / Carlos Bonell

Disc: 23
1. Sonata for Violin and Guitar in A Minor, Op. 64/1 / I. Introduzione - John Williams / Itzhak Perlman
2. Sonata for Violin and Guitar in A Minor, Op. 64/1 / II. Allegro maestoso - John Williams / Itzhak Perlman
3. Sonata for Violin and Guitar in A Minor, Op. 64/1 / III. Rondoncino - John Williams / Itzhak Perlman
4. Sonata for Violin and Guitar in E Minor, Op. 3/6 - John Williams / Itzhak Perlman
5. Sonata Concertata for Violin / I. Allegro spiritoso - John Williams / Itzhak Perlman
6. Sonata Concertata for Violin / II. Adagio assai espressivo - John Williams / Itzhak Perlman
7. Sonata Concertata for Violin / III. Rondeau - John Williams / Itzhak Perlman
8. Sonata for Violin and Guitar, Op. 25 / I. Maestoso - John Williams / Itzhak Perlman
9. Sonata for Violin and Guitar, Op. 25 / II. Theme - John Williams / Itzhak Perlman
10. Sonata for Violin and Guitar, Op. 25 / Variation I - John Williams / Itzhak Perlman
11. Sonata for Violin and Guitar, Op. 25 / Variation II - John Williams / Itzhak Perlman
12. Sonata for Violin and Guitar, Op. 25 / Variation III - John Williams / Itzhak Perlman
13. Sonata for Violin and Guitar, Op. 25 / Variation IV - John Williams / Itzhak Perlman
14. Sonata for Violin and Guitar, Op. 25 / III. Menuetto - Allegretto - John Williams / Itzhak Perlman
15. Sonata for Violin and Guitar, Op. 25 / IV. Rondo - Allegretto - John Williams / Itzhak Perlman
16. Cantabile for Violin and Guitar - John Williams / Itzhak Perlman

Disc: 24
1. Guitar Concerto No. 1 in D Major, Op. 99 / I. Allegretto - John Williams / Sir Charles Groves / English Chamber Orchestra
2. Guitar Concerto No. 1 in D Major, Op. 99 / II. Andantino alla romanza - John Williams / Sir Charles Groves / English Chamber Orchestra
3. Guitar Concerto No. 1 in D Major, Op. 99 / III. Ritmico e cavalleresco - John Williams / Sir Charles Groves / English Chamber Orchestra
4. Serenade for Guitar & String Orchestra, Op. 50
5. Concerto No. 2 for Guitar and Chamber Orchestra / I. Presto
6. Concerto No. 2 for Guitar and Chamber Orchestra / II. Meno mosso quasi cadenza
7. Concerto No. 2 for Guitar and Chamber Orchestra / III. Allegretto e robusto
8. Concerto No. 2 for Guitar and Chamber Orchestra / IV. Poco lento
9. Concerto No. 2 for Guitar and Chamber Orchestra / V. Presto - come prima

Disc: 25
1. La catedral
2. Medley or Three Pieces / No. 1, Madrigal (Gavota)
3. Medley or Three Pieces / No. 2, Minuet
4. Medley or Three Pieces / No. 3, Mazurka Appassionata
5. Medley or Two Pieces / No. 1, Estudio
6. Medley or Two Pieces / No. 2, Preludio
7. Un sueño en la floresta
8. Valse No. 3
9. Medley or Four Pieces / No. 1, Cueca
10. Medley or Four Pieces / No. 2, Aire de Zamba
11. Medley or Four Pieces / No. 3, Aconquija
12. Medley or Four Pieces / No. 4, Maxixa
13. Una limosna el amor de dios
14. Choro de saudade
15. Villancico de Navidad

Disc: 26
1. Guitar Concerto, Op. 67 / I. Allegro - John Williams / London Sinfonietta / Elgar Howarth
2. Guitar Concerto, Op. 67 / II. Lento - Vivace - Lento - John Williams / London Sinfonietta / Elgar Howarth
3. Guitar Concerto, Op. 67 / III. Con brio - John Williams / London Sinfonietta / Elgar Howarth
4. Concerto No. 1 for Guitar and Small Orchestra / I. Punteos - John Williams / London Sinfonietta / Elgar Howarth
5. Concerto No. 1 for Guitar and Small Orchestra / II. Ragas - John Williams / London Sinfonietta / Elgar Howarth
6. Concerto No. 1 for Guitar and Small Orchestra / III. Sonatas y Montunos - John Williams / London Sinfonietta / Elgar Howarth

Disc: 27
1. Variations on "Folia de Espana" and Fugue
2. Preludio
3. Balletto
4. Tres Canciones Populares Mexicanas / No. 1, La Pajarera
5. Tres Canciones Populares Mexicanas / No. 2, Por ti mi corazon
6. Tres Canciones Populares Mexicanas / No. 3, La Valentina
7. Valse
8. Marchita el alma
9. Hace ocho meses
10. Yo adoro a mi madre

Disc: 28
1. Pavan - Julian Bream / John Williams
2. Galliard - Julian Bream / John Williams
3. Partie polonaise / I. Ouverture - Julian Bream / John Williams
4. Partie polonaise / II. Harlequinade - Julian Bream / John Williams
5. Partie polonaise / III. Le ris - Julian Bream / John Williams
6. Partie polonaise / IV. Rigidon - Julian Bream / John Williams
7. Partie polonaise / V. Combattans - Julian Bream / John Williams
8. Partie polonaise / VI. Gigue - Julian Bream / John Williams
9. Fantasie, Op. 54 - Julian Bream / John Williams
10. String Sextet No. 1, Op. 18: II. Andante ma moderato - Julian Bream / John Williams
11. Dolly Suite, Op. 56 / I. Berceuse - Julian Bream / John Williams
12. Dolly Suite, Op. 56 / II. Mi-a-ou - Julian Bream / John Williams
13. Dolly Suite, Op. 56 / III. Jardin de Dolly - Julian Bream / John Williams
14. Dolly Suite, Op. 56 / IV. Kitty Valse - Julian Bream / John Williams
15. Dolly Suite, Op. 56 / V. Tendresse - Julian Bream / John Williams
16. Dolly Suite, Op. 56 / VI. Pas Espagnol - Julian Bream / John Williams
17. Rêverie, L. 68 - Julian Bream / John Williams
18. Golliwogg's Cakewalk - Julian Bream / John Williams
19. Clair de lune - Julian Bream / John Williams
20. Castilla (Seguidillas) - Julian Bream / John Williams
21. Danzas espanolas, Op. 37: No. 2, Oriental - Julian Bream / John Williams

Disc: 29
1. Quintet No. 5 in D Major for Guitar and Strings, G. 449 / I. Andantino pausato - John Williams / London String Quartet
2. Quintet No. 5 in D Major for Guitar and Strings, G. 449 / II. Menuetto - Allegro - John Williams / London String Quartet
3. Quintet No. 5 in D Major for Guitar and Strings, G. 449 / III. Allegro giusto - John Williams / London String Quartet
4. Quintet No. 5 in D Major for Guitar and Strings, G. 449 / IV. Andantino pausato con variazioni - John Williams / London String Quartet
5. Las Presencias: No. 6, Jeromita Linares - John Williams / London String Quartet
6. Quintet for Guitar and Strings No. 6 in G Major, G. 450 / I. Allegro con vivacita - John Williams / London String Quartet
7. Quintet for Guitar and Strings No. 6 in G Major, G. 450 / II. Andantino lento - John Williams / London String Quartet
8. Quintet for Guitar and Strings No. 6 in G Major, G. 450 / III. Tempo di minuetto - John Williams / London String Quartet
9. Quintet for Guitar and Strings No. 6 in G Major, G. 450 / IV. Allegretto - John Williams / London String Quartet

Disc: 30
1. Suite Española, Op. 47: No. 1, Granada (Serenata)
2. Suite Española, Op. 47: No. 5, Asturias (Leyenda)
3. Suite Española, Op. 47: No. 3, Sevilla (Sevillanas)
4. Mallorca (Barcarola), Op. 202
5. Cantos de España, Op. 232: No. 4, Córdoba
6. Piezas Caracteristicas, Op. 92: No. 12, Tórre Bermeja (Serenata)
7. Suite Española No. 1, Op. 47: No. 4, Cádiz (Canción)
8. Piezas Caracteristicas, Op. 92: No. 7, Zambra Granadina
9. España, Op. 165: No. 2, Tango

Disc: 31
1. Stevie
2. Papa Love Baby
3. Stevie's Tuberculosis
4. Tender Only to One
5. Farewell to Romance
6. Would He Might Come
7. Karl
8. A House of Mercy
9. Study in E Minor
10. Attempted Suicide
11. Black March
12. Thoughts About the Christian Doctrine of Eternal Hell
13. Come Death and Finale

Disc: 32
1. Wachet auf, ruft uns die Stimme, BWV 140: I. Chorale - John Williams / Peter Hurford
2. Fugue in G Major, BWV 577 "Gigue"
3. Violin Sonata No. 4 in C Minor, BWV 1017: III. Adagio
4. Trio Sonata No. 6 in G Major, BWV 530 / I. Vivace
5. Trio Sonata No. 6 in G Major, BWV 530 / II. Lento
6. Trio Sonata No. 6 in G Major, BWV 530 / III. Allegro
7. Italian Concerto, BWV 971: I. [Allegro] - John Williams / Peter Hurford
8. Pastorale in F Major, BWV 590: III. Adagio - John Williams / Peter Hurford
9. Trio Sonata No. 1 in G Major, BWV 1027 - John Williams / Peter Hurford
10. French Suite No. 6 in E Major, BWV 817: I. Allemande - John Williams / Peter Hurford
11. English Suite No. 2, BWV 807: VI. Bourrée II - John Williams / Peter Hurford
12. English Suite No. 3, BWV 808: Gavotte I & II - John Williams / Peter Hurford
13. French Suite No. 5 in G Major, BWV 816: VII. Gigue - John Williams / Peter Hurford

Disc: 33
1. Seis por derecho
2. Castilla
3. Recuerdos de la Alhambra
4. Cello Suite No. 1 in G Major, BWV 1007: I. Prélude
5. Concerto in D Major, RV 93 / I. Allegro
6. Concerto in D Major, RV 93 / II. Largo
7. Concerto in D Major, RV 93 / III. Allegro
8. Fool on the Hill
9. Waltzes, Op.8: No. 4 in G Major
10. Guajira criolla
11. Danza Caracteristica
12. Cavatina (Theme from "The Deer Hunter") - John Williams / Pat Halling
13. El Negrito (Vals)
14. Sakura

Disc: 34
1. Wraggle-Taggle Gypsies
2. So We'll Go No More A-Roving
3. Medley: Hajrá Kati & Csak Egy Kislány Van A Világon
4. Queen of Hearts
5. Catarì, Catarì
6. Petronella / St. Patrick's Day / Búacallán Buídhe
7. Scarborough Fair
8. Carnaval
9. Seis por Derecho
10. Over the Sea to Skye
11. Mashilaé (Sorghum Song)
12. Music Box Tune
13. Tu Ca' Nun Chiagne
14. Waly Waly
15. Shenandoah

Disc: 35
1. Concierto de Aranjuez for Guitar and Orchestra / I. Allegro con spirito
2. Concierto de Aranjuez for Guitar and Orchestra / II. Adagio
3. Concierto de Aranjuez for Guitar and Orchestra / III. Allegro gentile
4. Fantasía para un gentilhombre for Guitar and Orchestra / I. Villano y Ricercare (Adagietto - Andante moderato) - John Williams / Louis Frémaux / The Philharmonia Orchestra
5. Fantasía para un gentilhombre for Guitar and Orchestra / II. Españoleta y Fanfare de la Caballeriade Napoles (Adagio - Allegretto, molto ritmico - Tempo de Españoleta) - John Williams / Louis Frémaux / The Philharmonia Orchestra
6. Fantasía para un gentilhombre for Guitar and Orchestra / III. Danza de las Hachas (Allegro con brio) - John Williams / Louis Frémaux / The Philharmonia Orchestra
7. Fantasía para un gentilhombre for Guitar and Orchestra / IV. Canario (Allegro ma non troppo) - John Williams / Louis Frémaux / The Philharmonia Orchestra

Disc: 36
1. Violin Concerto No. 2 in E Major, BWV 1042 / I. Allegro - John Williams / Academy of St Martin in the Fields / Kenneth Sillito
2. Violin Concerto No. 2 in E Major, BWV 1042 / II. Adagio - John Williams / Academy of St Martin in the Fields / Kenneth Sillito
3. Violin Concerto No. 2 in E Major, BWV 1042 / III. Allegro assai - John Williams / Academy of St Martin in the Fields / Kenneth Sillito
4. Violin Sonata No. 2 in A Minor, BWV 1003: III. Andante (Aria)
5. Organ Concerto No. 5 in F Major, Op. 4, HWV 293 / I. Larghetto - John Williams / Academy of St Martin in the Fields
6. Organ Concerto No. 5 in F Major, Op. 4, HWV 293 / II. Allegro - John Williams / Academy of St Martin in the Fields
7. Organ Concerto No. 5 in F Major, Op. 4, HWV 293 / III. Alla siciliana - John Williams / Academy of St Martin in the Fields
8. Organ Concerto No. 5 in F Major, Op. 4, HWV 293 / IV. Presto - John Williams / Academy of St Martin in the Fields
9. Oboe Concerto in C Minor / I. Allegro moderato
10. Oboe Concerto in C Minor / II. Adagio
11. Oboe Concerto in C Minor / III. Allegro

Disc: 37
1. Streets of London
2. La Volta
3. Air on a Ground Bass
4. Holland Park
5. Courante
6. Sarabande & Air
7. Suite in E Major, HWV 430: IV. Air and Variations "The Harmonious Blacksmith"
8. Salut d'amour, Op. 12
9. A Nightingale Sang In Berkeley Square - William Goodchild / John Williams
10. A Room In Bloomsbury - William Goodchild / John Williams
11. London Pride - William Goodchild / John Williams
12. A Foggy Day - William Goodchild / John Williams
13. London By Night - William Goodchild / John Williams
14. Maybe It's Because I'm a Londoner - William Goodchild / John Williams

Disc: 38
1. South Bank
2. First Interlude and Ballad
3. Second Interlude and Plymouth Hoe-Down
4. Rondo la ronde
5. Song Without Words In D Minor
6. Duet for Two

Disc: 39
1. Danza di cala luna - John Williams / Paco Peña / Inti-Illimani
2. El corazón a contraluz - John Williams / Paco Peña / Inti-Illimani
3. Cristalino - John Williams / Paco Peña / Inti-Illimani
4. La preguntona - John Williams / Paco Peña / Inti-Illimani
5. El carnaval - John Williams / Paco Peña / Inti-Illimani
6. Fragmentos de un sueño - John Williams / Paco Peña / Inti-Illimani
7. La ciudad - John Williams / Paco Peña / Inti-Illimani
8. El mercado testaccio - John Williams / Paco Peña / Inti-Illimani
9. La calahorra - John Williams / Paco Peña / Inti-Illimani
10. En libertad (Sevillanas) - John Williams / Paco Peña / Inti-Illimani
11. Danza - John Williams / Paco Peña / Inti-Illimani

Disc: 40
1. Bourrée alla Polacca
2. Sonata in E Major, K. 380, L. 23
3. Sonata in D Minor, K. 213, L. 108
4. Sonata in A Major, K. 322, L. 483
5. Violin Partita No. 2 in D Minor, BWV 1004: V. Chaconne
6. Pièces de Clavecin, Book 2, Ordre VI: No. 5, Les baricades mistérieuses
7. Pièces de Clavecin, Book 2, Ordre VI: No. 1, Les Moissonneurs
8. Sonata in A Minor, K. 175, L. 429
9. Sonata in D Major, K. 159, L. 104
10. Passacaglia
11. Fantaisie
12. Tombeau (sur la mort) de M. Cajetan
13. Passacaglia

Disc: 41
1. Sunburst
2. Aconquija
3. La última canción
4. Verano porteño (Tango)
5. Lullaby
6. Scherzino mexicano
7. Natalia (Venezuelan Waltz)
8. El Niño (Venezuelan Waltz)
9. Maria Luisa (Venezuelan Waltz)
10. Cueca
11. Berceuse
12. Danza caracteristica
13. Three Blues for Classic Guitar / Spanish Guitar Blues
14. Three Blues for Classic Guitar / Blues for Felix
15. Three Blues for Classic Guitar / Swing 59
16. Chôros No. 1
17. El colibri
18. Norteña

Disc: 42
1. Preludio y festejo - John Williams / Paco Peña / Inti-Illimani
2. Sensemaya - John Williams / Paco Peña / Inti-Illimani
3. Farruca - John Williams / Paco Peña / Inti-Illimani
4. Huajra - John Williams / Paco Peña / Inti-Illimani
5. Cronicas de una ausencia - John Williams / Paco Peña / Inti-Illimani
6. Alondras - John Williams / Paco Peña / Inti-Illimani
7. Juanito laguna remonta un barrilete - Horacio Salinas / Jorge Coulon
8. David of the White Rock - John Williams / Horacio Salinas
9. La Fiesta de la Tirana - John Williams / Horacio Salinas
10. Candidos - John Williams / Paco Peña / Inti-Illimani
11. Tarantella - John Williams / Paco Peña / Inti-Illimani
12. Canna Austina - John Williams / Paco Peña / Inti-Illimani

Disc: 43
1. Violin Concerto in D Major, RV 230 / I. Allegro - János Rolla / John Williams / Franz Liszt Chamber Orchestra
2. Violin Concerto in D Major, RV 230 / II. Larghetto - János Rolla / John Williams / Franz Liszt Chamber Orchestra
3. Violin Concerto in D Major, RV 230 / III. Allegro - János Rolla / John Williams / Franz Liszt Chamber Orchestra
4. Violin Concerto in A Minor, RV 356 / I. Allegro - János Rolla / John Williams / Franz Liszt Chamber Orchestra
5. Violin Concerto in A Minor, RV 356 / II. Largo - János Rolla / John Williams / Franz Liszt Chamber Orchestra
6. Violin Concerto in A Minor, RV 356 / III. Presto - János Rolla / John Williams / Franz Liszt Chamber Orchestra
7. Concerto in G Major, RV 532 / I. Allegro - János Rolla / John Williams / Benjamin Verdery / Franz Liszt Chamber Orchestra
8. Concerto in G Major, RV 532 / II. Andante - János Rolla / John Williams / Benjamin Verdery / Franz Liszt Chamber Orchestra
9. Concerto in G Major, RV 532 / III. Allegro - János Rolla / John Williams / Benjamin Verdery / Franz Liszt Chamber Orchestra
10. Trio in C Major, RV 82 / I. Allegro non molto - János Rolla / John Williams / Franz Liszt Chamber Orchestra
11. Trio in C Major, RV 82 / II. Larghetto - János Rolla / John Williams / Franz Liszt Chamber Orchestra
12. Trio in C Major, RV 82 / III. Allegro - János Rolla / John Williams / Franz Liszt Chamber Orchestra
13. Concerto for Viola d'amore and Lute in D Minor, RV 540 / I. Allegro - János Rolla / John Williams / Franz Liszt Chamber Orchestra
14. Concerto for Viola d'amore and Lute in D Minor, RV 540 / II. Largo - János Rolla / John Williams / Franz Liszt Chamber Orchestra
15. Concerto for Viola d'amore and Lute in D Minor, RV 540 / III. Allegro - János Rolla / John Williams / Franz Liszt Chamber Orchestra
16. Violin Concerto in A Major, RV 345 / I. Allegro - János Rolla / John Williams / Franz Liszt Chamber Orchestra
17. Violin Concerto in A Major, RV 345 / II. Largo - János Rolla / John Williams / Franz Liszt Chamber Orchestra
18. Violin Concerto in A Major, RV 345 / III. Allegro - János Rolla / John Williams / Franz Liszt Chamber Orchestra
19. Concerto in D Major, RV 93 / I. Allegro giusto - János Rolla / John Williams / Franz Liszt Chamber Orchestra
20. Concerto in D Major, RV 93 / II. Largo - János Rolla / John Williams / Franz Liszt Chamber Orchestra
21. Concerto in D Major, RV 93 / III. Allegro - János Rolla / John Williams / Franz Liszt Chamber Orchestra

Disc: 44
1. To the Edge of Dream for Guitar and Orchestra - Esa-Pekka Salonen / John Williams / London Sinfonietta
2. Folios for Guitar / I. (Quarter Note = 68-72)
3. Folios for Guitar / II. (Eighth Note = 96-120)
4. Folios for Guitar / III. (Eighth Note = 120-146)
5. Toward the Sea for Alto Flute and Guitar / I. The Night - John Williams / Sebastian Bell
6. Toward the Sea for Alto Flute and Guitar / II. Moby Dick - John Williams / Sebastian Bell
7. Toward the Sea for Alto Flute and Guitar / III. Cape Cod - John Williams / Sebastian Bell
8. Four Songs from 12 Songs for Guitar / Here, There and Everywhere
9. Four Songs from 12 Songs for Guitar / What a Friend
10. Four Songs from 12 Songs for Guitar / Amours Perdues
11. Four Songs from 12 Songs for Guitar / Summertime
12. Vers, L'Arc-en-Ciel, Palma for Oboe d'amore, Guitar and Orchestra - Esa-Pekka Salonen / John Williams / London Sinfonietta

Disc: 45
1. Valses Poéticos
2. Invocación y danza
3. Nine Catalan Folksongs / Cançó del lladre
4. Nine Catalan Folksongs / El testament d'Amelia
5. Nine Catalan Folksongs / La filadora
6. Nine Catalan Folksongs / El mestre
7. Nine Catalan Folksongs / La nit de nadal
8. Nine Catalan Folksongs / L'hereu riera
9. Nine Catalan Folksongs / Lo fill del rei
10. Nine Catalan Folksongs / La pastoreta
11. Nine Catalan Folksongs / El noi de la mare
12. En los trigales (From "Por los campos de España")
13. Iberia (Excerpts) / No. 7, El Albaicin - Paul Daniel / John Williams / London Symphony Orchestra
14. Iberia (Excerpts) / No. 6, Triana - Paul Daniel / John Williams / London Symphony Orchestra
15. Iberia (Excerpts) / No. 4, Rondeña - Paul Daniel / John Williams / London Symphony Orchestra

Disc: 46
1. Suite española, Op. 47: No. 3, Sevilla (Sevillanas)
2. Suite in E Major, BWV 1006a: I. Prélude
3. Sonata in D Minor, K. 213, L. 108
4. Chamber Concerto in D Major, RV 93 / I. Allegro giusto - John Williams / Orquesta Sinfónica de Sevilla
5. Chamber Concerto in D Major, RV 93 / II. Largo - John Williams / Orquesta Sinfónica de Sevilla
6. Chamber Concerto in D Major, RV 93 / III. Allegro - John Williams / Orquesta Sinfónica de Sevilla
7. Sakura Variations
8. Usher Waltz, Op. 29
9. Suite española, Op. 47: No. 5, Asturias (Leyenda)
10. Sueño en la floresta
11. Concierto de Aranjuez: II. Adagio - José Buenagu / John Williams / Orquesta Sinfónica de Sevilla

Disc: 47
1. Nourlangie - Richard Hickox / John Williams / Australian Chamber Orchestra
2. Antarctica (Suite for Guitar and Orchestra) / The Last Place on Earth - Paul Daniel / John Williams / London Symphony Orchestra
3. Antarctica (Suite for Guitar and Orchestra) / Wooden Ships - Paul Daniel / John Williams / London Symphony Orchestra
4. Antarctica (Suite for Guitar and Orchestra) / Penguin Ballet - Paul Daniel / John Williams / London Symphony Orchestra
5. Antarctica (Suite for Guitar and Orchestra) / The Ice Core / Finale - Paul Daniel / John Williams / London Symphony Orchestra
6. From Kakadu - Paul Daniel / John Williams / London Symphony Orchestra
7. Into the Dreaming - Richard Hickox / John Williams / London Symphony Orchestra

Disc: 48
1. Vals No. 3
2. Preludio en do menor
3. Cueca
4. Maxixa
5. La catedral
6. Julia Florida (Barcarola)
7. Vals No. 4
8. Una limosna por el amor de Dios
9. Mazurka appassionata
10. Las abejas
11. Medallon antiguo
12. Choro de saudade
13. Aire de zamba
14. Aconquija
15. Preludio en sol menor
16. Sueño en la floresta
17. Villancico de navidad

Disc: 49
1. Concerto Antico for Guitar and Small Orchestra / I. Alborada - Paul Daniel / John Williams / London Symphony Orchestra
2. Concerto Antico for Guitar and Small Orchestra / II. Contredanse - Paul Daniel / John Williams / London Symphony Orchestra
3. Concerto Antico for Guitar and Small Orchestra / III. Cantilena - Paul Daniel / John Williams / London Symphony Orchestra
4. Concerto Antico for Guitar and Small Orchestra / IV. Forlana - Paul Daniel / John Williams / London Symphony Orchestra
5. Concerto Antico for Guitar and Small Orchestra / V. Lavolta - Paul Daniel / John Williams / London Symphony Orchestra
6. Guitar Concerto / I. Dances - Paul Daniel / John Williams / London Symphony Orchestra
7. Guitar Concerto / II. Love Songs - Paul Daniel / John Williams / London Symphony Orchestra
8. Guitar Concerto / III. Jokes - Paul Daniel / John Williams / London Symphony Orchestra

Disc: 50
1. Dance from La Vida Breve - John Williams / Timothy Kain
2. Intermezzo from Goyescas - John Williams / Timothy Kain
3. Danzas Española: No. 6, Rondalla aragonesa - Jota - John Williams / Timothy Kain
4. Sonata in A Major, R. 84 - John Williams / Timothy Kain
5. Songs from the Forest - John Williams / Timothy Kain
6. Three Duets / I. The Mantis and the Moon - John Williams / Timothy Kain
7. Three Duets / II. Lament - John Williams / Timothy Kain
8. Three Duets / III. Alchemy - John Williams / Timothy Kain
9. Carolan's Concerto - John Williams / Timothy Kain
10. Fanny Power - John Williams / Timothy Kain
11. Planxty Madame Maxwell - John Williams / Timothy Kain
12. Micropiezas - John Williams / Timothy Kain
13. Monte Carlo - John Williams / Timothy Kain
14. Capitola - John Williams / Timothy Kain
15. Prayer - John Williams / Timothy Kain
16. Jongo - John Williams / Timothy Kain
17. "Bad Boy" for Two Guitars from Bad Boy - John Williams / Timothy Kain
18. "Guitars" from The Gad Fly, Op. 97 - John Williams / Timothy Kain

Disc: 51
1. Kiss from a Rose (From "Batman Forever")
2. Everything I Do (From "Robin Hood")
3. Unchained Melody (From "Ghost")
4. Love is All Around (From "Four Weddings and a Funeral")
5. Love Theme, Godfather Waltz (From "The Godfather")
6. Moon River (From "Breakfast at Tiffany's")
7. We're off to See the Wizard, Over the Rainbow (From "The Wizard of Oz")
8. Gabriel's Oboe - Mission Theme (From "The Mission")
9. Cavatina (From "The Deer Hunter")
10. As Time Goes By (From "Casablanca")
11. I Will Wait For You (From "Les Parapluies de Cherbourg")
12. It Had To Be You (From "When Harry Met Sally")
13. Calling You (From "Bagdad Cafe")
14. The Entertainer (From "The Sting")
15. Il Postino
16. Once Upon a Time in America
17. Jill's America (From "Once Upon a Time in the West")
18. Schindler's List

Disc: 52
1. Concerto de Toronto (For John Williams) / I. Moderato - Steven Mercurio / John Williams / London Sinfonietta
2. Concerto de Toronto (For John Williams) / II. Theme and Variation - Theme - Steven Mercurio / John Williams / London Sinfonietta
3. Concerto de Toronto (For John Williams) / Variation I - Steven Mercurio / John Williams / London Sinfonietta
4. Concerto de Toronto (For John Williams) / Variation II - Steven Mercurio / John Williams / London Sinfonietta
5. Concerto de Toronto (For John Williams) / Variation III - Steven Mercurio / John Williams / London Sinfonietta
6. Concerto de Toronto (For John Williams) / Variation IV - Steven Mercurio / John Williams / London Sinfonietta
7. Concerto de Toronto (For John Williams) / III. Tempo libero - Allegro - Steven Mercurio / John Williams / London Sinfonietta
8. Elogio de la danza: Lento - Obstinato
9. El Decaméron negro / I. El arpa del guerrero
10. El Decaméron negro / II. La huida de los amantes por el valle de los Ecos
11. El Decaméron negro / III. Balada de la doncella enamorada
12. Hika: "In Memoriam Toru Takemitsu" (For Shin-ichi Fukuda)

Disc: 53
1. Three Epitafios / No. 3, A Day in May
2. Three Epitafios / No. 4, My Star, You Have Set
3. Three Epitafios / No. 5, You Were Good Sweet
4. Koyunbaba / Part 1
5. Koyunbaba / Part 2
6. Koyunbaba / Part 3
7. Koyunbaba / Part 4
8. Gymnopédie No. 3 (Arr. for Guitar and Small Orchestra) - William Goodchild / John Williams
9. Lamento di Tristan
10. Ductia
11. Saltarello
12. Aeolian Suite for Guitar and Small Orchestra / I. Aeolian Chant - William Goodchild / John Williams
13. Aeolian Suite for Guitar and Small Orchestra / II. Double Dance - William Goodchild / John Williams
14. Aeolian Suite for Guitar and Small Orchestra / III. Ballad - William Goodchild / John Williams
15. Aeolian Suite for Guitar and Small Orchestra / IV. Toccata - William Goodchild / John Williams
16. Stélé / I. Stélé
17. Stélé / II. Dervish
18. Stélé / III. Bronze Apollo
19. Stélé / IV. Web
20. Gnossiennes: No. 1, Lent
21. Gnossiennes: No. 2, Avec etonnement

Disc: 54
1. Arpeggione Sonata, D. 821 / I. Allegro moderato - John Williams / Australian Chamber Orchestra / Richard Tognetti
2. Arpeggione Sonata, D. 821 / II. Adagio - John Williams / Australian Chamber Orchestra / Richard Tognetti
3. Arpeggione Sonata, D. 821 / III. Allegretto - John Williams / Australian Chamber Orchestra / Richard Tognetti
4. Concerto No. 1 in A Major for Guitar and String Orchestra, Op. 30 / I. Allegro maestoso - John Williams / Australian Chamber Orchestra / Richard Tognetti
5. Concerto No. 1 in A Major for Guitar and String Orchestra, Op. 30 / II. Andantino (Siciliano) - John Williams / Australian Chamber Orchestra / Richard Tognetti
6. Concerto No. 1 in A Major for Guitar and String Orchestra, Op. 30 / III. Rondo alla polacca - John Williams / Australian Chamber Orchestra / Richard Tognetti

Disc: 55
1. O Bia
2. Township Kwela - John Williams / John Etheridge
3. Maki
4. Engome
5. Malinke Guitars - John Williams / John Etheridge
6. Masanga
7. Musha Musiki - John Williams / John Etheridge
8. Mitopa
9. Triangular Situations - John Williams / John Etheridge
10. Guitar Makossa - John Williams / John Etheridge
11. The Magic Box
12. Omby
13. Nkosi Sikelel'i Afrika
14. Djandjon - John Williams / John Etheridge
15. Sangara - John Williams / John Etheridge

Disc: 56
1. Los caujaritos
2. El Totumo de Guarenas
3. Como llora una estrella
4. Seis por derecho
5. No me olvides
6. Las Perdices
7. Alma Llanera
8. Salve
9. Five Pieces: Cántico
10. Fieve Pieces: Cantemos, cantemos (Aguinaldo)
11. Five Pieces: Si de noche ves qui brillan (Canción)
12. Five Pieces: Malhaya la cocina (Aire Venezolano)
13. Five Pieces: Ave María ¡Que muchacho! (Galerón)
14. Quirpa Guatireña
15. Angostura
16. El Diablo suelto
17. Virgilio
18. Pasaje (Aragueño)
19. Que no te quiera más
20. Romanza
21. Priva Resuello
22. María Carolina
23. Vals Venezolano
24. Nelly
25. El Marabino
26. Preludio del Adiós

Disc: 57
1. Introduction by Paul Herriot - Paul Herriot
2. Extra Time / Part 1 - John Williams / John Etheridge
3. Extra Time / Part 2 - John Williams / John Etheridge
4. Extra Time / Part 3 - John Williams / John Etheridge
5. Strange Comforts - John Williams / John Etheridge
6. Sangara - John Williams / John Etheridge
7. Slow Dub - John Williams / John Etheridge
8. God Bless the Child - John Etheridge
9. La última canción
10. El Totumo
11. Triangular Situations - John Williams / John Etheridge
12. Malinke Guitars - John Williams / John Etheridge
13. Places Between - John Williams / John Etheridge
14. Peace, Love and Guitars / Part 1 - John Williams / John Etheridge
15. Peace, Love and Guitars / Part 2 - John Williams / John Etheridge
16. Peace, Love and Guitars / Part 3 - John Williams / John Etheridge
17. Djandjon - John Williams / John Etheridge
18. Mitopa - John Williams / John Etheridge

Disc: 58
1. 3 Lieder für Sopran, Klarinette und Gitarre, Op.18 / I. Schatzerl klein - Halina Lukomska
2. 3 Lieder für Sopran, Klarinette und Gitarre, Op.18 / II. Erlösung - Halina Lukomska
3. Lieder für Sopran, Klarinette und Gitarre, Op.18 / III. Ave regina coelorum - Halina Lukomska
4. Song for Martin
5. Streets of London
6. Suite española, Op. 47: No. 5, Asturias (Leyenda)
7. The Prayer Cycle: V. Grace - John Williams / The English Chamber Chorus
8. Edelweiss (From "The Sound of Music") - Angelika Kirchschlager / John Williams
9. Cantiga de Ninar (Baby's Goodnight Song) - Angelika Kirchschlager / John Williams
10. 5 Deutsche Lieder, Op. 25: Lass mich schlummern, Herzlein, schweige - Angelika Kirchschlager / John Williams
11. The Little Horses (Lullaby) - Angelika Kirchschlager / John Williams
12. 7 Canciones populares Españolas: V. Nana (Berceuse) - Angelika Kirchschlager / John Williams
13. Romance for Guitar and String Orchestra
14. Pavane, Op. 50 (Arr. for Guitar and String Orchestra) - William Goodchild / John Williams
15. El condor pasa
16. Mazurkas, Op. 59: No. 3 in F-Sharp Minor - John Williams / Béla Fleck
17. Seven Variations on "God Save the King" - John Williams / Béla Fleck
Exact Audio Copy V1.1 from 23. June 2015

EAC extraction logfile from 21. July 2016, 9:27

John Williams / Columbia Record s presents John Williams (Williams Complete 1)

Used drive : HL-DT-STBD-RE WH16NS40 Adapter: 1 ID: 0

Read mode : Secure
Utilize accurate stream : Yes
Defeat audio cache : Yes
Make use of C2 pointers : No

Read offset correction : 6
Overread into Lead-In and Lead-Out : No
Fill up missing offset samples with silence : Yes
Delete leading and trailing silent blocks : No
Null samples used in CRC calculations : Yes
Used interface : Native Win32 interface for Win NT & 2000

Used output format : Internal WAV Routines
Sample format : 44.100 Hz; 16 Bit; Stereo


TOC of the extracted CD

Track | Start | Length | Start sector | End sector
––––––––––––––––––––––––––––-
1 | 0:00.00 | 4:21.45 | 0 | 19619
2 | 4:21.45 | 3:49.31 | 19620 | 36825
3 | 8:11.01 | 3:09.09 | 36826 | 51009
4 | 11:20.10 | 4:44.44 | 51010 | 72353
5 | 16:04.54 | 1:48.73 | 72354 | 80526
6 | 17:53.52 | 2:06.28 | 80527 | 90004
7 | 20:00.05 | 4:33.18 | 90005 | 110497
8 | 24:33.23 | 3:55.72 | 110498 | 128194
9 | 28:29.20 | 4:41.67 | 128195 | 149336
10 | 33:11.12 | 2:04.07 | 149337 | 158643
11 | 35:15.19 | 2:51.71 | 158644 | 171539
12 | 38:07.15 | 2:13.32 | 171540 | 181546
13 | 40:20.47 | 2:40.33 | 181547 | 193579
14 | 43:01.05 | 1:15.19 | 193580 | 199223


Range status and errors

Selected range

Filename C:\[Temp]\CD01\Columbia Records presents John Williams (Williams Complete 1).wav

Peak level 78.7 %
Extraction speed 5.8 X
Range quality 99.9 %
Copy CRC 524B149F
Copy OK

No errors occurred


AccurateRip summary

Track 1 accurately ripped (confidence 4) [A066C6F4] (AR v2)
Track 2 accurately ripped (confidence 4) [EEB1F0DE] (AR v2)
Track 3 accurately ripped (confidence 4) [C4D55D6D] (AR v2)
Track 4 accurately ripped (confidence 4) [639A3F05] (AR v2)
Track 5 accurately ripped (confidence 4) [E512EF74] (AR v2)
Track 6 accurately ripped (confidence 4) [23135AAE] (AR v2)
Track 7 accurately ripped (confidence 4) [82A6EE62] (AR v2)
Track 8 accurately ripped (confidence 4) [2A3028F1] (AR v2)
Track 9 accurately ripped (confidence 4) [91C59888] (AR v2)
Track 10 accurately ripped (confidence 4) [D1AE3F20] (AR v2)
Track 11 accurately ripped (confidence 4) [F97B2353] (AR v2)
Track 12 accurately ripped (confidence 4) [4CC2C5B4] (AR v2)
Track 13 accurately ripped (confidence 4) [16D5D49B] (AR v2)
Track 14 accurately ripped (confidence 4) [C6A835E4] (AR v2)

All tracks accurately ripped

End of status report

–– CUETools DB Plugin V2.1.6

[CTDB TOCID: Q2U2DZHh1o8RjMFClJFKDfvHt28-] found
Submit result: Q2U2DZHh1o8RjMFClJFKDfvHt28- has been confirmed
Track | CTDB Status
1 | (11/11) Accurately ripped
2 | (11/11) Accurately ripped
3 | (11/11) Accurately ripped
4 | (11/11) Accurately ripped
5 | (11/11) Accurately ripped
6 | (11/11) Accurately ripped
7 | (11/11) Accurately ripped
8 | (11/11) Accurately ripped
9 | (11/11) Accurately ripped
10 | (11/11) Accurately ripped
11 | (11/11) Accurately ripped
12 | (11/11) Accurately ripped
13 | (11/11) Accurately ripped
14 | (11/11) Accurately ripped

===========================================================

Exact Audio Copy V1.1 from 23. June 2015

EAC extraction logfile from 21. July 2016, 9:47

John Williams / Virtuoso Music for Guitar (Williams Compete 2)

Used drive : HL-DT-STBD-RE WH16NS40 Adapter: 1 ID: 0

Read mode : Secure
Utilize accurate stream : Yes
Defeat audio cache : Yes
Make use of C2 pointers : No

Read offset correction : 6
Overread into Lead-In and Lead-Out : No
Fill up missing offset samples with silence : Yes
Delete leading and trailing silent blocks : No
Null samples used in CRC calculations : Yes
Used interface : Native Win32 interface for Win NT & 2000

Used output format : Internal WAV Routines
Sample format : 44.100 Hz; 16 Bit; Stereo


TOC of the extracted CD

Track | Start | Length | Start sector | End sector
––––––––––––––––––––––––––––-
1 | 0:00.00 | 6:43.58 | 0 | 30282
2 | 6:43.58 | 3:54.13 | 30283 | 47845
3 | 10:37.71 | 7:14.23 | 47846 | 80418
4 | 17:52.19 | 4:24.56 | 80419 | 100274
5 | 22:17.00 | 3:15.27 | 100275 | 114926
6 | 25:32.27 | 3:37.03 | 114927 | 131204
7 | 29:09.30 | 2:07.12 | 131205 | 140741
8 | 31:16.42 | 2:10.09 | 140742 | 150500
9 | 33:26.51 | 3:14.12 | 150501 | 165062
10 | 36:40.63 | 1:55.04 | 165063 | 173691
11 | 38:35.67 | 3:50.40 | 173692 | 190981


Range status and errors

Selected range

Filename C:\[Temp]\CD02\John Williams - Virtuoso Music for Guitar (Williams Compete 2).wav

Peak level 94.8 %
Extraction speed 5.7 X
Range quality 99.9 %
Copy CRC 644A01B9
Copy OK

No errors occurred


AccurateRip summary

Track 1 accurately ripped (confidence 2) [09DCEBF9] (AR v2)
Track 2 accurately ripped (confidence 2) [5D69FD0F] (AR v2)
Track 3 accurately ripped (confidence 2) [516C1C45] (AR v2)
Track 4 accurately ripped (confidence 2) [939C942B] (AR v2)
Track 5 accurately ripped (confidence 2) [50D9C6A2] (AR v2)
Track 6 accurately ripped (confidence 2) [C5486131] (AR v2)
Track 7 accurately ripped (confidence 2) [DE9F4702] (AR v2)
Track 8 accurately ripped (confidence 2) [73161FD8] (AR v2)
Track 9 accurately ripped (confidence 2) [7C386DB8] (AR v2)
Track 10 accurately ripped (confidence 2) [2406CE36] (AR v2)
Track 11 accurately ripped (confidence 2) [1A59E962] (AR v2)

All tracks accurately ripped

End of status report

–– CUETools DB Plugin V2.1.6

[CTDB TOCID: AwarkriDUkNGyyty4ReUtpoblbo-] found
Submit result: AwarkriDUkNGyyty4ReUtpoblbo- has been confirmed
Track | CTDB Status
1 | (10/10) Accurately ripped
2 | (10/10) Accurately ripped
3 | (10/10) Accurately ripped
4 | (10/10) Accurately ripped
5 | (10/10) Accurately ripped
6 | (10/10) Accurately ripped
7 | (10/10) Accurately ripped
8 | (10/10) Accurately ripped
9 | (10/10) Accurately ripped
10 | (10/10) Accurately ripped
11 | (10/10) Accurately ripped

======================================================

Exact Audio Copy V1.1 from 23. June 2015

EAC extraction logfile from 21. July 2016, 10:02

John Williams / Two Favorite Guitar Concertos (Williams Complete 3)

Used drive : HL-DT-STBD-RE WH16NS40 Adapter: 1 ID: 0

Read mode : Secure
Utilize accurate stream : Yes
Defeat audio cache : Yes
Make use of C2 pointers : No

Read offset correction : 6
Overread into Lead-In and Lead-Out : No
Fill up missing offset samples with silence : Yes
Delete leading and trailing silent blocks : No
Null samples used in CRC calculations : Yes
Used interface : Native Win32 interface for Win NT & 2000

Used output format : Internal WAV Routines
Sample format : 44.100 Hz; 16 Bit; Stereo


TOC of the extracted CD

Track | Start | Length | Start sector | End sector
––––––––––––––––––––––––––––-
1 | 0:00.00 | 6:01.46 | 0 | 27120
2 | 6:01.46 | 10:01.01 | 27121 | 72196
3 | 16:02.47 | 5:01.12 | 72197 | 94783
4 | 21:03.59 | 6:26.29 | 94784 | 123762
5 | 27:30.13 | 7:00.42 | 123763 | 155304
6 | 34:30.55 | 6:15.06 | 155305 | 183435


Range status and errors

Selected range

Filename C:\[Temp]\CD03\John Williams - Two Favorite Guitar Concertos (Williams Complete 3).wav

Peak level 99.1 %
Extraction speed 5.6 X
Range quality 99.9 %
Copy CRC 0C17DB05
Copy OK

No errors occurred


AccurateRip summary

Track 1 accurately ripped (confidence 2) [1CA781D8] (AR v2)
Track 2 accurately ripped (confidence 2) [A6F253CD] (AR v2)
Track 3 accurately ripped (confidence 2) [BF7AA356] (AR v2)
Track 4 accurately ripped (confidence 2) [65A98BC0] (AR v2)
Track 5 accurately ripped (confidence 2) [A698C8D7] (AR v2)
Track 6 accurately ripped (confidence 2) [FC72D739] (AR v2)

All tracks accurately ripped

End of status report

–– CUETools DB Plugin V2.1.6

[CTDB TOCID: Ls1Hd2.NGyrbCm3ZKzTbvjc8jCY-] found
Submit result: Ls1Hd2.NGyrbCm3ZKzTbvjc8jCY- has been confirmed
Track | CTDB Status
1 | (9/9) Accurately ripped
2 | (9/9) Accurately ripped
3 | (9/9) Accurately ripped
4 | (9/9) Accurately ripped
5 | (9/9) Accurately ripped
6 | (9/9) Accurately ripped

==============================================================

Exact Audio Copy V1.1 from 23. June 2015

EAC extraction logfile from 21. July 2016, 10:41

John Williams / More Virtuoso Music for Guitar (Williams Complete 4)

Used drive : HL-DT-STBD-RE WH16NS40 Adapter: 1 ID: 0

Read mode : Secure
Utilize accurate stream : Yes
Defeat audio cache : Yes
Make use of C2 pointers : No

Read offset correction : 6
Overread into Lead-In and Lead-Out : No
Fill up missing offset samples with silence : Yes
Delete leading and trailing silent blocks : No
Null samples used in CRC calculations : Yes
Used interface : Native Win32 interface for Win NT & 2000

Used output format : Internal WAV Routines
Sample format : 44.100 Hz; 16 Bit; Stereo


TOC of the extracted CD

Track | Start | Length | Start sector | End sector
––––––––––––––––––––––––––––-
1 | 0:00.00 | 1:45.47 | 0 | 7921
2 | 1:45.47 | 2:01.08 | 7922 | 17004
3 | 3:46.55 | 4:57.22 | 17005 | 39301
4 | 8:44.02 | 3:18.41 | 39302 | 54192
5 | 12:02.43 | 1:27.64 | 54193 | 60781
6 | 13:30.32 | 2:33.04 | 60782 | 72260
7 | 16:03.36 | 6:03.59 | 72261 | 99544
8 | 22:07.20 | 3:23.66 | 99545 | 114835
9 | 25:31.11 | 5:33.34 | 114836 | 139844
10 | 31:04.45 | 2:58.69 | 139845 | 153263
11 | 34:03.39 | 2:42.14 | 153264 | 165427
12 | 36:45.53 | 1:32.51 | 165428 | 172378
13 | 38:18.29 | 2:19.12 | 172379 | 182815
14 | 40:37.41 | 0:51.33 | 182816 | 186673
15 | 41:28.74 | 2:17.64 | 186674 | 197012
16 | 43:46.63 | 2:03.37 | 197013 | 206274


Range status and errors

Selected range

Filename C:\[Temp]\CD04\John Williams - More Virtuoso Music for Guitar (Williams Complete 4).wav

Peak level 80.2 %
Extraction speed 5.9 X
Range quality 100.0 %
Copy CRC 459A4942
Copy OK

No errors occurred


AccurateRip summary

Track 1 accurately ripped (confidence 2) [A756EAEA] (AR v2)
Track 2 accurately ripped (confidence 2) [5853E276] (AR v2)
Track 3 accurately ripped (confidence 2) [0A33A8A5] (AR v2)
Track 4 accurately ripped (confidence 2) [5BD77CC6] (AR v2)
Track 5 accurately ripped (confidence 2) [F1C296C0] (AR v2)
Track 6 accurately ripped (confidence 2) [7EA3F9E8] (AR v2)
Track 7 accurately ripped (confidence 2) [CD37399E] (AR v2)
Track 8 accurately ripped (confidence 2) [558104A8] (AR v2)
Track 9 accurately ripped (confidence 2) [F60FDBD0] (AR v2)
Track 10 accurately ripped (confidence 2) [9FA5DCAD] (AR v2)
Track 11 accurately ripped (confidence 2) [2E201A24] (AR v2)
Track 12 accurately ripped (confidence 2) [8E1BCEC0] (AR v2)
Track 13 accurately ripped (confidence 2) [C8C1D933] (AR v2)
Track 14 accurately ripped (confidence 2) [A3CB3BE6] (AR v2)
Track 15 accurately ripped (confidence 2) [E6105F21] (AR v2)
Track 16 accurately ripped (confidence 2) [DBA932E6] (AR v2)

All tracks accurately ripped

End of status report

–– CUETools DB Plugin V2.1.6

[CTDB TOCID: tU3QsUzBTkl23mRCIuBJ0PbvE1g-] found
Submit result: tU3QsUzBTkl23mRCIuBJ0PbvE1g- has been confirmed
Track | CTDB Status
1 | (8/8) Accurately ripped
2 | (8/8) Accurately ripped
3 | (8/8) Accurately ripped
4 | (8/8) Accurately ripped
5 | (8/8) Accurately ripped
6 | (8/8) Accurately ripped
7 | (8/8) Accurately ripped
8 | (8/8) Accurately ripped
9 | (8/8) Accurately ripped
10 | (8/8) Accurately ripped
11 | (8/8) Accurately ripped
12 | (8/8) Accurately ripped
13 | (8/8) Accurately ripped
14 | (8/8) Accurately ripped
15 | (8/8) Accurately ripped
16 | (8/8) Accurately ripped

=======================================================

Exact Audio Copy V1.1 from 23. June 2015

EAC extraction logfile from 21. July 2016, 11:08

John Williams / Two Guitar Concertos - Fantasia para un Gentilhombre & Concerto for Guitar & Chamber Orchestra

Used drive : HL-DT-STBD-RE WH16NS40 Adapter: 1 ID: 0

Read mode : Secure
Utilize accurate stream : Yes
Defeat audio cache : Yes
Make use of C2 pointers : No

Read offset correction : 6
Overread into Lead-In and Lead-Out : No
Fill up missing offset samples with silence : Yes
Delete leading and trailing silent blocks : No
Null samples used in CRC calculations : Yes
Used interface : Native Win32 interface for Win NT & 2000

Used output format : Internal WAV Routines
Sample format : 44.100 Hz; 16 Bit; Stereo


TOC of the extracted CD

Track | Start | Length | Start sector | End sector
––––––––––––––––––––––––––––-
1 | 0:00.00 | 4:59.70 | 0 | 22494
2 | 4:59.70 | 4:56.60 | 22495 | 44754
3 | 9:56.55 | 5:06.38 | 44755 | 67742
4 | 15:03.18 | 1:56.33 | 67743 | 76475
5 | 16:59.51 | 4:50.49 | 76476 | 98274
6 | 21:50.25 | 6:46.35 | 98275 | 128759
7 | 28:36.60 | 6:21.40 | 128760 | 157374
8 | 34:58.25 | 6:16.03 | 157375 | 185577


Range status and errors

Selected range

Filename C:\[Temp]\CD05\John Williams - Two Guitar Concertos - Fantasia para un Gentilhombre & Concerto for Guitar & Chamber Orchestra.wav

Peak level 89.6 %
Extraction speed 3.0 X
Range quality 99.9 %
Copy CRC 104056C7
Copy OK

No errors occurred


AccurateRip summary

Track 1 accurately ripped (confidence 2) [3A72FECD] (AR v2)
Track 2 accurately ripped (confidence 2) [D1754F9B] (AR v2)
Track 3 accurately ripped (confidence 2) [C49E688B] (AR v2)
Track 4 accurately ripped (confidence 2) [E9B530BB] (AR v2)
Track 5 accurately ripped (confidence 2) [2850D1A5] (AR v2)
Track 6 accurately ripped (confidence 2) [25B2A79C] (AR v2)
Track 7 accurately ripped (confidence 2) [D2FAACDC] (AR v2)
Track 8 accurately ripped (confidence 2) [1F5F32AD] (AR v2)

All tracks accurately ripped

End of status report

–– CUETools DB Plugin V2.1.6

[CTDB TOCID: kcVUyGwer9H9irpwolfRXvGCGos-] found
Submit result: kcVUyGwer9H9irpwolfRXvGCGos- has been confirmed
Track | CTDB Status
1 | (8/8) Accurately ripped
2 | (8/8) Accurately ripped
3 | (8/8) Accurately ripped
4 | (8/8) Accurately ripped
5 | (8/8) Accurately ripped
6 | (8/8) Accurately ripped
7 | (8/8) Accurately ripped
8 | (8/8) Accurately ripped

============================================================
All 58 log files included…