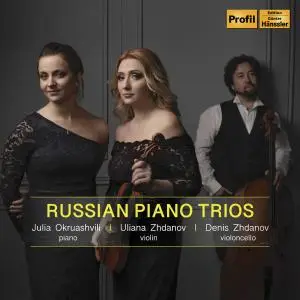 Julia Okruashvili - Babajanyan, Alyabyev & Rachmaninoff: Piano Trios (2019)
WEB FLAC (tracks) - 310 MB | Tracks: 9 | 84:33 min
Style: Classical | Label: Profil
A mournful, melancholic influence became characteristic of the Russian piano trio Alexander Alyabyev had displayed considerable musical talent as a young man. While still a serving officer in the Hussars, he began composing chamber music, writing string quartets, piano trios and many other chamber works, and soon turned his hand to music for orchestra (symphonies, overtures) and vocal works (operas, sacred and secular choral works and some 150 songs). He occupied much of his time in exile by collecting folk melo­dies. Sergei Rachmaninov a truly phenomenal Russian piano virtuoso, composer and conductor (notably at the Bolshoi Theatre), was pre-eminently a composer for piano, whether in solo­piano compositions, piano works for four hands or six hands, or pieces for two pianos. His chamber music too is dominated by works featuring the piano (piano trios and duo com­positions). He also wrote major works for piano and orchestra: his Piano Concertos nos. 1-4 and the Rhapsody on a Theme of Paganini. Arno Babadjanyan's compositional output, showing the clear influence of Khachaturian, extended to an impressive variety of genres.
Tracklist:
CD1:
01. Piano Trio in F-Sharp Minor: I. Largo. Allegro espressivo
02. Piano Trio in F-Sharp Minor: II. Andante
03. Piano Trio in F-Sharp Minor: III. Allegro vivace
04. Piano Trio in A Minor: I. Allegro ma non troppo
05. Piano Trio in A Minor: II. Adagio
06. Piano Trio in A Minor: III. Allegretto

FILE: 01. Piano Trio in F-Sharp Minor_ I. Largo. Allegro espressivo.flac
Size: 37451554 Hash: F0B09346CC367D06AC506BC6D5BA1C14 Accuracy: -m0
Conclusion: CDDA 85%
Signature: 753E8B8CE9E4598A5C96731C2CA0F32B7936C9F3
FILE: 02. Piano Trio in F-Sharp Minor_ II. Andante.flac
Size: 27001643 Hash: E34CCD402DF5370C946F9ED5652A3CFF Accuracy: -m0
Conclusion: CDDA 49%
Signature: 93ED0322014FDF77FB07B6E9C83467E8F0F59455
FILE: 03. Piano Trio in F-Sharp Minor_ III. Allegro vivace.flac
Size: 25981522 Hash: 1445F00637EAA7375BCF9DC79913683E Accuracy: -m0
Conclusion: CDDA 99%
Signature: 55DC50FC702CDD3EC820E59361CB64758B90FB9D
FILE: 04. Piano Trio in A Minor_ I. Allegro ma non troppo.flac
Size: 30888894 Hash: E74C47AF1E13E2F084E61C8AC9CBE6D7 Accuracy: -m0
Conclusion: CDDA 86%
Signature: 0EB405EF9AE3DE2026FA1BEF96F82C0D73F8E3A7
FILE: 05. Piano Trio in A Minor_ II. Adagio.flac
Size: 17876154 Hash: C0F5005F0361803EE4E140C944695DA9 Accuracy: -m0
Conclusion: CDDA 100%
Signature: CCCE0414EC4DBB094A4EF520CA45151B9A5524F9
FILE: 06. Piano Trio in A Minor_ III. Allegretto.flac
Size: 25142797 Hash: 7BC5CF18E86FDA0F3F331219A834460D Accuracy: -m0
Conclusion: CDDA 54%
Signature: D6F0278B7173A42829492AB82EC86878EC9184FE
CD2:
01. Trio élégiaque No. 2 in D Minor, Op. 9: I. Moderato - Allegro vivace
02. Trio élégiaque No. 2 in D Minor, Op. 9: II. Quasi variazione. Andante
03. Trio élégiaque No. 2 in D Minor, Op. 9: III. Allegro risoluto - Moderato

FILE: 01. Trio élégiaque No. 2 in D Minor, Op. 9_ I. Moderato - Allegro vivace.flac
Size: 68922444 Hash: 23D9DE67E6C8794912C1773463ADA44D Accuracy: -m0
Conclusion: CDDA 43%
Signature: 4FE4937C03B05AC89B2D448CA243E991CBED004C
FILE: 02. Trio élégiaque No. 2 in D Minor, Op. 9_ II. Quasi variazione. Andante.flac
Size: 61992397 Hash: 4CE71FFBA3AB5E4764B2ED08280C7503 Accuracy: -m0
Conclusion: CDDA 49%
Signature: 654F67BBB7D481E911D1002D94FC508048CED888
FILE: 03. Trio élégiaque No. 2 in D Minor, Op. 9_ III. Allegro risoluto - Moderato.flac
Size: 30360354 Hash: 1D05FA5017646815AA6BD9D83CDE1009 Accuracy: -m0
Conclusion: CDDA 43%
Signature: 0B8385AD850C3B3E00A1F4A64F851F341E8E2A9E