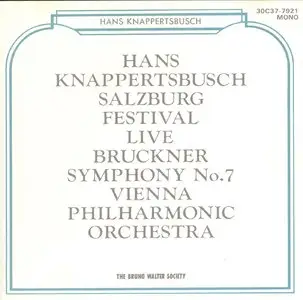 Hans Knappertsbusch Salzberg Festival Live Bruckner Symphony 7
1983 | Classical | EAC, Monkey's Audio v3.99 APE | CUE, NO log | 1 CD, HQ Cover | 261 MB | TT: 62:19
Remembered as one of the supreme interpreters of Anton Bruckner's symphonies, Hans Knappertsbusch is reasonably well represented on CD, with several recordings to demonstrate his extraordinary gifts. Thankfully most of these recordings have decent sound quality, and this Nippon Columbia issued of Knappertsbusch's 1949 Salzburg Festival performance with the Vienna Philharmonic of Bruckner's "Symphony No. 7 in E major" is clear enough to make out the score in all its essentials; even better, it is virtually free of surface flaws.
Many thanks, renlifang, for offering this Japanese pressing album.